McDonald's in China recently apologized after a location in Guangzhou barred Black people from entering. In a video, a staff member while in the restaurant in question–held up a sign with words including, "We've been informed that from now on Black people are not allowed to enter the restaurant. For the sake of your health courteously notify the local police for medical isolation …," reported several news outlets.
A few months earlier, in "little Africa" an epicenter in China where racism against Africans has been reported, there was another incident. According to the BBC, after a Nigerian student moved to Guangzhou in southern China to study computing at Guangdong University, he was evicted from his room. This was just after paying his university fees for the new semester.
After scrambling to pack his belongings and with police waiting for him and his roommates outside, he was prevented from dropping off his belongings at a friend's warehouse. He then spent the next several nights sleeping on the streets. "Look how they are treating us, how they forced us out of our houses and forced us to self-quarantine," he told the BBC from a hotel in the city.
According to several news reports, Chinese citizens are blaming Africans in China, where the coronavirus is reported to have originated–for spreading it.
"They told me that the (test) result is out and I am negative. Still they don't want me to go out," said the Nigerian student. Guangzhou has China's largest African community of about 4,500 individuals, reported Newsweek.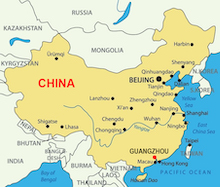 This may not be considered too bad if there weren't so many similar or worse incidents reported, including barring Africans from purchasing food, refusing to rent rooms in hotels, evicting them from apartments, and the racial slurs or remarks that generally accompany such racist behaviors.
Is this open and blatant racism and is it an over-zealous response to the coronavirus pandemic?
A recent rise in Covid-19 infections in China has been linked to foreigners. According to the Los Angeles Times, the Chinese government has been concerned about a possible second wave of the virus and stepped up its monitoring of foreigners.
"African students and expatriates have reportedly been evicted from their homes, tested for coronavirus several times and are being shunned in public. The incidents have sparked a diplomatic dispute with the African Union, African governments and the United States," reported Al Jazeera.
The outrage has been so overwhelming that on April 13, Ambassador Liu Yuxi, head of Mission of China to the African Union, met with Deputy Chairperson of the AU Commission H.E. Kwesi Quartey.
In his statement Ambassador Lie emphasized that during China's fight against the coronavirus, the Chinese government has been attaching great importance to the life and health of foreign nationals in China.
"All foreigners are treated equally. We reject differential treatment, and we have zero tolerance for discrimination. Recently the incident happened in Guangzhou had drew attention. The Guangdong authorities attach great importance to African side's reasonable concerns and legitimate appeals, and are working promptly to improve their working method," he said.
"The measures include: to provide health management services without differentiation, to designate hotels for the accommodation of foreigners required to undergo medical observation and adopt price adjustment for those in financial difficulties; to set up effective communication mechanism with foreign Consulates-General in Guangzhou; and to reject all racist and discriminatory remarks," stated Ambassador Liu.
He also assured that "African friends" can count on getting fair, just, cordial and friendly reception in China. The Chinese side hoped that all foreigners in China can abide by China's law and provisions on epidemic prevention and control like Chinese citizens.
There were also videos posted by Africans living in China, including footage showing Blacks being abused by Chinese authorities.
As Al Jazeera stated, is this a form of racism? "Or is it just Beijing trying to curb the pandemic?"
Videos posted on Twitter of these mistreatments continues to spark international outrage. This anger includes a coalition of African ambassadors in Beijing delivering a joint communiqué to China's foreign minister demanding an immediate end to all discrimination. Also, a dozen African countries summoned their Chinese ambassadors to explain the "inhumane treatment being meted out." Additionally, Chair of the AU Commission Moussa Faki Mahamat, expressed his "extreme concern," and Kenya parliament member, Moses Kuria called for the immediate removal of all Chinese nationals in Kenya, reported Foreign Policy.
The African press was just as outraged. Kenya's largest daily, the Daily Nation, led with the headline "Kenyans in China: Rescue Us From Hell." The hashtag #ChinaMustExplain quickly trended, as users of social media expressed their anger and frustration.
GhanaWeb.com posted a story with the headline: "ChinaMustExplain takes over twitter after African community is targeted in China coronavirus crackdown," and social media users went to town in their fury over what they expressed as "nothing but racist and xenophobic in China's fight against coronavirus."
Politico suggested–which is to the Trump administration's liking–that China's racist and xenophobic response to the coronavirus pandemic may have destroyed the nation's credibility with its African partners. The damage may be done, but the umbilical cord is far from cut.
"China has spent untold billions in Africa since its emergence as a global power, investing in its natural resources, underwriting massive infrastructure projects and wooing its leaders. The campaign has bought China friends and allies in multilateral institutions such as the United Nations and the World Health Organization, and the African Union undermining the West's once-reliable lock on the postwar world order while fueling its economy back home," reported Politico.
According to the China Investment Global Tracker, China's investments and contracts in sub-Saharan Africa between 2005 and 2018 equaled $299 billion, with Chinese President Xi Jinping vowing to invest an additional $60 billion into African nations.
China's racist or xenophobic underbelly may have weakened China's negotiating position and increased African leverage, but by no means is an Africa-China divorce eminent.