FINALCALL.COM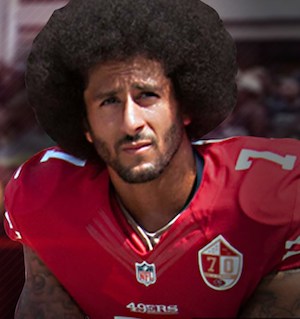 Colin Kaepernick, the outspoken Black quarterback whiteballed by the NFL, forced a league fumble by failing to go for a trick play disguised as another shot at professional football.
The so-called "workout" scheduled for Nov. 16, a Saturday, was problematic from the beginning. It apparently came out of nowhere, was set for a day usually devoted to preparing for Sunday play, and was laden with restrictions. They included no media access to the workout, leaving the NFL to control the historic footage and narrative, no ability for Mr. Kaepernick to tape his own performance, and an unusual five-page waiver, which included him giving up any right to sue the NFL if he wasn't hired.
While the sport is football, Mr. Kaepernick, who has been out of the league for three years, decided to play chess, not checkers. At the last minute, he changed the workout venue, opened it up to the public and the media, gave NFL folks an hour to get there and put on a stellar performance. According to TMZ, he also sent a copy of the workout tape to all 32 teams.
Despite naysayers who bemoaned the double move by the quarterback, saying he doesn't want to play in the league and wants to be a "martyr," the problem is a league still steeped in a slave master mentality. Apparently someone thought dangling a nebulous "chance" to come back to the NFL plantation was either too good for the 32-year-old athlete to resist, or an opportunity to discredit him.
Mr. Kaepernick, by keeping his independence, busted up the play and exposed the NFL again. So despite complaints about his politics and wearing a shirt reading "Kunta Kinte" at the workout, he showed us again that he is an aware Black man. He's much more than someone who tosses balls at the whim of White professional football team owners.
Anyone interested in the workout knew Mr. Kaepernick's politics and surely didn't come for that. If serious they came for one reason, to see if the ex-San Francisco 49ers quarterback could still play. Period. Then the media joined the hype, trying to lay the workout at the feet of hip hop mogul Jay-Z. When it flopped, they tried to pit Jay-Z against Kaep for blowing an opportunity. Stop it. Such stories are all conjecture. Jay-Z has said nothing. He also doesn't have the ability to hire NFL quarterbacks–that power resides with NFL owners. And, Jay-Z wasn't hired by the NFL to resolve the Kaepernick controversy. He was hired to help with entertainment and the league's dubious social change programs. This fight is between NFL owners, who didn't like Mr. Kaepernick's dignified, anti-police violence and police killing protests during the national anthem, and a man who can still play.
"I've been ready for three years," the quarterback told the media. "I've been denied for three years. We all know why. I came out here today and showed it in front of everybody. We have nothing to hide. We're waiting for the 32 owners, the 32 teams, (Commissioner) Roger Goodell, all of them to stop running, stop running from the truth, stop running from the people."
"Our biggest thing with everything today was to make sure we had transparency in what went on," he added. "We weren't getting that elsewhere, so we came out here."
The quarterback's agent said the NFL's actions were suspect from the beginning: His client was given two hours to accept or reject the offer of the unusual workout and the NFL refused to delay the workout date or change it to a Tuesday, when more decision makers, coaches and general managers, could attend.
Don't be mad that Mr. Kaepernick called his own plays. It's his right to look out for his own interest. That's what a free man does.