CHARLENEM And Tyral Muhammad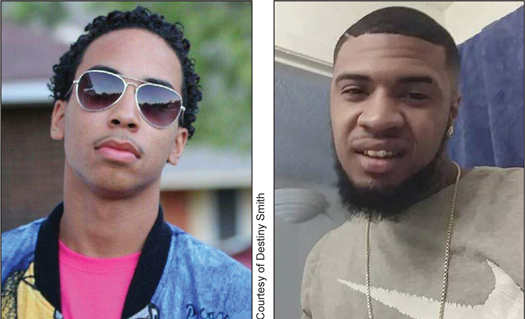 NORMAN, Oklahoma– A 17-year-old White male has pled not guilty to murdering two young Black men and helping to dismember and dispose of their bodies.
A federal judge has ruled that Brett Boettler will be tried as an adult in the deaths of Alize Smith and Jarron Moreland, both 21, killed last April.
His lawyer, Norman Finlay of the Oklahoma Indigent Defense System told Judge Michael Tupper during a March 28 hearing during which formal charges are usually read that his client may not be mentally competent to stand trial. The teen waived his right to have the seven felony charges against him read in court. In addition to the murders, charges include unlawfully disposing of a dead body, desecration of a human corpse, possessing a firearm after delinquent adjudication and feloniously pointing a firearm, according to media reports.
"I just cannot believe the judicial system," said Destiny Smith, Alize's mother. "Absolutely did his lawyer state he had a mental disability. I'm very upset of the fact that they have us so close to those murderers in court and have no remorse. I'm hurt about my only son and outraged," Ms. Smith told The Final Call in a written message after the hearing.
Kevin Don Garcia-Boettler, the teen's 23-year-old brother also appeared in court on March 28. He is facing charges along with their mother and her boyfriend. The victims were Black, while all four suspects are White.
During that hearing, Judge Tupper informed Kevin Don Garcia-Boettler that he wants him and his attorney to return on May 1 for a status conference to either enter a plea or set the case for trial.
Oklahoma County District Attorney David Prater charged Crystal Boettler, 40 and Johnny Barker, 44, with accessory after the fact of murder in the second degree and the crime of desecrating a human corpse. They are being tried in Oklahoma County because that is where Alize and Jarron's bodies were found.
Mr. Barker willfully and knowingly cut off the arms of the bodies of the young Black men, tied cinder blocks around their bodies with chains, and dumped them in a pond in an attempt to discard them, according to court documents filed November 5, 2018.
A pretrial conference for Ms. Boettler has been set for May 15, and a preliminary hearing for Mr. Barker on June 21 according to Jane Adkisson, a secretary in Oklahoma County District Attorney David Prater's office.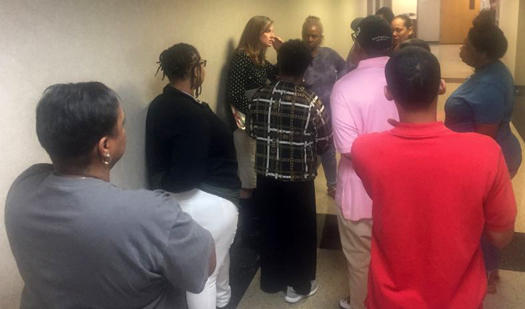 Police found the bodies of Alize Smith and Jarron Moreland on April 18, 2018 in rural Oklahoma City. They were shot in the suburb of Moore, in Cleveland County. Both had been reported missing about a week before their remains were found.According to authorities, a gun sale arranged on Craigslist turned deadly. After the shooting, the Boettler brothers took the bodies to their mother's house where Mr. Barker allegedly helped to dispose of the bodies. According to media reports, court records indicate the 23-yearold Boettler admitted to disposing of the bodies and Mr. Barker admitted that he helped with cleaning the van to hide evidence.
Assistant District Attorney Travis White told The Final Call in a phone interview the first-degree murder charges carry sentences of life or life without the possibility of parole. The accessory charges carry up to 45 years, and the desecration of human corpse charge carries up to seven years under statute if the person is already deceased at the time.
He said he doesn't recall if the Boettler brothers have any criminal history that he could enhance and that there's nothing unique in the prosecution of the cases thus far. He anticipates the teen would go first should the cases head to trial. When asked about hate crimes charges, Mr. White said he could not comment further because of the still-pending investigation.
Prior to the March 28 hearing, Ms. Smith told The Final Call she had little to say, because she felt the prosecutors wanted a plea deal. She wants the defendants to receive the death penalty.
"They just really don't want to take it to trial, I guess. I'm not sure what they're doing," she said. Ms. Smith said that Assistant District Attorneys White and Christy Miller have been very informative and that Assistant District Travis White is doing everything as best he can. "He doesn't want them out on the street because he doesn't want them to do this again, so I don't have anything against Travis and Christy. They've been helpful," Ms. Smith said.
The community support, on the other hand, has been lacking, she lamented. "That's how Oklahoma is. As soon as the first basketball or football game comes on, everybody goes to that," she said. She said the case is a matter of public record and people are free to come to court. "Then people can see for themselves what these people are doing."
The court scene appeared very stressful, but the victims' family members were already frustrated by the judge's long delay .Judge Tupper was supposed to start at 2 p.m., but he did not begin until 2:45.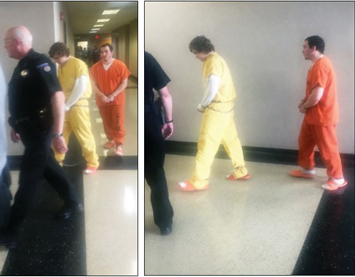 The families sat in the tiny courtroom in anguish, just a few feet away from the defendants, separated only by one row filled with a handful of supporters.
Mr. Smith's younger brother appeared visibly angered, being that close to the accused killers dressed in yellow and orange jail wear. He paced back and forth from the courtroom to the hallway periodically, sitting and staring at the Boettler brothers.
Every now and then, Brett Boettler looked over at the family, which appeared to upset them even more. "They need to tell him he needs to look straight ahead," said one woman.
Approximately a dozen family members of Alize and Jarron were in court, as well as Michael Washington, a certified legal assistant and activist. He told The Final Call, Defense Attorney Finlay raised no mental illness defense during his client's plea and that his client should not be certified as an adult.
"Apparently, the judicial system in Norman, Oklahoma (Cleveland County Courthouse) is attempting to sweep these brutal murders under the rug. The scene played out today was one of blatant mockery," he argued in a social media post.
"… First, the judge was 40 minutes late. Second, he finally arrives and informs everyone that the district attorney's office amended the charges against the 17-year-old for the third time. However, the judge refused to read off the amended charges to the family; letting it remain a mystery despite it being a public hearing. Third, the arraignment was put off until May 1 with no legitimate explanation …," posted Mr. Washington.
"This was a modern-day lynching and it needs to be kept on everybody's mind. These families deserve justice. Bottom line," Mr. Washington continued.