, Contributing Writer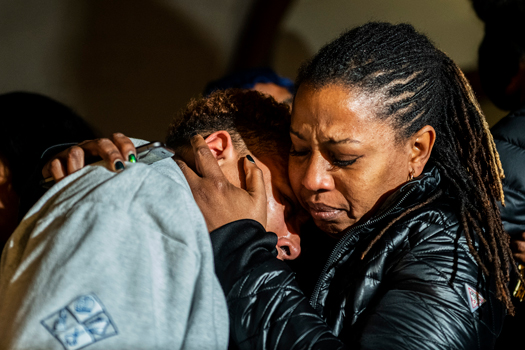 Social justice activists in Pittsburgh were left in bewildered after a jury found former East Pittsburgh police officer Michael Rosfeld not guilty of homicide or any crime in the fatal shooting of unarmed teenager Antwon Rose II.
Seventeen-year-old Antwon is one in a stunning number of Black men and youth killed by law enforcement officers without any legal consequences.
Mr. Rosfeld was charged with criminal homicide when arraigned last year and had unsecured bail set at $250,000. His trial started March 19 and concluded March 22.
Many activists viewed the verdict as a miscarriage of justice precipitated by an incompetent district attorney's office that lost what many saw as an open and shut case. Antwon was unarmed and captured on video running away from the officer, posing no threat, plus eyewitnesses testified to seeing the incident as the teen was shot three times–in the back, arm and side of his face.
If a police officer can shoot a child running away in his back and not be found guilty, then Allegheny County, Penn., simply is not a safe place for Black people, Jasiri X, a Pittsburgh rapper and activist told The Final Call in a telephone interview.
"The DA did a horrible job. From the beginning, the cop received an unsecured bond on a homicide charge. The DA's office did not challenge this. There were only three public seats in the courtroom. They did a horrible job. As a community person, it appeared to me the defense and the DA were working together," he added.
"Case in point, throughout the trial the prosecutor referred to Antwon as a man," Jasiri X noted. "In fact, he was a child. If the defense attorney is calling him a felon and the prosecutor is not objecting, then you are presenting an incomplete picture to the jury. That's the failure of the DA because he doesn't want to convict this cop. We know what it is."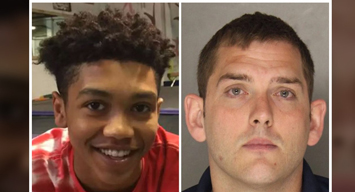 "I think one of the things that came out of the movement for Black lives was the need for the police to wear body cameras," Jasiri X continued. "Well, you had Antwon Rose's murder on camera, Stephon Carter in California murder on tape, you just had a brother in Florida who had his hands held high pleading please don't shoot on videotape and all those officers were acquitted. So, there is something about America being ok with the death and murder and the shooting of Black people. Our humanity is not recognized, and so we say the whole damn system is guilty as hell."
Student Minister Victor Muhammad of the Nation of Islam's mosque in Pittsburg was in court every day. The Fruit of Islam, men in the Nation of Islam, provided security for the Rose family. His assessment of the proceedings was in line with Jasiri X. In his estimation, the district attorney did not want to win the case. "Two weeks before the trial started on March 11, they had an evidentiary hearing, and the defense was complaining about discovery. At that point it was clear to me the prosecutor had no interest in winning this case. The DA's presentation at trial was not vigorous and was boring. It was a farce from the very beginning," said Mr. Muhammad.
According to the Muslim student minister, the case turned on the testimony of defense expert witness who argued Mr. Rosfeld was within his right to use deadly force to stop suspects he thought had been involved in a fatal shooting. "According to Pennsylvania law, you can't flee a lawful arrest. Moreover, an officer can shoot if he feels the suspect is a threat to the general public. The DA's office never used its expert use of force witness," said Mr. Muhammad.
"Antwon was painted as a criminal by the defense from the beginning. The DA never put on any character witnesses for him showing he was an honor student, volunteering in the community. The prosecution just allowed him to look like a killer. The prosecution never wanted a conviction in my opinion," he said.
Mr. Rosfeld, who testified that he thought Antwon pointed a gun at him, said he fired his weapon because he thought the teenager was a threat to him and the public.
According to accounts, Antwon and another teen were riding in an unlicensed taxi that had been involved in a drive-by shooting when Mr. Rosfeld stopped them. Neither teen was holding a weapon at the time the former police officer shot Antwon as he ran from the scene last June.
"I hope that man never sleeps at night," Michelle Kenny, mother of Antwon Rose, told the media. "I hope he gets as much sleep as me which is none."
Defense attorney Patrick Thomassey, according to the Associated Press, told reporters after the verdict: "Rosfeld is a good man. He is."
Antwon Rose's mother sent a letter to prosecutors during the trial, urging them to counter the defense's portrayal of her son as "just another thug." In the letter, she asks prosecutors to paint a picture of her son as he truly was.
"He was a rose that grew from concrete. Despite darkness all around him, he was kind, loving and funny," she wrote.
According to Victor Muhammad, her plea went unheeded by the district attorney.
Prosecutors had charged Mr. Rosfeld with an open count of homicide, meaning the jury had the option of convicting him of murder or manslaughter. The prosecution said Mr. Rosfeld gave inconsistent statements about the shooting, including whether he thought Antwon was armed.
At trial, the prosecution and the defense sparred over whether Mr. Rosfeld–who'd worked for the East Pittsburgh Police Department for only a few weeks and was officially sworn in just hours before the fatal shooting–was justified in using lethal force.
(The Associated Press contributed to this report.)