By Charlene Muhammad CHARLENEM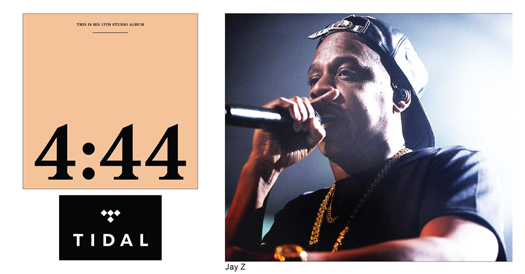 Hip-hop legend and business mogul Jay Z delivered powerful elements on "4:44," his latest album, and it was void of praise of drugs and violence.
The album went platinum, selling one million units on Tidal, a platform owned by the son of Brooklyn, and cell phone giant Sprint. It has since been released on other platforms. In addition to major sales, "4:44" sparked a wide debate about Black economics, artistic growth and the harsh reality of race in America.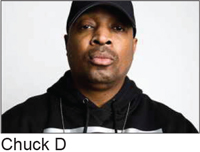 "Some think as a 47-year-old man now, father of two daughters, and somebody who is high-profile in his marriage to Beyoncé, who is sort of like the reigning Black music person, woman for the last decade, I think he had no other place to go other than to be his 47-year-old Black man self," said Chuck D of the legendary Rock-N-Roll Hall of Fame group Public Enemy.
If there's any controversy, it's because Jay Z is considered a corporate, "United States of America icon in rap music," and he's anointed to be the Michael Jordan of hip hop and rap, Chuck D said.
He's spitting the truth, like a 47-year-old Black man should, added the hip-hop legend.

One of the major releases from the album with a popular, thought-provoking video was "The Story of O.J.," in which Jay Z notes that no matter what kind of nigga you are–rich nigga, poor nigga, house nigga, field nigga, faux nigga, real nigga–in America you remain a nigga. In the same song, he advises young Blacks not to die in the drug game claiming streets they don't own, tells celebrities investments and credit is better than making it rain in strip clubs and says transfer generational wealth to your children.The black and white animated video uses caricatures of Black people long used in American culture and includes images depicting the slave trade, the Ku Klux Klan, lynchings and the Black Power fist protest of John Carlos and Tommie Smith at the 1968 Olympics. Mixed into "The Story of O.J." is the classic song, "Four Women," by Nina Simone. Forbes magazine estimated Jay Z's net worth was $810 Million in 2017. The magazine put his superstar wife's wealth at $350 million.
"I told him, 'Please don't die over the neighborhood. That your mama rentin.' Take your drug money and buy the neighborhood. That's how you rinse it,' " says Hova on the album. It was released June 29 and certified platinum less than a week later by the Recording Industry Association of America.
"If you get to be 47, you get wisdom by default along the way, so he's actually spitting something that has accumulated inside of him, and it had to find its way out if he was going to keep spitting," Chuck D told The Final Call.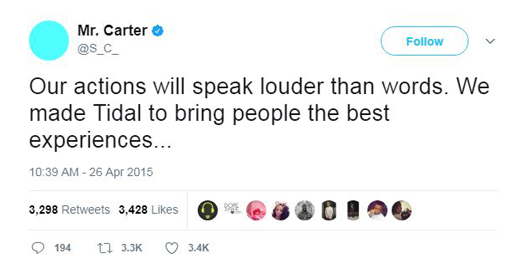 Some complained Jay Z was too old to be the number one rapper. Others didn't want to hear his messages, vowing to make it rain in strip clubs anyway–but the success and debate about the album drowned those voices. Was it fear that a challenge to drugs, violence, sex and Black on Black abuses was rising in the music industry?Chuck D labeled such critiques as the way of the business of entertainment to "treat the masses like they're asses. Just move the 'm' over. That's how core plantations treat those that receive entertainment, and especially those Black folks that do it, and it's working for the United States of America. Because it was the states that, anytime they felt that Black people were illuminated, then there's the paranoia on the other side."
"I mean, Look, there's paranoia on a simple three-word term like 'Black Lives Matter,' and you got people up in arms, saying, 'Well, I don't know. I think it's a terrorist organization.' And the reason it's quite factual to believe that that contingent is alive, and is well on the Hater-Aid, is because a lot of that same contingent thought that Donald Trump could be president. Not to say that Hillary was much better," Chuck D continued.
The Anti-Defamation League leveled an anti-semitic charge against Jay Z for a single line saying Jews came to own property in America through credit.
"I'd say that (anti-semitic) tag was tired as far as applying it to Black folks," Chuck D said. "It's so tired, because it wreaks of so many holes, because when where there's a Black on Black derogatory situation, which there's been plenty over the last 25 years, some of them go into multimillionaires saying and doing the worse. There hasn't been not a peep from any of these organizations, not a peep. Not a single word," he said. "It doesn't serve full purpose for all of us as human beings."
Jay Z releasing his 14th number one album on his own platform is bold and symbolic enough to follow, especially for Black artists, said Chuck D. "It was said long ago by the Minister (Louis Farrakhan) that gold and diamonds of the United States Black folks are our entertainers and our athletes, so to reprocess and repurpose it into our communities and our people I think should be the first understanding. But it has not been, because there's been a broken dialogue."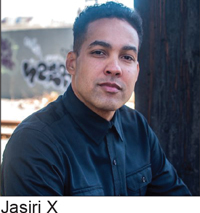 Hip hop artist and activist Jasiri X of Pittsburgh watched people quote 4:44, making memes of lyrics, and posting on Instagram and Twitter.
"Not only do people like the subject matters that he tackled, but overall it's a good album–the production by No I.D. and kind of how Jay Z responded to the music lyrically. … I guess 50 Cent said it was too smart," Jasiri X said.
According to Billboard.com, rapper 50 Cent posted his review of 4:44 on Instagram. He said he thought it was alright, but a little too smart, according to the music ratings site. "I felt like I was supposed to be wearing glasses and tie a f—ing sweater around my waist. It was like Ivy League sh–," 50 Cent said.
Jasiri X found that interesting. It was trolling, he said. 50 Cent is one of the smartest, most intelligent artists business-wise in hip-hop music, said Jasiri X.
Instead of taking upfront money from Vitamin Water, 50 Cent requested ownership in his Vitamin Water brand, "Formula 50," so when the company sold for $1 billion to Coca-Cola, the artist gained hundreds of millions of dollars, Jasiri X said. 50 Cent has also crossed over into movies, acting and producing.
One of Jay Z's great strengths is he's always been about ownership, Jasiri X added. Jay Z bought his own online streaming platform, which has benefited not just himself.
"To me, it's really the Economic Blueprint of the Honorable Elijah Muhammad. Pool our resources. Pool our own talents and gifts, and do our own thing, and if you really listen to the music, this is what Jay Z's talking about. He's talking about buying and controlling our communities. He's talking about owning our platforms," Jasiri X said.
"Part of what the industry does to pigeonhole you, particularly for Black men, is they don't allow you to grow up, so you have some of the biggest artists in the rap industry in their mid-to-late 30s … but the industry pressures them, so they're still most of the time unfortunately talking about selling drugs and all of these women.
"Jay Z is talking about saving his marriage. He's talking about leaving a legacy to his children … He's giving us lessons in life."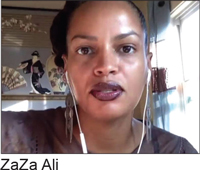 While many were happy feeling Jay Z's talking about economics and credit, ZaZa Ali, a hip-hop fan, educator, activist and radio personality, found something else as the most powerful part of the album.
"This brother is taking accountability for himself and addressing the ego, addressing his shortcomings as a man, as a father, as a husband, and just as a human being," Ms. Ali said.
"The fact that he's doing that, as one of the most prolific artists of all time, is what makes this album so powerful. But you know, Black people have a savior complex, so anytime you contribute something good, a margin of our people, per se, are always sitting back with their hands out, not giving you credit for what you're doing that's good, but looking at what you're not doing," she observed.
A long-time Jay Z critic, she echoed those who saw the album as relief during a hip hop drought.
"We're in a desert of music, where there's no water coming in that's feeding our souls, and feeding us spiritually, and feeding us mentally, and here we have a giant that's coming through and delivering," she said. "What are we complaining about? It's insane."
Davey D, hip-hop activist, journalist and radio personality, called the album solid–though he's not the biggest Jay Z fan. Over the years, Jay Z's made good music that's conversational, that people can dig deep into, and analyze, he said.
Whether it's his lyricism, delivery, subject matter, or clever word play, Jay Z's a top 10 artist, said Davey D.
But there are those who are about disliking Jay Z and nitpicking, he said. "If he walked on water, they're going to find a reason to dislike him, so I'm going to discount those remarks," Davey D said.
Political purists may complain Jay Z once peddled crack, glorified it on wax and is suddenly "woke," he continued. But that's a bit disingenuous, he said.

"People either expect that Black consumers are stupid, or they want Black people to become more stupid, and that's the problem with a lot of our mainstream media," said Dr. Boyce Watkins, an evangelist for Black economic power, ownership and independence.
"They've really harmed our community by producing content for Black people that is designed to reduce our ability to think critically, so that we can be controlled by the system in a more direct way," said the economist and entrepreneur.
Black artists are being pigeonholed and that won't change until there's a permanent awakening in the Black community–and more ownership of industries by conscientious Black people, he said.
"Minister Farrakhan and other people are quick to speak up on this, but I think that all of us have to make sure we raise the bar when it comes to Black people and what Black people consume. The Jewish community doesn't allow people to sprinkle poison on their children and then sit by and pretend it's not happening," said Dr. Watkins.