CHARLENEM and Bryan Crawford -The Final Call-
Efforts to curb spending and inflict economic pain in battle to obtain justice grow in 2016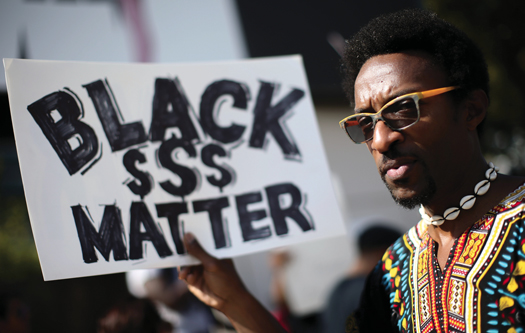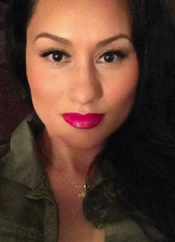 A movement to use economic power to bring justice to Black and oppressed people in America is gaining momentum as more groups push for boycotts of the holiday spending season.
Various efforts to inflict economic pain to corporate America have caused many activists to promote the boycotting of Black Friday and Christmas spending to help raise awareness to and force an end to police violence. There has also been a rise in those protesting the election of Donald Trump by refusing to spend their money in stores that have associated themselves with the president-elect, all in response to his divisive views and incendiary language in his run to becoming the 45th president of the United States.
"When we're talking about the economic shutdown, we're talking about stopping corporations from getting our money, right? So, we've got to go to the stores that don't care about us; don't care about people of color," said Carmen Perez, co-founder of the Justice League of New York.
In 2015, her group participated in the economic boycott called for after last October's "Justice Or Else!" gathering, which coincided with the 20th anniversary of the Million Man March. The event was convened by the Honorable Minister Louis Farrakhan and the Nation of Islam, which included a national demand for justice and economic boycotts being used as one of the primary tools.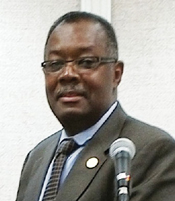 In September, New York Daily News columnist Shaun King, called for the need to have a long-term, nationwide economic boycott to shine a light on both police brutality and racial injustice, forcing America to act in the same way it did during the 1955 Montgomery Bus Boycott which lasted for 381 days.
"It is time, brothers and sisters, for us to make a unified national pivot. Our protests, of course, must continue, but we must add a critical new layer on top of them," Mr. King wrote. "It is time that we organize a passionate, committed, economic boycott. It must be painful. It must be unified. And we must continue with it until we see change. This country is clearly willing to continue killing unarmed men, women and children without ever making any serious efforts at reforms. This economic boycott can change that."
On the 61st anniversary of the historic bus boycott, this Dec. 5 King who is also a social justice activist has called for an economic withdrawal by Black people around the country to "show every city, state, institution and corporation in this country that meaningful, reasonable, achievable reforms on police brutality and injustice are not our long-term dreams. They are our immediate emergency priority."
Various chapters of the Black Lives Matter movement, as well as activists from traditional civil rights organizations, are also participating in various forms of economic boycotts.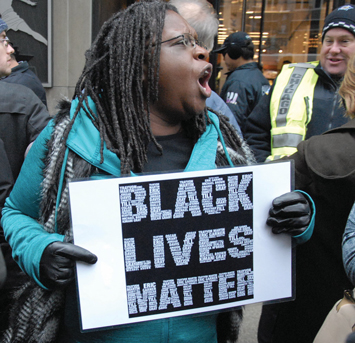 Prior to the Thanksgiving holiday, the Alabama state NAACP called for "people of good will and moral conscience to forego participating in Black Friday sales events in Alabama," in response to the many police shootings of Blacks–which the group labeled as another form of genocide–and as justified retaliation for the police killings of Black motorists, such as Philando Castile in Minnesota and Walter Scott in South Carolina.
"We are asking those to come out and support the Alabama NAACP as we stand in solidarity with those fallen victim to the irresponsible actions of law enforcement," said Benard Simelton, president of the Alabama NAACP. "Too often are we reading headlines of continuous police brutality and the lives of young men of color being taken senselessly for things like minor traffic incidents. All lives matter and everyone should make it home."
The Justice League of New York launched their "Economic Shutdown 2.0" over this year's Black Friday weekend, following similar action taken in 2014 after Eric Garner was killed by police in Staten Island for allegedly selling loose cigarettes. Many recalled seeing the shocking video depicting the way Mr. Garner was assaulted by police and placed in what activists called a chokehold, a restraining tactic outlawed by the New York Police Department in 1993.
This year, on Black Friday, Justice League NYC activists met at Columbus Circle in New York City and interrupted business at the Apple Store and Macy's. The three-day action also included a visit to memorials honoring people who lost their lives to police brutality, as well as attending services at churches and mosques in the city.
"Whatever faith that you worship we're going to support activists who go there to get healed, to hear the word of God, to hear the word of Allah, whoever you worship to," Ms. Perez said. "We're encouraging people to go and get their souls and their spirits fed. Of course, we support let's give Christmas back to Jesus, and go back to our business. We support [the message] the Minister [Farrakhan] puts out," she added.
This year, Minister Louis Farrakhan called for a second seasonal spending boycott, echoing the words of Dr. Martin Luther King, Jr. who in his last speech spoke of the need to "redistribute the pain" as part of the effort to fight injustice.
In Chicago, activists and demonstrators took to the popular Michigan Avenue retail strip dubbed "The Magnificent Mile" the day after Thanksgiving to protest and disrupt shopping. Once again, "Up with Jesus! Down with Santa!" was the rallying cry.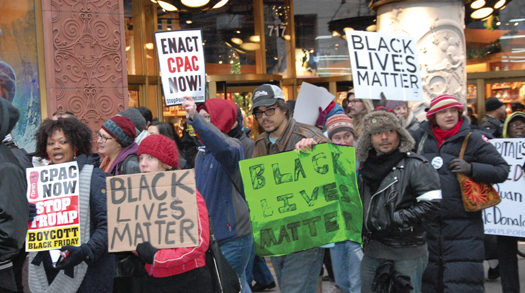 "Don't spend money from the day after Thanksgiving, called 'Black Friday,' through the first week of January," Minister Farrakhan said in a recent address. "We just can't keep burying our dead and suffering quietly while the rich and the powerful continue business as usual. Redistribute the pain, and tell them that fairness to God's people should be high on [the politicians'] agenda," the Minister added.According to the Chicago Tribune, the Black Friday protests in Chicago had a significant impact, to the tune of a 25-50 percent drop in retail sales for various retailers.
"We were down a lot," Sarah Midoun, a sales associate at Aldo shoe store, told the newspaper. "We were budgeted to make $37,000 but we only did $19,000–customers told us they were concerned."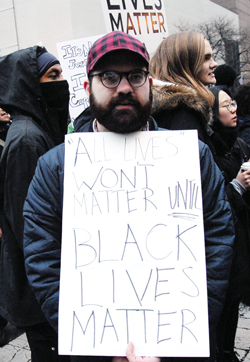 Other stores affected included Men's Warehouse, which made less than $10,000 on Black Friday this year compared to $19,000 last year. High-end shoe retailer Stuart Weitzman projected to make as much as $50,000 this year, saw sales more than $20,000 short of the goal. Garmin, a manufacturer of GPS devices, said its in-store Black Friday sales were down by as much as 40 percent because of the Michigan Ave. protests.
Last year, Minister Farrakhan's divine command for economic withdrawal was also a successful one and this past February, he detailed how the effort had hurt corporate bottom lines.
"We are the ones that are spending big money–billions. Six-hundred and two billion dollars is spent in America on the Christmas and Thanksgiving holidays through the first of the new year," the Minister pointed out. "Here is what you did to redistribute the pain: Apple, they say, in the current quarter–which was from the last quarter of the year 2015–there was a decline in Apple's sales for the first time in 13 years," said Minister Farrakhan.
"Best Buy holiday sales declined as the retailer sold fewer smart phones than expected. Domestic sales over the nine weeks through January 2 fell 1.2 percent," the Minister said. "Macy's announced plans to lay off 4,350 employees due to disappointing holiday sales. Macy's said about 80 percent of its sales declines can be attributed to shortfalls in cold weather goods like coats, sweaters, hats, gloves and scarves. Because the weather was so warm, the people weren't buying, so it's wonderful to know that we give commands and God helps us! God backs us up!"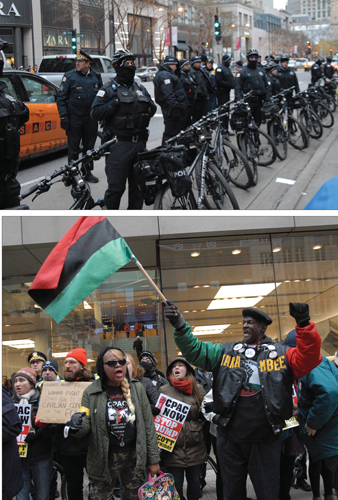 For the third consecutive year, the Los Angeles chapter of Black Lives Matter waged its "Black XMAS" campaign, organized by Dr. Melina Abdullah, chair of the Pan African Studies Department at California State University–Los Angeles.
"Last year we were doing it in solidarity and partnership with the Nation and we continue to share the view that when we think about the oppression and exploitation of our people, we have to recognize the role that rampant consumerism and spending with White corporations plays," Dr. Abdullah told The Final Call.
"We have to remember that they whip us in into this frenzy, making us think that we have to buy things that we don't need," she added. "So we need to really think about whether or not our child needs another toy, or whether or not we need another pair of shoes."
Dr. Abdullah also called for Black people to not just stop shopping with White companies in favor of Black ones, but to also spend and invest their dollars in Black-led community-based organizations as well.
"Rather than spending those dollars with White corporations that we know exploit us and are also tied to the police state that killed our people, we want to be deliberate in the usage of our money and spend those dollars or invest those dollars in building Black communities," she said.
Faheem Muhammad of Mosque No. 27 in Los Angeles, helped organize "Black Out Black Friday." The effort was supported by noted filmmakers such as Ryan Coogler, Ava Duvernay and others. The idea for the boycott stemmed from the 2014 police killing of Michael Brown Jr. in Ferguson, Missouri.
"The decision of [the district attorney] to not prosecute Darren Wilson actually dropped a few days before, which caused a great energy around [the boycott]," Mr. Muhammad said. "The following year, you had the momentum from 10-10-15, and then the LaQuan McDonald case, so you had great energy created right around that time [too]."

"Every year, God has blessed it to grow," Mr. Muhammad added. "For me personally, the direction that we're going is great. I think the boycott has awakened a lot of people to the effect economics can have on social conditions–particularly for our community–and I think that where it's headed now is really the shift in spending. The initial goal was to get people to just stop spending so they could recognize how economics plays a major role in the fight for justice.
"Many activists and protesters really weren't talking about economics, but now that they've awakened to that level of consciousness, it's time for people to shift their mentality to where they spend and bank year-round. I think any other event that happens will continue the momentum and continue to wake people up to the realities of what's going on."
So how effective has this year's holiday shopping boycott been? At present, there is no agreed upon consensus, but some data shows that an impact has been made.
According to the National Retail Federation, consumers spent less money this year than they did in 2015. Also, while online shopping went up, brick-and-mortar operations saw a decrease of three million in-store shoppers this year, compared to last. Research firm ShopperTrak revealed that nationwide, overall in-store sales fell 10 percent, from $11.6 billion in 2015 to $10.4 billion in 2016.
Cassiopeia Sledge of TheBlackMall.com, a Chicago-based website that sells Black-owned goods and services, also sees change on the horizon.
"There's been a surge of interest in people buying Black and [doing business with] pop-up shops ready to serve them," she said.
"People's language is changing to reflect what myself and others have been saying for years. It makes it like 'Ah! Thank you! This work is not in vain! These efforts are not just tireless efforts!' These five years of completely being devoted to this [movement], we're starting to see the fruits of our labor. We're seeing the seeds pop. Flowers are coming from it. It feels amazing and I'm happy to be a part of it."
Ms. Sledge added, "There's been more people than ever. We've had The Black Mall since 2011 and I've been talking about buying Black since about 2005, and I went to some really good grammar schools and high schools growing up here in Chicago with a lot of amazing Black people, but they were considered the Black elite."
Her "Buy Black" message may have once seemed a little radical to that particular group of people, but now she says, the tide has turned. "A lot of them have been inboxing me and like, 'Yo! I want to do something. I want to start buying Black. I've been seeing you posting about it. Where do I go? What do I do?' " she said. Black celebrities and entertainers such as Usher Raymond, Killer Mike, David Banner, Solange Knowles and her sister Beyoncé, have all become vocal about buying Black.
The latest addition to the movement of economic power being used to inflict pain have been anti-Trump protests. Shannon Coulter, a brand and digital strategist based in San Francisco, was the co-founder of the #GrabYourWallet movement which launched in October. The goal was the same: to encourage consumers to not do business with retailers that worked with Donald or Ivanka Trump. Ms. Coulter created a spreadsheet of approximately 65 companies that had aligned themselves with the Trumps in one form or another.
"In the wake of Trump's selection of Steve Bannon as chief strategist, more and more people are committing to not doing business with companies that do business with the Trump family," she said. Some of the most notable companies included on the spreadsheet were Amazon, Nike, New Balance, Home Depot, Sears, Nordstrom and Bloomingdales.
As a result of this effort, Ivanka Trump's brand has been the hardest hit so far. FastCompany wrote that her brand has seen a 54 percent drop in interest, which was calculated based on views of products sold in her name on websites of multiple retailers.
In his article, "Want to Protest Trump? Nix Black Friday, #CancelXmas Shopping," Tom Ewing encouraged protestors to forget taking to streets to denounce the election of Donald Trump to the presidency. Mr. Ewing wrote that the only way to protest Trump is to stop shopping.
"It'll hurt, but there's no more effective way to block his racist, misogynistic, anti-science agenda," he said. "It will be hard. But it will work. It might be the only weapon left."
The Democratic Coalition Against Trump created a "Boycott Trump" app which lists businesses that have been linked to Trump and helps people avoid spending money with those companies. Nate Lerner, a representative of the group, tweeted that the app was not only working, but has been well received after revealing nearly 250 companies that have been linked to Donald Trump.
"Our Boycott Trump app enables people to take action against Trump by turning their purchasing power into a tool for protest," Mr. Lerner said. "This hits Trump and his allies where it hurts them most–their wallets."