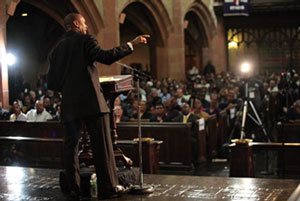 BROOKLYN, NY (FinalCall.com) – Three thousand people passed through two downtown Brooklyn churches for a three-day conference on being "Black and Male in America" June 15-17, with workshops on spirituality, education, popular culture, economics, politics and policy, the criminal justice system, physical health, mental wellness and violence in our communities.
That is according to Kevin Powell, author, activist and lecturer and convener of the conference, which he says is a follow-up to his State of Black Men Townhall Meetings and Workshops, a 10-city national tour produced in 2004.
Mr. Powell said the purpose of this conference, held between Hanson Place Central United Methodist Church and Hanson Place Seventh-Day Adventist Church, was to bring together activists, educators, scholars, policymakers, artists, athletes, writers, mental health and social workers, and many more including mothers and fathers, "who are concerned about the fate of the Black male."

"This conference was incredible–a flashback to the Million Man March–the impact of the everyday Brothers, who traveled to downtown Brooklyn to get some plans together, to redeem their lives," Mr. Powell told The Final Call. There were five-year-olds mixing with men who are 79 years old, he said. And there were moms there with their sons, who expressed thanks for having this conference, Mr. Powell noted.
"Dr. Michael Eric Dyson gave the closing-day keynote address–blew the lid off the place–but this was about Black men who attended, many with their sons, who wanted to know where to get the information they needed.
Corie Muhammad from Lansing, Mich. said, "I attended with the intent to share and learn information about being a Black man in America. I enjoyed the spirit of brotherhood that was displayed all weekend long, and I also liked the fact the conference was specifically focused on Black males."
"I enjoyed the opportunity to network with other people of diverse professions and careers, but at the same time, similar in that they are concerned about Black people," Mr. Muhammad stressed.
Shaun Neblett is a Harlem resident, an activist, playwright and teaching artist, who said he appreciated the conference because it allowed him an opportunity for some much needed self-reflection.
"While I was listening to the panelists, I caught myself thinking about who I am as a Black male and questioning what I want to do with my art, and how I can rightfully fulfill my purpose. The solutions I heard came from within and I was very happy that the Black Male in America conference motivated that for me," Mr. Neblett said, adding, "I think Black America has to be unafraid about calling the Brothers out and talking about our issues."
"This is an issue that was heard over-and-over again; Brothers must interact where the young Brothers hang. Go to a school and mentor. Go to a barbershop. Just talk to them–the young Brothers," Mr. Powell said.
Mr. Powell explains the plans for follow-up: "Our aim across the board, is to create a model for how our Black male discussions and remedies should look going forward. Secondly, we will webcast and podcast all the information gleaned during the three days. We will also launch a major website (www.blackandmaleinamerica.org). It is designed to be a comprehensive, multimedia Internet destination for any information relevant to Black male development. The site will include essays, articles, and scholarly writings; a regular Blog section; a listing of resources nationwide in the areas of health and healthcare."
"A clearinghouse of information will be created," Mr. Powell told The Final Call.
And lastly, he says that 100,000 copies of a "Black Male Handbook" will be ready for distribution in November, in barbershops, Black college campuses; and through the entertainment industries and many street teams. The handbook will be a blueprint for physical, mental and spiritual health and wellness, Mr. Powell noted. "Our goal is to ultimately get at least one million copies of this handbook into the streets of America.
(For more information on the "Black and Male in America" conference, please visit www.blackandmaleinamerica.org.)