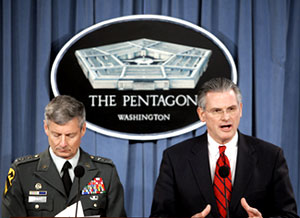 (FinalCall.com) – President George W. Bush announced in February his plans to create a new military command for Africa, which would be known as U.S. Africa Command (AFRICOM). The president reportedly said the unit would be up and running by the end of September 2008, however, his administration has yet to say where the command would be located and what it would cost the American taxpayer.
"This new command will strengthen our security cooperation with Africa and create new opportunities to bolster the capabilities of our partners in Africa," Pres. Bush said, adding, "Africa Command will enhance our efforts to bring peace and security to the people of Africa and promote our common goals of development, health, education, democracy and economic growth in Africa."
However, in an interview with The Final Call, Nicole Lee, executive director of the Washington-based Trans Africa forum, said that this proposal to build a military command in Africa "is of great concern" to us and that "Greater peace and security to the people of Africa, nothing could be further from the truth."
In a statement on the organization's website www.transafricaforum.org, Ms. Lee said: "This newest incursion follows a pattern of extraction of minerals and aiding factions in some of Africa's most bloody conflicts; thus further destabilizing the continent."
Ms. Lee also called this proposal "a very serious moment."
"Any plans to set up a command in Africa should be met with harsh criticism and decisive action by people of good will." She told The Final Call that this command was nothing short of a sovereignty and resource grab.
According to an article published on Al Jazeera's website on Feb 7, the U.S. had divided Africa into several commands: The Central Command handles the Middle East and Horn of Africa; the European Command covers northern Africa; and the Pacific Command has responsibility for Madagascar.
Al Jazeera also noted that the U.S. Army began working in West and Central Africa in 2002, "teaching local armies basic techniques to help them locate and destroy groups suspected on terrorism."
Ms. Lee reacts strongly to the terrorism issue, stating that it is a cover by the U.S. to extend its global war on terror onto the continent of Africa. "All this is a way of insuring that U.S. interests in Africa are protected," she said.
Al Jazeera says that the U.S. "hopes the Gulf of Guinea will provide up to a quarter of its oil imports within a decade," adding, "The U.S. is also concerned at Chinese attempts to gain greater control over the continent's natural resources."
Echoing the same sentiments was an Associated Press (AP) report carried by MSNBC on Dec. 14, 2006: "Officials say Africa is strategically more important because of increased efforts by China to involve itself and gain influence on the continent."
On Jan. 31, 2006, the Inter Press service (IPS) carried a quote from Democratic Sen. Russell Feingold, chairman of the Senate subcommittee on Africa: "An Africa Command would help the U.S. military focus on a continent that is essential to our national security."
IPS also revealed that since 2002, the "greatest concentration of U.S. military power" in Africa has been based at Camp Lemonier in the former French colony of Djibouti.
In January 2006, the Council on Foreign Relations issued a report entitled "More Than Humanitarianism: A Strategic U.S. Approach Toward Africa." The report argues that Africa is becoming steadily more central to the U.S. and the rest of the world in ways that transcend humanitarian interests.
"A more comprehensive U.S. policy towards Africa is needed," the report states, which concluded with "Americans must pause and reflect on how Africa has become a region of growing vital importance to U.S. national interests."
According to the U.S. Department of Defense's website, Ryan Henry, principal undersecretary of defense for policy, is quoted as saying in a Pentagon news conference last month that "Africa, which represents 35 percent of the world's land mass and 25 percent of the population, is growing in significance, and it is time for the U.S. to recognize its importance and consolidate efforts there."
Mr. Henry also stated that "[Africa] is a continent and a group of nations who think of themselves from a continental perspective; they think of themselves as Africa. One of the major reasons that it's time to stand up Africa Command is for us to view the people, the nations and the continent of Africa from the same perspective that they view themselves."
However, there is another school of thought, which voiced its opinion in a Business Day editorial published on AllAfrica.com Feb. 14 entitled "Why U.S. Africom Will Hurt Africa." Laying the foundation for his piece, the writer said, "Rational decisions about access to oil resources and geostrategic regions–such as in the Horn of Africa and the Middle East–dominate U.S. foreign policy."
"U.S. bases have produced a culture in places such as Asia and South America that have increased poverty; and introduced a culture that especially disadvantages women. Military bases bring unstable economic development to the area in which they are established–in countries where unemployment is rife and where most of the unemployed are women–sex work becomes a necessity when women need to feed their families," the writer continued.
Last, but not least, the commander that media reports indicate would be in charge of the Africa Command would be Gen. William "Kip" Ward, a Black man.
Related news:
Bush bombs Africa, no outcry! (FCN, 02-05-2007)
Somalia: a clear case of 'blood oil' in Africa (FCN, 02-05-2007)
Bush's Goal: Bring African leaders in line with U.S. policy (FCN, 12-08-2006)
U.S. covets Africa's black gold (FCN, 10-01-2002)
How the U.S. Government destabilized foreign governments (FCN, 07-22-1985)