–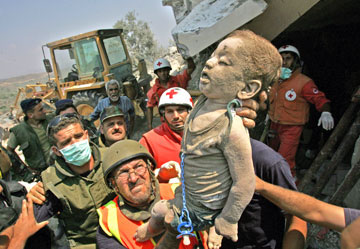 THE WHITE HOUSE (FinalCall.com) – The cloak of U.S. Middle East diplomatic leadership has been exposed as a fig leaf attempting to protect naked Israeli aggression in Lebanon.
Just two days after President George Bush, with Britain's Prime Minister Tony Blair at his side, praised the government of Lebanese Prime Minister Fuad Siniora, Mr. Bush hastily sent Secretary of State Condoleezza Rice back to the troubled region with new instructions to find "an acceptable UN Security Council resolution" amid relentless attacks by Israeli Defense Forces, often against civilian targets. But the Lebanese government bluntly cancelled the visit by the U.S. envoy before she arrived.
Lebanese officials informed Secy. Rice that her trip to Beirut was cancelled, after yet another Israeli air-strike killed 56 civilians, 37 of them children, huddled in a basement air-raid shelter in the city of Qana early July 30.
Prime Minister Siniora denounced the Israeli raid as a "war crime," insisting that there was no place for talks until Israel ended its attacks. "There is no place on this sad morning for any discussion other than an immediate and unconditional ceasefire as well as an international investigation into the Israeli massacres in Lebanon now," Mr. Siniora said at a July 30 press conference, according to published reports.
"Our hope for peace for boys and girls everywhere extends across the world, especially in the Middle East," Pres. Bush said later that day before the start of a children's "Tee-Ball" baseball game on the South Lawn. "Today's actions in the Middle East remind us that friends and allies must work together for a sustainable peace particularly for the sake of children," he told the young players and their chaperones.
Within hours, Secy. Rice cut short her mission without calling for an immediate ceasefire to end the war. Then, later that day, Israel agreed to suspend its aerial bombardment of southern Lebanon for 48 hours, to allow for an investigation into the bombing, a State Department official said, according to published reports.
The U.S. Middle East policy had already been in a downward spiral since early July when Israel launched raids and attacks, first in the Palestinian Gaza Strip against Hamas, the Palestinian governing party, and within days against Hezbollah forces in Southern Lebanon.
The G-8 Summit of the major industrialized countries, meeting in St. Petersburg, Russia in mid-July, was dominated with concern over the bloodshed involving Israel and her neighbors.
The following week, Pres. Bush's Oval Office meeting with Iraqi Prime Minister Nouri Al-Maliki was dwarfed by Congressional outrage, when Mr. Al-Maliki condemned the first in an ongoing series of Israeli attacks that killed innocent civilians, without a corresponding denunciation of Hezbollah. Mr. Al-Maliki's speech to a joint session of Congress July 26 was almost un-done when Democrats, including many in the House leadership, threatened to boycott his appearance.
Meanwhile in Iraq, the military situation on the ground took several turns for the worse; and during a joint White House press conference with his Iraqi counterpart, Pres. Bush announced a redeployment of U.S. troops to the Iraqi capital to try to quell the sectarian violence there, which has gotten bloodier and bloodier, despite assurances to the contrary by the U.S.-supported Iraqi government and war supporters throughout the Bush administration.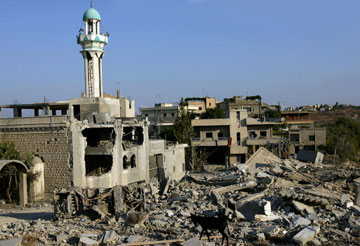 Earlier in the week, supporters of Congressional action staged a national telephone campaign to support Rep. Dennis Kucinich (D-Ohio), and 23 co-sponsors (including nine Congressional Black Caucus members) of his resolution calling on the President to appeal "for an immediate cessation of violence and to commit the United States diplomats to multi-party negotiations with no preconditions."
"Despite mounting civilian casualties on all sides, the U.S. continues to provide Israel with a green light to destroy Lebanon and the Gaza Strip," said the Council for the National Interest Foundation in a statement supporting a day of national telephone call-ins to support House Congressional Resolution 450, the measure proposed by Rep. Kucinich.
Another group of activists and Washington residents–joined by protestors who have been staging a hunger strike at the White House aimed at immediately bringing home U.S. troops from Iraq–staged a mock funeral at the Israeli embassy.
"One, two, three, four: We don't want your racist war. Five, six, seven, eight: Israel is a terrorist state!" demonstrators chanted near the embassy, carrying coffins draped with black flags.
"There are definite links between the fighting in Lebanon and Iraq," CODEPINK co-founder Medea Benjamin told The Final Call. She is also one of the organizers, who were in the 23rd day of the White House "Troops Home Fast" on the day of the protest at the Israeli embassy.
"Part of it is this aggressive military strategy on the part of Israel and the U.S.," she added, "which thinks that you can solve problems with overwhelming military force."
Galloway: Israel is a terrorist state – Video (08-06-2006)
Israel's bombs, but Washington's war (FCN, 08-09-2006)
Israel using U.S.-built weapons to pound Lebanon (FCN, 08-01-2006)
U.S. rushes more precision-guided bombs to Israel (Reuters, 07-22-2006)
Pro-Israel lobby dictates U.S. policy, study charges (FCN, 04-05-2006)