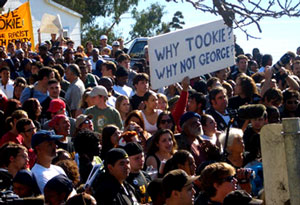 SAN QUENTIN, Calif. (FinalCall.com) – Under maximum police surveillance, approximately 2,000 people saturated Point San Quentin Village for a Nov. 19 rally to save five-time Nobel Peace Prize nominee and death row icon Stanley "Tookie" Williams from execution Dec. 13. During the three-hour "Save The Peacemaker" rally, cries of "Clemency for Tookie" and "End the Death Penalty!" could be heard.
Situated just outside San Quentin State Prison's Eastgate, the rally-goers, who hailed from various racial, gender, age, religious and organizational lines, presented their demands for clemency, despite consistent technical difficulties and under the constant buzzing of helicopter blades. They were first greeted by Barbara Becnel, an activist, author and Mr. Williams' editor.
"We are here today to honor the work of Stanley," she stated, "and we are going to honor the grief and the wisdom of parents who have lost their children to gang violence–parents who nevertheless are here to embrace Stanley and his work and to support his clemency."
Before introducing a bevy of youth speakers, community and civil rights activists and faith leaders, Ms. Becnel noted that prison officials shut down the prison and visiting hours for everyone, which was not the rally organizers' intention. She also corrected media attacks and untruths she contended were designed to promote Mr. Williams' execution.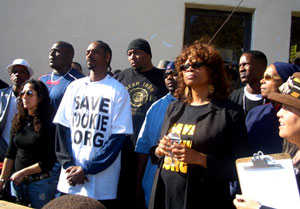 "Many of you have heard on the news in recent days that Stanley 'Tookie' Williams is an active gang member, calling shots from his death row cell–where, by the way, he's been moved, so he's monitored about every hour. His phone calls are listened to," she continued. "Like he says, he'd have to be a magician to do any of the things that he's being accused of doing."
She held up a copy of Mr. Williams' recent evaluation by prison officials, which indicated that his most recent disciplinary action occurred on July 6, 1993.
"Only a redeemer can redeem others, and Stan "Tookie" Williams has done more on death row than many of us have done and we are free today," stated Nation of Islam Western Regional Minister Tony Muhammad, present on behalf of the Honorable Minister Louis Farrakhan, to lend his voice and efforts to mobilize humanity to send a message to Governor Arnold Schwarzenegger.
Min. Tony pointed out America's criminal beginning in slaughtering the Indigenous people, who have not sought the murder of leaders within the American government in return.
"This government needs clemency from God itself. Our president needs clemency; a president who has murdered tens of thousands on foreign soil. He needs to show that he is a redeemed man, and even in that act, Pres. Bush can call for the clemency of Stan 'Tookie' Williams," Min. Tony continued.
"We speak out to your conscience and ask you to not kill Stan 'Tookie' Williams," he added, directing his comments to Gov. Schwarzenegger. "If you execute, you destroy the hopes of hundreds of young men and women who have gotten involved in gang culture. You will sentence the future of many of our babies to hopelessness!"
Every Friday night, Bay Area hip hop artist T-KASH runs "Save Stanley Radio" on Pacifica Network's KPFA in Berkeley. He urges that if it is not too late, editors should change magazine and newspaper ads to highlight Mr. Williams' situation.
"We ask all the time, what can we do? We can incorporate Stanley 'Tookie' Williams' situation when we record our music, mix tapes. We always have to incorporate the phone number of Gov. Arnold Schwarzenegger, so these young people who soak up everything else we influence them with, can soak up this number," he said.
Donning a white dress shirt, black bow tie and black and gold SaveTookie.org T-shirt, ninth grade student Julian Muhammad addressed the gathering. "I'm here today to demand clemency for Stanley 'Tookie' Williams because he stands up for me."
In 1995 and 1997 respectively, Project Cry No More's Vicky Lindsey and Gloria Montana's sons were murdered on the streets of L.A. due to gang violence, but Ms. Lindsey said there is no mystery or irony in why they are standing for clemency for a man who, despite the good intentions, co-founded an organization that is partly responsible for their losses.
"It's hard, but this is what I stand on. Not because of his wonderful books, not because of his redemption, but because he said he would not apologize for a crime that he did not commit, even if it meant his life. So if there's an ounce of doubt, you can't kill him! Not at all! If they kill him and they find out that they made a mistake, they can't bring him back," she stressed.
Todd Chretien, of the Campaign to End the Death Penalty, said that the demonstration was the biggest rally to stop an execution before any execution that California has ever seen.
"We are here today, because we understand that this racist system wants to kill Stan 'Tookie' Williams because of the example that he sets for young people across this country, which is, no matter what they do to you, no matter how far they push you down, you, under the worst of circumstances, can still stand up, be a human being and make a positive difference in this world. That's what they are terrified to hear and that's why they want to kill Stan 'Tookie' Williams!"
(For more information on Stanley "Tookie" Williams or to get involved, visit savetookie.org.)