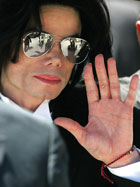 (FinalCall.com) – Not guilty!! That was the jury's verdict in the Michael Jackson trial, after 14 weeks of testimony and seven days of deliberation. The pop star was acquitted of all 10 felony counts, which included conspiracy, imprisonment of his 13-year-old accuser and his family, giving the boy alcohol and child molestation at Mr. Jackson's Neverland ranch.
The jury did not believe the mother and son who claimed to be victims, but instead the jury saw the world renowned entertainer as the next victim in a pattern and practice of their extortion. They ignored media convictions of Mr. Jackson and the seeming vendetta against Mr. Jackson by the prosecutor Thomas Sneddon Jr. and voted not guilty on the thin case presented by the prosecution.
"There was tons of evidence to consider," said Juror Number One in a press conference after the verdict was read. "In looking at it all, we really worked hard and were careful in our decision."
"We all looked at the evidence and agreed," said Juror Number Five.
When asked by a reporter from Telemundo Channel 54 in Los Angeles if Michael Jackson's celebrity status had any effect on their verdict, the foreman said, "We had to look at him just like any other individual and not a celebrity. Once we got over that, we were able to deal with it just as fairly as anyone else."
This case was the latest installation in a decade-long pursuit by the district attorney to secure a conviction against Mr. Jackson. Each time Mr. Sneddon came forth with allegations, he failed to convince anyone that Mr. Jackson was guilty of child molestation, getting underage boys drunk and showing them pornography.
Mr. Sneddon, however, denies that he had any vendetta against the international pop star.
"My history with Mr. Jackson had unequivocally nothing to do with this case," he told reporters after the conference after the verdict. "We don't select victims. We evaluate the case and the evidence. We thought we had a good case this time."
The good case turned out to be a really bad case, that dragged Mr. Jackson's name through the mud.
Reverend Al Shartpon told CNN that this was a vindication for people who believe that a person is innocent until proven guilty. "People have the right to a fair trial even if we disagree with their lifestyle. Michael Jackson was vilified and lynched by the media, but this jury was courageous in their verdict."
Not only was Mr. Jackson condemned because of the alleged charges, but he was also slandered because of his relationship with the Nation of Islam.
"Early in this dilemma, Minister Farrakhan, his family and officials came to Michael Jackson's aid. When his security, finances and business affairs were being handled by the Nation, there was a big uproar," explained Leonard F. Muhammad, chief-of-staff of the Nation of Islam. "We moved away from him to ensure an acquittal. We distanced ourselves out of concern that he wouldn't be given a fair trial if our presence was highly visible. We're happy for Michael and his fans around the world who know that he is a kind and sensitive human being who is not capable of committing the acts he was accused of."
He added, "We relinquished visible support, but many of us have remained around Michael and have been so on a daily basis."
Many around the country saw the attack against Mr. Jackson as the result of him speaking out against racism in the music industry.
"The charges can be classified as malicious prosecution. There was no evidence to sustain them," said Atonn Muhammad, president and CEO of the Real Hip Hop Network, to The Final Call. "The trouble started when he made statements about racism in the music industry."
Mr. Muhammad explained that Mr. Jackson's problems were caused by his discussion of how music moguls made money off the exploitation of artists.
"As long as he was going along to get along, Mike was OK. When he took up some serious issues, that's when his troubles started."
Rev. Sharpton agreed: "This all started in 2002 when Michael came to New York and started speaking out."
The trial presented two very different Michael Jacksons–one by the prosecution as a pervert with a strange lifestyle who lured young boys to Neverland for his sexual deviations and another by the defense as a humanitarian who wanted to help children and give them a better life than he had. But the jury questioned the credibility of the mother and son and believed the defense.
With his acquittals, Michael Jackson walked away without having to serve one day of the 20 years that he faced if convicted. He is now free to move on with his music and life.