Tulsa race riots survivors hold briefing with CBC (FCN, 03-27-2005)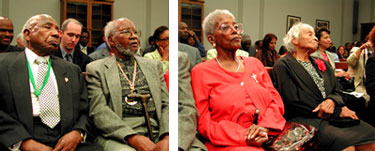 WASHINGTON (FinalCall.com) – Just five days after a handful of survivors of Tulsa, Oklahoma's bloody 1921 race riot testified before a Congressional Black Caucus (CBC) hearing, the U.S. Supreme Court refused without comment on May 16, to revive their lawsuit seeking reparations.
The lawsuit against the state of Oklahoma and the City of Tulsa was filed by survivors and descendants of victims of the deadly riot. It was dismissed by a federal judge and a federal appeals court, which said the statute of limitations had expired.
Attorneys for the group and supporters of reparations for Black descendants of slaves insist that the two-year statute of limitations should not apply, because murders (for which there is no statute of limitations) were committed, and plaintiffs were unaware of the government's role in the riot, until a special commission issued a report in 2001.
"What happened on May 31, 1921 has been called 'The Tulsa Race Riot.' But as far as I'm concerned, to call it a race riot is not only misleading, but it distorts the facts of what happened," Chicago Alderman Dorothy Tillman testified before the CBC panel March 10.
"The 11,000 residents of Greenwood only wanted to live, work and raise their children in a safe, secure community. I believe a better description would be the 'Tulsa Massacre of 1921,'" she continued.
"This is not just a little incident that we pull up to beat the drums on," said Rep. John Conyers Jr. (D-Mich.), the Ranking Member of the House Judiciary Committee, in remarks before the testimony began. "This is a matter of the connecting up of the struggle against racism that started even before 1921, and it is a reiteration of the fact that we are not going to let the history of this struggle get lost because some people are not interested in it or don't want to propose it."
Their hair turned white and their bodies bent by age, Otis Greenville Clark, 102; 88-year-old Wess Young, and his wife Cathryn Young, along with Dr. Olivia Hooker–all survivors–sat patiently before they recalled in their own words their gruesome stories.
"When the mob came in, the first thing they did was burn my doll's clothes," recalled Dr. Hooker, who was only six when the riot broke out. The department store owned by her father was looted and reduced to rubble.
The success of her father's business–despite Jim Crow segregation and less than 60 years from chattel slavery–and the success of many others like it, is part of the Black Pride that gave the Greenwood District the nickname "The Black Wall Street." It was also a source of envy, which White race-haters wanted to destroy.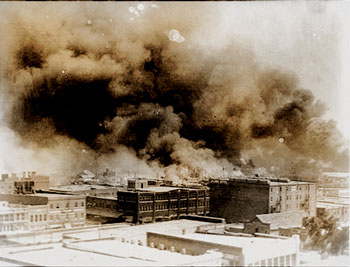 "This hearing is important because it casts additional light on the devaluation of lives of African descendants that is hallmark of racism in the United States," said attorney Adjoa Aiyetoro, vice president of the National Committee of Blacks for Reparations in America (N'COBRA) and co-chair of its Reparations Coordinating Committee.
"It shines a national light on the destruction of human lives and property caused by hatred of African descendants that was exacerbated by jealousy of the many achievements in spite of segregation," she continued.
The riot began May 31, 1921 when Blacks fought off a White lynch-mob outside a courthouse where a Black man accused of assaulting a White female elevator operator was being held. Police deputized a group of Whites who torched as many as 1,000 homes and businesses in the Greenwood District, while Blacks were being confined "in protective custody" at a baseball stadium. The confirmed death toll is 37, but some estimates are as high as 300 dead.
Otis Clark recalled seeing a boy shot in the hand while he tried to ready an ambulance to help victims. When Mr. Clark, who was 18 at the time, returned to his house, the structure had been burned to the ground. "They haven't given us nothing, and even to this day we haven't received anything," said Mr. Clark.
In 2003, more than 400 plaintiffs, including about 150 survivors of the riot, sued the state, the city and its police department, seeking unspecified damages. A federal judge dismissed the case, saying he could not find a reason to extend the two-year statute of limitations. Then, a federal appeals court last year also denied the effort to reinstate the group's lawsuit.
Harvard Law Professor Charles Ogletree, lead attorney for the group, argued before the Supreme Court that a report issued in 2001 disclosed new information about the riot, and that it was not until after the end of the Jim Crow era in the 1960s that courts became receptive to any kind of civil rights lawsuits. The Supreme Court, without comment, rejected that argument.
The elderly survivors of the bloody event are dying, still waiting for justice that, up until now, has been denied. Already, 30 of the survivors have died since the lawsuit was filed–the most recent the week of May 9. CBC members insist that it is critical to document the memories of survivors to help support a case for reparations or legislative relief if their legal arguments fail in court.
This country has paid restitution to American Indians, Japanese-Americans and others who have been victimized by the affects of race-hatred, said Alderman Tillman, who has researched the issue thoroughly. "It was the right thing to do for them, it's the right thing to do for us," she declared.
In another, similar case, in 1994, $2 million in compensation was approved for nine survivors and dozens of descendants of a 1923 attack on Blacks in Rosewood, Fla.
"Being able to give a public account of what happened to our community in May of 1921 is critical," said Dr. Hooker. "Children today have no idea of what we went through and how it disillusions you. I believed every word of the Constitution but, after the riots happened, I realized that the Constitution did not include me."