Landmark suit seeks reparations for deadly 1921 Okla. riot (FCN, 03-13-2003)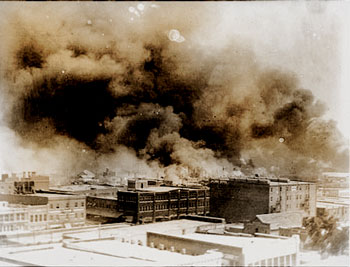 WASHINGTON (FinalCall.com) – They survived one of the ugliest and bloodiest incidents of racial violence in America's bloody history of racial subjugation–the anti-Black race riot that burned Tulsa, Okla.'s prosperous Greenwood neighborhood to the ground in 1921. Hundreds of Blacks were killed, and 22 square blocks including 1,256 homes were reduced to ashes.
Ranging in age from 89 to 102, the survivors of that awful day petitioned the Supreme Court in person March 9, demanding reparations, demanding justice, demanding that the facts and the law pertaining to their claims be argued in a court of law.
"Until there is justice in Tulsa, there can be justice in no other place in America," Harvard Law Professor Charles Ogletree said recently. Prof. Ogletree is the lead counsel in the case.
"It is a strong statement and an appropriate statement," Prof. Ogletree told The Final Call. "The 1921 race riots in Tulsa, where hundreds of homes and businesses were destroyed; where hundreds of lives were lost, all African American; where 10,000 African Americans were left homeless; where millions of dollars of damages were done; and yet where no court has ever said, 'I'm sorry.' or, 'We'll pay you for your losses.' We have to have justice in Tulsa.
"Until they get justice, there can't be any sense that we have a just legal or political system in America. I'm so glad that they're here with us in Washington," Prof. Ogletree said in an interview, as he and others prepared to file a petition on behalf of the survivors, to overturn a decision by the 10th Circuit Court of Appeals, dismissing their lawsuit (Alexander, et al v. Oklahoma, et al) against the State of Oklahoma. The plaintiffs include 150 living survivors and more than 300 descendants of those who were killed or lost property.
"If you look at the history of reparations, you see that appropriately after more than 60 years of suffering, Jewish victims of the awful Holocaust, finally received some reparations for their losses in the earlier part of the 20th Century," he explained. "You see that, after more than 40 years of waiting, Japanese Americans who were in internment camps during the Second World War in the 1940s, finally received reparations late in the 1980s. You see in the city of Rosewood in the state of Florida, Blacks who were victims of another racial mob, finally got reparations 70 years after the devastation of their communities," he continued.
"Tulsa stands alone as one of those communities where we can document what happened, we have living victims, but we don't have anyone with the moral courage to say that they need to receive what they were entitled to receive."
The state of Oklahoma established a commission four years ago, which studied the events which began May 31, 1921, when Blacks and Whites fought outside a courthouse where a Black man was being jailed on a false accusation that he assaulted a White woman, a building elevator operator.
The 19-year-old Black man was arrested. A White mob formed outside the courthouse. Shots were fired between the mob and 75 Black men who gathered to protect the man from being lynched. The Commission reported that, as violence erupted, the sheriff deputized and armed hundreds of White men who then traveled into Greenwood and joined the mob shooting at residents and setting fire to Black-owned businesses and residences.
The National Guard was called in. They rounded up the city's entire Black population, taking them into "protective custody," then holding them at the baseball stadium, while their neighborhood was destroyed.
"The Oklahoma Race Riot Commission concluded something that had not been really known before," said Prof. Ogletree. "In fact, hundreds of White men who had been deputized by the sheriff were given weapons, and they were like a mob, attacked and destroyed the Great Black Wall Street, hotels like the Stratford Hotel, theaters like the Dreamland Theater, (and) other businesses and homes.
"The (Commission) found for the first time that Blacks were victims, not the cause. They recommended reparations for those victims and the state and the city were silent."
There has also been a "conspiracy of silence" that was so effective that, until recently, a former Tulsa mayor was unaware of the riot's occurrence, Prof. Ogletree told a Stanford University audience in early February.
"So now, we're going to other forums to have their voices heard, and to get justice for these folks," he told The Final Call. "We have a report that says it. We actually have some judges from the 10th Circuit who disagreed with the majority and said there should be justice for the survivors of Tulsa.
"So, I intend to fight with other great lawyers who are volunteering their time with me, until our last breath to make sure there's justice for the Tulsa race riot survivors of 1921," he said. "The courts or the Court of Public Opinion will finally make sure that there is justice in Tulsa, Oklahoma."