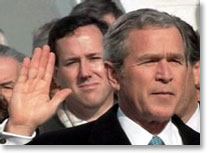 UNITED NATIONS (FinalCall.com) – George W. Bush was sworn in as the 43rd president of the United States on January 20, but the Arab press did not react to his inaugural speech until Jan. 22. The papers generally said Mr. Bush's commitment to spread freedom and democracy lacked any credibility, and much was made of his failure to mention events in Iraq or the Arab-Israeli peace process.
"Talk of democracy is merely an illusion, when Iraq has no sovereignty and the Arab-Israeli conflict has not yet been resolved. How can one talk of democracy when Washington protects many tyrannical regimes for the sake of its own interests?" stated an op-ed piece in Lebanon's Al-Nahar newspaper.
Egypt's Al-Jumhuriyah wrote: "During his inaugural speech, President Bush said the U.S. would be in charge of spreading freedom in the world. The greatest danger is that this freedom will mean the spreading of Israelis in the Palestinian territories and Americans in Iraq!"
"Americans themselves are against their president and do not trust his policy," according to an op-ed column in Oman's Al-Watan. And an editorialist in Iran's Al-Vefagh said, "The world does not need words which will never become facts. Facts, not words, are needed to restore people's credibility."
"Unfortunately, the Arab press reaction is not good," commented veteran UN correspondent Akram Zadeh of the Islam Media News Bureau. In the corridors of the UN, the delegates from the Arab missions say there has been too much George Bush, Mr. Zadeh said.
"They are whispering that things are not going to improve, because they have heard the harsh words of Vice President Dick Cheney; and the words of the new Secretary of State, Condoleezza Rice, who said Iran was a nation of tyranny. These are polarizing words, the delegates say in the corridors," Mr. Zadeh added.
"I think that most of our colleagues in the UN media corps were in favor of the Democrats," offered Vladimir Kikilo, UN correspondent for Russia's Itar-Tass. "But for Russia, Mr. Bush winning was a good thing," Mr. Kikilo said.
In his opinion, Russian President Vladimir Putin, at this time in Russian politics, would not like to start over again in cultivating a new relationship with the Americans. "It is always about timing, and right now it is easier for Russia to deal with Mr. Bush, particularly because it is his second term," Mr. Kikilo added.
Analysts say that governments prefer the status quo. They hate change if it isn't necessary, according to analysts.
"President Bush has built up enough experience … in the past four years, so I expect he will actively contribute to world peace and stability under international coordination," Japanese Prime Minister Junichiro Koizumi said.
Pakistan's chief government spokesman Sheikh Rashid: "We congratulate President George W. Bush. We are happy that one of our best friends is going to lead his nation."
And in Europe, where a BBC worldwide survey showed a majority of the people believed Mr. Bush to be a dangerous man, a spokesman for the European Union had this to say: "There are renewals on both sides of the Atlantic (and much) room for the United States and the European Union to work together as a force for good in the world."
In Africa, the mood is one of resignation, according to political analyst and journalist Zubeida Jaffer. In her illuminating piece for YaleGlobal OnLine, Ms. Jaffer said while Africans are dissatisfied with Mr. Bush's policies, Africans must come to terms with the realities of U.S. power.
Ms. Jaffer quoted Kenyan Vice President Moody Awori, who strongly expressed this sentiment: "I think we are going to see more dictatorship on an international scale. We are going to see more isolation, where Americans will not bother with the UN. To me that is a very sad affair."
Ms. Jaffer also offered the words of a former Nigerian foreign minister to further demonstrate Africa's loathing of Mr. Bush. "The Americans have voted for a militarized Rambo rather than someone who appeals to their reason," the former official said.
"African reaction to the re-election of George Bush has been ambivalent, swinging between resignation and fear. The common thread is deep concern and anger about a White House that is inclined to war and unilateralism. In so far as this has serious implications for the world, it also impacts Africa," writes Ms. Jaffer.