Believers, friends and supporters traveled from across the country to participate in this year's Muhammad Farms Day.
Kicking off the weekend with the traditional Friday fish fry, weekend activities also included touring the 1,556-acre Muslim-owned farm, harvesting crops to distribute throughout the country and visiting sites once frequented by the Most Honorable Elijah Muhammad.
Additional events included the "Junior FOI Skilled Trades Workshop" introducing participants, 10-years of age and older, to learn basic skilled trades like framing, plumbing, wiring, and brick masonry.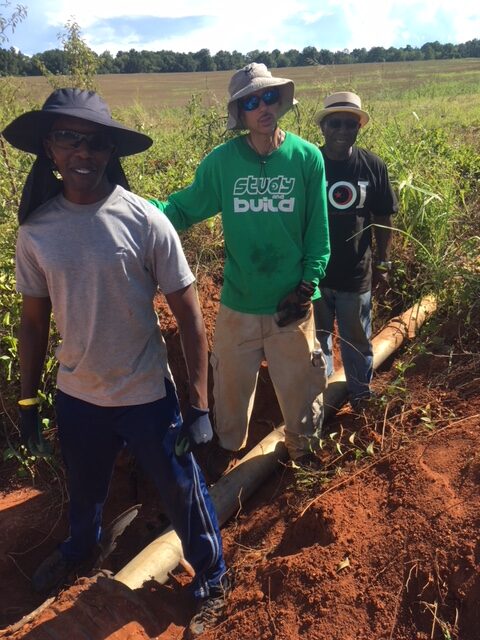 The workshop was presented and supervised by FOI (Fruit of Islam, the men of the Nation of Islam) experienced in these industries. The project included building a tiny house, inspiring many young people to learn the skilled trades. A tiny house is a dwelling space of less than 400 square feet.
Sister Melva X, a master of solar cooking, taught Muslim girls the science of baking with solar ovens, using products from the Nation of Islam Staple Goods Program like Sister Anne's Cream of Whole Wheat Muffin Mix.
Visiting FOI, Brother James Muhammad, Brother Rafee Muhammad, Brother Alex X and Brother Barry Muhammad, replaced and installed an irrigation pipe showing how the Nation of Islam works hard and in a collective manner to overcome any and all obstacles.
Brother Ridgely Abdul Mu'min Muhammad is director of Muhammad Farms and operates the land with his wife Sister Anne Muhammad. The weekend took place July 1-3.
The MGT (women of the Nation of Islam), led by Sister Anne ended Saturday's day of work with a wonderfully prepared meal with food produced by the farm.
Sunday's activities took guests on the "Footsteps of The Messenger Tour" visiting the church where the Most Honorable Elijah Muhammad's father preached, the Holsey-Cobb Institute where he attended through the fourth grade, the Cherokee Brick Yard, His last place of employment before moving to Detroit in the early 1900s and Sandersville, Georgia, His place of birth.—by Carlton Muhammad and William P. Muhammad