PHILADELPHIA—The music world lost one of its most brilliant and innovative artists, William Hart-Muhammad. As lead singer and songwriter for Grammy Award-winning group, The Delfonics, Mr. Hart-Muhammad was responsible for some of the most beautiful and timeless R&B and Soul songs of the 1960s and 70s. His magnificent falsetto voice was the perfect complement to The Delfonics' lush arrangements, and his brilliant songwriting awakened something in listeners they didn't know they had.
Songs like "Ready or Not Here I Come (Can't Hide from Love)," "Didn't I (Blow Your Mind This Time)," and "La-La (Means I Love You)" will continue to resonate with fans for generations to come. Mr. Hart-Muhammad, affectionately called "Poogie," was remembered by friends, family and admirers during a Janazah (Islamic funeral and prayer service) in Philadelphia, where he was raised.
As a young man, Mr. Hart-Muhammad was nurtured and impacted by the Teachings of the Most Honorable Elijah Muhammad and became a registered Muslim in the Nation of Islam. Mr. Hart-Muhammad was drawn to the Nation of Islam's message of unity and self-reliance for Black people. He was also inspired by the Honorable Minister Louis Farrakhan's call to take pride in Black heritage and culture.
These influences can be heard in the soulful and spiritual quality of Mr. Hart-Muhammad's music. His compositions are powerful works that reflect his deep commitment to his beliefs. Media accounts of Mr. Hart-Muhammad's life rarely mention these influences or how they motivated him to create such moving and impactful music.
The Delfonics were formed around 1965. According to Billboard and the Delfonics website, in 1972, the Delfonics had 12 top 20 hits on the Billboard R&B/Soul Singles Chart, including one that reached the number four position, making them an impressive musical act all around the world at that time. The group toured Europe and Japan.
The song "La-La (Means I Love You)" was first released in the local Philadelphia music market in 1968. After national distribution with Amy-Mala-Bell Records, the single sold over one million copies and reached number four on Billboard's Hot 100 chart.
In 2013, the National Rhythm and Blues Music Society honored William and his brother Wilbert Hart with a Lifetime Achievement Award. The group's music has been featured in films like the 1997 Quentin Tarantino movie "Jackie Brown," and "Crooklyn," directed by Spike Lee. Most recently the group's music could be heard on HBO's "Euphoria" starring Zendaya. The Delfonics were also known for their Grammy Award-winning song "Didn't I (Blow Your Mind This Time)?"
"The Delfonics are considered by many to be the forefathers of what we now know as 'the Philly Sound,'" said Philadelphia musicologist and critic James Dickerson. "They introduced an innovative falsetto voice, which became popular among other Black artists, such as the Spinners and Stylistics. They were able to use their voices more creatively than traditional singers. Their message was filled with love and unity—staying together despite all odds," he said.
"The Delfonics were a revolutionary force in music and culture as they introduced a new sound to the world, one that would become iconic. The tenor voice was king before they came along and changed everything with their falsetto-filled music!" Mr. Dickerson noted.
The songwriting and producing duo Kenny Gamble (Luqman Abdul Haqq) and Leon Huff are the architects of the popular "Philly Sound." Mr. Gamble reflected on his relationship with Mr. Hart-Muhammad. "He was my friend … he was my brother and a very talented individual. We all started out in the music industry in the early 60s.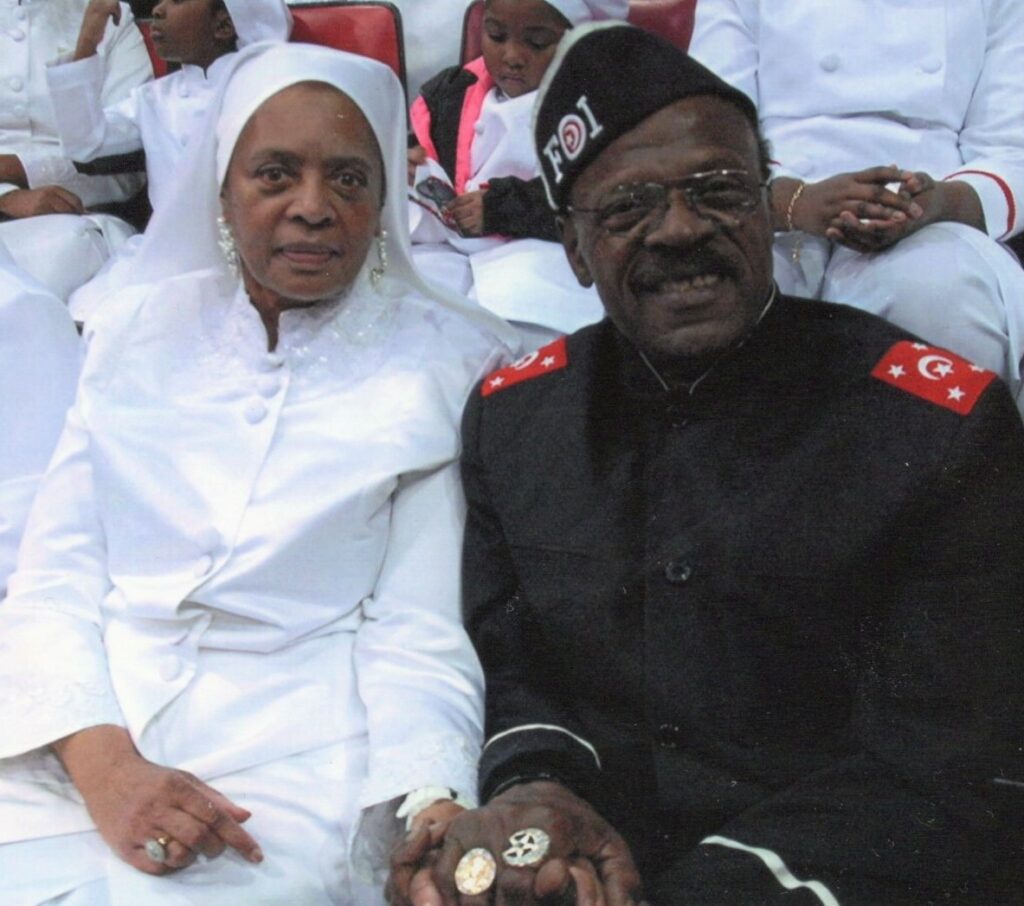 William and I learned how to play the guitar together and we spent many nights in my home creating some great music. The music that he created will be around forever. I pray that the good Lord blesses him and his family because not only was he a great singer and a performer, he was also a very spiritual man. Rest in power my friend," said Mr. Gamble in an official press release from Pamela Hart-Muhammad, wife of Mr. Hart-Muhammad.
Final Call newspaper photographer Haroon Rajaee who knew William Hart-Muhammad, fondly remembered what the balladeer brought to the stage. "It was the style of dress replete with capes and tails. They were different," he said.
"When Brother William visited Chicago, he and the group would hit the streets selling their albums. They would take pictures with people while signing records. We were able to go along selling the Muhammad Speaks newspaper," Mr. Rajaee reflected, speaking of the renowned Nation of Islam publication.
His spirituality, discipline and dedication to Islam was the pillar and foundation to his musical expression and demonstration.
"Brother William enjoyed teaching young people about the music industry, but he was a purist when it came to keeping music clean. In addition to interacting with people on the street, he also interacted with children. Buying them ice cream was his favorite activity," added Mr. Rajaee.
During an exclusive interview with The Final Call, his wife, Pamela Hart-Muhammad, explained, "William loved the teachings of the Honorable Elijah Muhammad, his family, and Minister Louis Farrakhan."
According to his wife, William was introduced to the Teachings at the age of 13 and immediately felt an attraction. After he acquired a suit that was too big at the age of 18, she explained he went to Temple (as they were known at that time) No. 12, located in West Philadelphia. "He dedicated his life to his people and his family," she said.
"When I'm not here," he said, 'keep what your beliefs are.' He would tell his children, his sons, and his grandchildren, 'there is no letting go of these Teachings.' The Most Honorable Elijah Muhammad and his teachings are our life savers," she said
Mr. Hart-Muhammad was a multi-talented individual, his wife said. Not only was he a singer and songwriter, but he was also a gifted artist. His work hangs in the October Gallery and are featured in their groundbreaking book "Connecting People With Art: African American Art." He was a master chess player. He played drums, guitar, piano, and mandolin as a musician. He was a true renaissance man who excelled at everything he put his mind to. Ms. Hart-Muhammad described her husband of over 50 years as a kind and gentle soul who always had time for others.
The words in every song he wrote were inspired by Islam, she explained. "Brother William said you will never find degrading words about women. My songs will always represent love. BMI has a catalog of 300 songs he wrote," shared Ms. Hart-Muhammad.
"Throughout his life, my husband was a man of integrity. He was offered $20 thousand dollars to sing the National Anthem during one of Muhammad Ali's fights but declined."
As the Delaware Valley Regional Representative for Minister Farrakhan and the Nation of Islam Student Minister Rodney Muhammad told The Final Call, "We lost a great soldier, and brother, an extraordinary member of the Fruit of Islam. It was Ma Rainey who said it best about the Blues. They see it coming out of us, but they don't know where it came from."
"Once Brother William told me that when Minister Jeremiah Shabazz returned from Chicago, after seeing the Honorable Elijah Muhammad, he told Minister Jeremiah to tell Brother William to hang onto his masters. Brother William said he followed those instructions. Until this day, he still receives checks for work he did in the 1960s."
He said he is grateful to Allah (God) to have known Brother William Hart-Muhammad.
"So much has been said about him. He showed the entertainment world that if you stand on what you believe and embrace it, you will not suffer a demise in your career and that you don't have to compromise when it comes to your gifts and talents. He was a known Nation of Islam member in the entertainment industry." According to Student Min. Rodney Muhammad, he never kept it a secret and Allah rewarded him for that.
Anthony Muhammad, the Delaware Valley Regional Student Captain, expressed similar sentiments, calling him an "inspiration." "Brother William was a loving man," he said. "He loved unity and always looked out for those in need. Bringing people together was something he loved," said Student Capt. Anthony Muhammad.
Upon returning to the Nation of Islam in 1996, Mr. Hart-Muhammad brought a martial arts program with him and over the years, hosted brotherhood gatherings with the men of the Nation of Islam at his home, reflected Student Capt. Anthony Muhammad. "His encouragement and inspiration he provided enabled me to purchase a new home," he added.
Mr. Hart-Muhammad was a genuine diamond in the way he reflected his many talents.
"Poogie (his nickname) was a fisher of men," says Dr. Salaam Love, a member of the Delfonics for 41 years. He was a master teacher. "His knowledge of Islam is what immediately stands out for me," said Dr. Love.
"William was always teaching us when we were traveling. Teaching Islam was always in his nature. The Delfonics sowed the seeds for the Five Stair Steps, Kool & the Gang, and eventually, Jermaine Jackson's conversion to Islam," he added.
"Music with a clean sound was his thing. That was his specialty." Dr. Salaam explained that Tom Bell, an arranger and producer, came up with the idea of orchestrating the music to give balance and support to R&B. Without White people's knowledge, this innovation allowed the Delfonics to crossover into the pop genre. "Tom used that orchestrated music to pull the White folks in because he knew it snuck up on them. His R&B was then able to slide on top of the classical (and pop) music, and that was the key," Dr. Salaam said.
Abdul Wahid (Wilbert Hart) Muhammad is a co-founding member of The Delfonics, sibling of William and also an active member of the Nation of Islam. He reflected on the group's early years.
"We would headline many of the Muslim bazaars in various cities. At Mosque No. 7's annual bazaar in 1974, we played Randall's Island, attended by 100,000 people who came out to hear Minister Farrakhan. We were happy to help in any way we could," he told The Final Call.
"The people should know that my brother was Muslim, a devout Muslim, and a devout follower of the Honorable Elijah Muhammad and Minister Louis Farrakhan. A beautiful wife, three sons, and a loving family surrounded him."
Music production, storylines, and his brother's incredible lyrics made their music so special," shared Abdul Wahid Muhammad. "The storylines were outstanding. It was something that everyone could relate to. That made it special, in my opinion. We used the Philadelphia Orchestra, the best musicians in the world, and Sigma Sound Studio, the best studio in the world," he added.
In a past interview with The Final Call, Mr. Hart-Muhammad discussed what is arguably his most famous song, "La-La Means I Love You." He said the song is highly spiritual and that he had subliminally slipped in the name of Allah (God). The "La- La" in the lyrics is code for Allah, and the song's true meaning is that Allah loves you.
Mr. Hart-Muhammad said that he believed music is a powerful tool for spreading messages of peace and love and hoped his songs would inspire people to come together and make the world a better place.
Mr. Hart-Muhammad also discussed how the Honorable Elijah Muhammad inspired him to write the song. He said his messages of unity and love resonated with him deeply, and he wanted to convey those same sentiments in his music. Ultimately, Mr. Hart-Muhammad believed his music could help spread a message of peace, love, and understanding worldwide.
The Khadijah Alderman Funeral Home was filled to capacity with grieving family and friends who had come to pay their respects to Mr. Hart-Muhammad on July 19. Student Minister Omar Karim officiated the service.
Al Hadi, Yusuf Ali, and William Romance, three of Mr. Hart-Muhammad's sons, wore psychedelic, hand-painted, and decorated show jackets reminiscent of works of art designed by their father. The brothers presented memories of their father that elicited both laughter and tears from attendees. It was clear that Mr. Hart-Muhammad was loved and respected by many, and his July 14 passing has left a massive void in the lives of those who knew him.
Minister Farrakhan called Mr. Hart-Muhammad's wife, for which she was grateful. "We still talk about how you and Brother William hosted Mother Khadijah and me at your house in Philadelphia," she said the Minister shared.
"Yesterday, I had the honor of speaking with Minister Louis Farrakhan. He told me that the legacy of my husband, William, would be passed on to his sons and grandchildren. He said that his talents must be preserved.
He also said his art, music, and brilliance would live through his sons and grandchildren. I am so grateful to Minister Farrakhan for his guidance and wisdom. My husband was a great man; I know his legacy will live on through our family," she said.
Mr. Hart-Muhammad was a beloved husband, father, grandfather, brother, and friend. He was preceded in death by his son Khalid Mubarak and daughter Trinita. He is survived by his wife of 53 years, Pamela Hart-Muhammad, and his children Al Hadi, Yusuf Ali, and William Romance. Mr. Muhammad is also survived by his siblings: Wilson, Barbara, Wilbert, and Iretha, as well as a host of grandchildren, nieces, nephews, and cousins.