JABRIL.MUHAMMAD
[Editor's Note: This article was published online on Dec. 10, 2005.]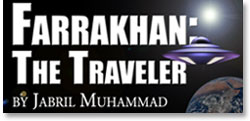 "And when Jesus came with clear arguments, he said: I have come to you indeed with wisdom, and to make clear to you some of that about which you differ. So keep your duty to Allah and obey me." (Holy Qur'an 43:63)
***
"We want freedom for all Black men and women now held under death sentence in innumerable prisons in the North as well as in the South." This is part of Point Number Five of What the Muslims Want by the Honorable Elijah Muhammad.
***
The following is an excerpt from an address delivered by the Honorable Minister Louis Farrakhan on November 7, 2005 at Little Rock Baptist Church in Detroit, Michigan during a rally supporting the re-election of Mayor Kwame Kilpatrick.
To me, this whole speech delivered by Minister Farrakhan, entitled "Jesus: The Guide for the Public Servant," must be intensely and carefully studied, especially by every one of us who follow him, whether we aspire to be in a leadership position or not. Of course, in another sense, we all occupy positions of leadership in one way or another. But that is another subject.
***
Minister Farrakhan: "What we envisioned for the Millions More Movement is the Talented Tenth that W.E.B. DuBois wrote about–the brilliant, knowledgeable Brothers and Sisters, most of whom have been separated from the condition of the mass poor. The learned of our people are often given jobs, positions and money, which allows them to live a better quality of life. But this is part of a design to make us satisfied with the false fruit of democracy and make us think that we have arrived, while the masses of our people suffer in an incredible degree of poverty in the midst of plenty.
"The Millions More Movement was designed to bring the learned of our people into harmony with the needs of our people through a program that allows them to use their tremendous skill to lift the masses of our people. The Movement is also meant to organize Black people in an effective way, so that we will not make demands of government, and force them to respond.
"An immoral government–and the government has to be immoral if it does not care for the weak and poor–cannot claim the name of Jesus Christ, yet be adverse to the very principles that Jesus taught. The yardstick by which nations are judged is set forth in the answer of Jesus, when his disciples asked him, 'Master, when were you hungry and we fed you not? When were you naked and we clothed you not? When were you out of doors and we gave you not shelter? When were you sick and imprisoned and we ministered not unto you?' Jesus answered, 'Inasmuch as you have not done these things unto the least of these, my brethren, you have not done it also unto me.'
"During the homegoing ceremony and celebration of the victory of the life of Mother Rosa Parks, former president Bill Clinton said that she made America better, but I pointed out that America is not yet good. America cannot be considered good if she leads the world in drunkenness, drug addiction, murder, robbery, rape, assault and incarceration. Fifteen million Americans are homeless; 44 million do not have adequate health care, and if you do not have money or insurance and you get sick, only God can step in and take care of you, because hospitals may charge you extremely high prices, discharge you or even deny you care. Some of our elderly sometimes have to decide whether they will pay for their prescription drugs or get a decent quality of food to put on the table. America is not a good country. She leads the world in selling arms that deals death all over the planet. Although America is great, in order for her to survive, someone needs to make America good. But she cannot be made good if those of us who are in leadership compromise for inclusion and acceptance.
"Pharaoh was very upset because the Children of Israel were paying attention to Moses and Aaron, so Pharaoh called his magicians and promised them wealth and nearness to him, if they would oppose Moses and Aaron. When you are promised wealth and nearness to Pharaoh, it takes a very good shepherd to turn that offer down, in order to remain true to the liberation struggle of the people.
"Jesus was a guiding light for everyone who wishes to be a public servant. The life of Jesus should be studied from many different angles because Jesus, as he is written of in the scriptures of the Bible, was a true revolutionary. He said he was in the world, but he was not of the world. There was something about the world that Jesus did not want to spoil his garment.
"When you are involved in politics and religion, and are in leadership in America, you have to be very careful that your garments are not soiled with worldly desires that Satan can always fulfill–because Satan does not like people who want to serve the best interests of the poor.
"Jesus is an example of a man who truly came to serve. So, we should not want public office so that we can become big shots. We should want public office so we can serve. Jesus said, 'He who would be great among you, let him be your servant.' A servant serves the needs of the people. When Jesus met a person who was lame, he served that need and told him to pick up their stick and walk.
"The people have needs, so those of us in service are only as good as we can use our power to provide the needs of those whom we serve. History teaches us that, whenever a good servant of the poor emerges, Satan is upset and begins using some of his tricks to work against that servant.
"Satan became angry because Jesus was disturbing his power with his teachings. The followers of Jesus no longer wanted to join Satan's licentious feasts. Jesus asked his followers whose face was printed on their money, and then told them to render unto Caesar what belongs to him and render unto God what belongs to God.
"Who belongs to God? Since Caesar did not create life, then we do not belong to the ruling powers; we belong to Him Who created you and gave you life.
"So Jesus was not going to bow down to the forces that ruled the Roman Empire. While he respected their authority, he would not bow down to do their will.
"The followers of Jesus did not join the Roman army, because Jesus did not support the slavery of the Romans. The people voted and had a senate, but Jesus' kingdom was not of this world. The scriptures say the kingdoms of this world have become the kingdom of our God and of His Christ. This means that Allah (God) is looking for righteous people to inhabit offices of leadership so that they can fight against, what Paul called, 'the principalities, the powers, the rulers of the darkness of this world and spiritual wickedness in high places.'"
More of his words, next issue, Allah willing.