CHARLENEM National Correspondent @sischarlene
Cops are beating, body slamming, maiming, pepper spraying and killing people and abusing reporters covering protests after the death of George Floyd while in the custody of Minneapolis police officers.
It's a far cry from pro-police propaganda of police chiefs and officers kneeling, hugging, and high-fiving protestors.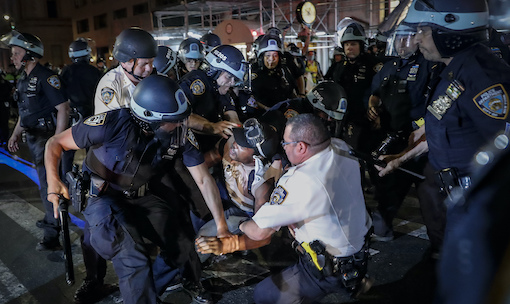 Victims have been children, female, male, old, young and Black and White.
Reports and videos of police assaults have not stopped cops from asserting their rights to act how they choose. In Buffalo, N.Y., an entire emergency response unit resigned after two cops were suspended after a 75-year-old White male was shoved to the ground by cops arrayed in body armor with helmets, batons, and heavy weapons.
The man, Martin Gugino, dropped quickly when shoved, bleeding from his head. A phalanx of officers thrust ahead, doing nothing to help or comfort him. Video of the incident forced a reaction from the police chief and the officers. First came suspensions of the two cops, and 57 officers resigned from the unit but kept their jobs.
Then Erie County District Attorney John Flynn announced officers Robert McCabe and Aaron Torgalski had been charged with one count each of second-degree assault. The officers pleaded not guilty. The charges are felonies, said Mr. Flynn.
According to media reports, the two officers were given a virtual arraignment at a Buffalo courthouse, entered not guilty pleas and were released on their own recognizance. They are to return to court July 20 for a felony hearing.
But, in a show of support, hundreds of "law enforcement and firefighters gathered outside the building and shielded the two officers from news crews with an umbrella and a sheet as they entered from a holding area. After the officers had been charged, the crowd cheered loudly as they exited the courthouse before dispersing," according to the Independent, a UK-based newspaper.
American Civil Liberties Union chapter director Buffalo Chapter Director John Curr condemned the initial incident and continued police abuses. "Police officers cannot continue to hide behind the lie that they are protecting and serving. There is no place for military-geared police to enforce a curfew by inflicting violence on the very people they are supposed to protect," he said. "We are in solidarity with Buffalo's protesters and demand that demonstrators can protest without the threat of police brutality on the streets."
An apologist Black mayor, Byron Brown, had said he wanted the two then-suspended officers to get due process. Early on, he told CNN online, "He (Mr. Gugino) was asked to leave numerous times last night." But, Mayor Brown on CNN airwaves June 5 blamed the police union for the mass resignations, saying the unions threatened not to represent the officers if they did not resign.
He also glossed over an initial false report from police that the man fell.
In Atlanta, a Black woman had her collarbone broken when yanked from a car by a cop and tossed around like a ragdoll. Her attorney said Mayor Keisha Lance Bottoms had not spoken about the incident and should stand against abusive cops or resign.
Two Atlanta cops had already been fired and others suspended after tasing and manhandling two Black college students trying to drive away from a downtown protest.
A young woman dragged from the car said she feared being killed. The young man driving called the abusive cops "monsters."
"I still can't even process what happened," Taniyah Pilgrim, a student at Spelman College, told the media. "We felt like we were going to die in that car."
The police violence, including tire puncturing and car window smashing, was captured on video. The panicked young people screamed and begged police to explain what is happening. Their bodies jerked as tasers hit them. Ms. Pilgrim was dragged from the car. Messiah Young, a Morehouse College student, was left with a fractured arm and needed stitches.
Condemning excessive force during a press conference, Mayor Bottoms said after seeing police body cam video she and police Chief Erika Shields felt two officers needed to go. Other officers are under investigation and on desk duty. The Fulton County district attorney is looking at possible charges.
In Washington, D.C., lawmakers said a hearing on police brutality would be held June 10. The House Judiciary Committee session will "examine the crisis of racial profiling, police brutality and lost trust between police departments and the communities they serve," said Democrats sponsoring the hearing.
Rep. Karen Bass, Congressional Black Caucus Chair and House Judiciary Crime Subcommittee chair, said, "This is our moral moment–we must look at legislation to address laws that shield police officers from ever being accountable. We must address the structural conflicts of interest. We must create a database so that abusive law enforcement officers lose the privilege of being an officer anywhere, not just in a given precinct.
"For years, we have introduced legislation addressing police brutality. This hearing is our next step in implementing change to our system," said the California Democrat.
George Floyd died on Memorial Day. His death sparked protests, unrest, rebellion and looting nationwide. Off. Derek Chauvin, who kept his knee on Mr. Floyd's neck for almost nine minutes, and three officers have been charged in the death. Mr. Chauvin, who like the other officers was fired by the Minneapolis police department, was charged with second-degree murder and manslaughter. The other officers were charged with being complicit in the Black man's death.
Cases of police abuse all over the country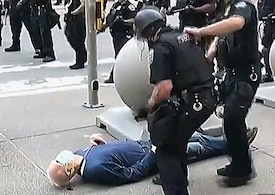 New York Mayor Bill de Blasio defended officers, saying at a news briefing he had seen no unnecessary use of force around peaceful protests and cast doubt on those who had, belying social media posts and witness accounts of officers moving on demonstrators without provocation and bashing them with batons.
But video of New York City police officers ramming two cruisers through a barricade of protestors surfaced May 30. Another showed an NYPD officer spraying a peaceful protestor with hands up after tearing off the young Black man's mask. Another showed cops beating people trying to go home.
Regarding officers aggressively breaking up a rally in the Bronx as the city's 8 p.m. curfew kicked in June 4, leading to scores of arrests and cries of brutality, Mayor de Blasio said officers used "lots of restraint."
Some activists, outraged by the mayor's words, demanded that he resign.
"The mayor needs to take accountability for the NYPD's provocation, aggression, and violence on display tonight. If he's serious about his demands for accountability in Minnesota, he needs to show leadership here in New York City," said New York Civil Liberties Union legal director Christopher Dunn.
"Police terror against Black people is real and happening right in front of us. New York City's priority must be to de-escalate immediately and respect the rights of New Yorkers to demand justice," he said.
NYPD announced June 6 that two police officers were suspended without pay and accused of violence and misconduct against demonstrators that was captured on video. One officer in Brooklyn was captured on video pushing a woman to the ground and a different officer in Brooklyn, in a video, pulled down a mask and pepper sprayed a person. That officer was suspended without pay, according to NYPD.
In Los Angeles, calls for Police Chief Michel Moore's resignation have not subsided, despite his apology after offensive remarks regarding looting and Mr. Floyd's death.
"We didn't have people mourning the death of this man, George Floyd. We had people capitalizing. His death is on their hands, as much as it is those officers," said Chief Moore.
He told The Final Call, in an interview, it was a terrible, regretted choice of words.
"I should not have made the reference. I should not have made the connection. I should have focused on the fact that there are consequences for that violence regardless of its motivation. … By bringing in the reference and the equation of these individuals having any equation to the acts of those officers in the murder of George Floyd was wrong," said Chief Moore.
His words didn't move anti-police activists and others in the City of Angels who still want him out.
"Every now and again they'll slip up and say something out loud that they really meant to say in those quiet, dark, hushed corners," observed former Los Angeles police sergeant Cheryl Dorsey.
"Every now and then, they let us know who they are, and when people show you who they are, you need to believe them," Ms. Dorsey told The Final Call. "He gets no brownie points for trying to do a good thing here and there. … He was my lieutenant for a time, and he grew up on the department like I grew up on the department and so he understands how police officers act day in and day out."
Among a growing list of violent police incidents:
– Police in Minneapolis fired on residents watching officers moving down their neighborhood streets and pepper sprayed a group of journalists pinned against a wall.
– Police in Newport Beach, Calif., fired pepper spray balls at youth who said they were lost and trying to find their way after participating in a protest. Police said they were out past curfew.
– LaToya Ratlieff, shot in the face with foam bullets by Ft. Lauderdale, Fla., was left bandaged, bruised and unable to open an eye. In a different incident, another person lost an eye.
– Black business owner David McAtee was shot to death by cops in Louisville and in Vallejo, Calif., an attorney said Sean Monterrosa, 22, was shot and killed outside of a Walgreens on his knees. The California Department of Justice said it would investigate the shooting. Police say the officer thought the young man had a gun, but it was a hammer in his pocket. The officer involved, who officials refused to identity, fired the fatal shots through his vehicle's windshield. Police said the man was looting.
– Grand Rapids, Mich., police are investigating a video of man shot in face with tear gas cannister by police.
– In Denver, the police department is probing a viral video incident of Black man screaming at cops that they sprayed a car with pepper balls and with his pregnant wife inside. The wife was White.
– An officer in Sarasota, Fla., was placed on administrative leave after a video surfaced of him with a knee on the man's neck.
– The Seattle Office of Police Accountability reported 14,000 complaints of police abuses during recent protests.
– The president of the Chicago Police Board, who oversees cases filed against cops, reported being beaten by police during a protest in a city neighborhood. Other cops covered their badge numbers and names and video showed cops beating and pushing peaceful protestors.
The Reporters Committee for Freedom of the Press asked Minnesota Commissioner Paul Schnell and Karl Procaccini, General Counsel and Deputy Chief of Staff for Minnesota Governor Tim Walz take immediate, concrete steps to end police arrests and attacks on journalists in Minneapolis.
"Police have arrested, detained, and threatened journalists, and have physically assaulted them with rubber bullets, pepper spray, tear gas, batons, and fists. In every case that we are aware of, there are strong indications that officers knew the journalist was a member of the press," said the letter signed by dozens of news outlets and organizations, including the National Association of Black Journalists and Native American Journalists Association.
The Reporters Committee called for instructing officers and staffs that arrests or physical attacks of journalists compliant with reasonable orders violates First Amendment rights. Swift discipline of any officers who arrested or assaulted journalists engaged in news gathering, the Reporters Committee said.
American Civil Liberties Union Staff Attorney Brian Haus offered a few examples of journalists targeted by law enforcement officers: A Minnesota State Patrol officer arrested CNN correspondent Omar Jimenez and his crew during a live broadcast, despite the journalists repeatedly having offered to comply with police and asking where they could move. Los Angeles Times reporter Molly Hennessy-Fiske and photographer Carolyn Cole were chased by Minnesota State Patrol officers, tear-gassed, and shot at with rubber bullets. Both were wearing press credentials and identified themselves as journalists.
Abuses and the law and order president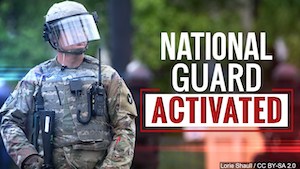 "Don't be proud. Get the job done. You'll end up looking much better in the end. Call in the National Guard. Call me. We'll have so many people, more people," said President Trump as unrest struck the United States.
"You have to dominate the streets," he declared.
Cheryl Dorsey, retired LAPD sergeant, author and commentator, said, "This man is soulless. He lacks empathy. He has no moral compass. And he's incapable of caring about anyone other than himself, and he shows us this day in and day out. So I'm not surprised by anything that he says or does and he, I believe, is part and parcel to blame for some of this outrageous activity by police officers during his last four years."
"We've heard him say things like don't be too careful. Be a little rough. Don't try to shelter their head when you put them in the back of a police car and all the other dog-whistle-type stuff we hear him say to police officers and to White supremacists and Neo-Nazis," Ms. Dorsey told The Final Call.
Secret Service police officers, supported by the U.S. Park Police and others roughed up, teargassed and pelted protestors in Lafayette Park across from the White House to allow the president room for a photo op outside a nearby church with an upside down Bible and several White members of his staff.
Black Lives Matter D.C. and others filed a lawsuit June 4 against President Trump, U.S. Attorney General William Barr, defense and law enforcement officials charging they violated First and Fourth Amendment rights of peaceful protestors speaking out against discriminatory police brutality targeted at Black people.
The president and the other defendants directed members of the U.S. Secret Service, U.S. Park Police, D.C. National Guard and U.S. Military Police to "fire tear gas, pepper spray capsules, rubber bullets and flash bombs into the crowd to shatter the peaceful gathering," charged the lawsuit.
Demonstrators fled, many severely injured by the unprovoked June 1 attack, added the lawsuit.
Black Lives Matter L.A. filed a similar suit against Mayor Eric Garcetti, LAPD chief Moore, Sheriff Alex Villanueva, and other county and city officials, calling for an end to curfews and charging violations of the constitutional rights of over 2,600 peaceful protesters.
"In the last few days, police have shot protesters with rubber bullets, beaten them with batons, and arrested or detained many of BLM-LA's members simply because they engaged in peaceful protest activity during restricted hours," they said. The June 3 class-action would include at least 10,000 people, according to legal papers.
In addition, the curfews have given police an excuse to commit violence against BLM-LA's members and others who have joined in the protests, and journalists covering the demonstrations, read the suit.
"The police image is really bad, and they need to try to redirect the narrative so that it begins to support their image," commented Greg Akili of Black Lives Matter Los Angeles.
Police are focusing on the handful of those doing wrong versus the vast majority doing right and depict that as the real problem when it isn't, said the longtime political and social justice organizer.
"Black folks who have lived under this rage, lived under this pressure, lived under this violent society where violence is perpetrated against them, we gotta be peaceful?
"The real problem is police violence and institutional racism in America," Mr. Akili said.
"Police the police!" chants rang out at a student-led demonstration in Los Angeles on June 4 as reports of police violence against protestors grew across the country.
Some protestors smiled and talked with officers who took a knee, held up the Black power symbol or walked with them in marches. Others viewed the acts as insincere gestures.
In Los Angeles there have been 601 deaths at the hands of officers during District Attorney's two terms in office over seven years and no prosecutions, said activists with Black Lives Matter and other police reform groups.
"Right now, the police know that if they kill one of us, the most that could happen to them is they get two weeks administrative leave and then have to work at a desk job for another week. They damn near get a vacation," said Mr. Akili.
"That's almost 100 killings a year and none of them killings were wrong, none of them killings were questionable? None of them killings required more strenuous investigation and some action on the part of the DA? None of them?" he asked.
Injustice breeds insanity and anger, said Abdul Malik Sayyid Muhammad, Nation of Islam student minister and Western Region Representative during a recent "Justice Matters" meeting of Black and faith-based community leaders attended by the mayor of Los Angeles and top sheriff at First African Methodist Episcopal Church.
"I'm not here to be no apologist for White supremacy. I don't want nobody telling me it's the system. That's just like telling flies and those rodents that get caught in the spider's web it's the spider, and you don't do nothing about the spider," said Min. Muhammad.
He admonished Black leaders not to sell their people out and called for a real dialogue about true justice which begins with the word of God, not economics, he said. "This day, you are not going to sell us out today, not today. We're in pain, man. We are hurting! This is why we have to speak truth to power and responsibility to the victim," he added. If a woman is in an abusive relationship, you advise her to leave with a good send off, separation is necessary for Black people too, he argued.
(Final Call staff contributed to this report.)