ERICTOUREM, Contributing Writer
As city reexamines evidence of 23 children deemed missing or murdered, an HBO documentary raises questions surrounding investigation, trial and conviction of Wayne Williams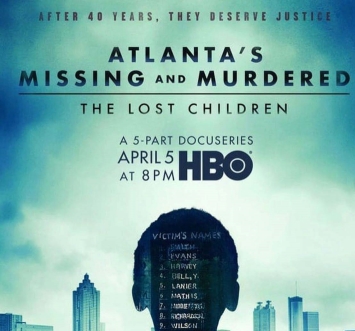 ATLANTA–Pain, grief, outrage and a myriad of regrets took center stage as HBO's five part docuseries, "Atlanta's Missing and Murdered: the Lost Children" drew to its close. Still with no definitive answers, and more questions; many wondered if the country will be any closer to knowing the truth. Who killed these children and why? Why was Wayne Williams the only one out of 100 suspects or more–some of those Caucasian, the only tried suspect and convicted?
The HBO series concluded May 3.
On March 21, 2019 Mayor Keisha Lance Bottoms, announced the city's effort to retest evidence tied to the investigation and reopened many of the cases surrounding the children.
"In 1979, I was nine years old," Mayor Bottoms, began in her comments to the press that day. "I was the daughter of a single mother working two jobs. And my story was the story of many children across this city. In the backdrop of that story is something that had stayed with me my entire life and that was the era of Atlanta's missing and murdered children. And for those of us who grew up in that era, in so many ways it shaped our childhood. It robbed us of our innocence, and it reminded us all that evil was real," she said.
Two years prior to the emergence of the "evil," the city had just elected its first Black mayor, Maynard Jackson. Mayor Jackson made it his priority to create inclusion of Blacks as lawmen and police officers. He pushed for economic inclusion; including what has now been recognized as the world's busiest airport, which also bears his name. But these murders on top of an already besieged city of infamous smut traffic, crime and drugs; a growing AIDS epidemic the distinction in 1979 of being the murder capital of the United States left Atlanta with its challenges.
The documentary concludes for many of these reasons, the missing and murdered cases had needed to be resolved and quickly. For many of the once in power Whites it had become politically expedient that the mayor's leadership surrounding this investigation would fail, so that they could have their city back and continue with 'ol' boy' business as usual.
Rush to judgement and a closed case with no closure
"First of all, I just really want to say is to the families that my heart goes out to you because I can't imagine what it's like to go all these years by being lied to and by not hearing the truth about what happened to your loved ones, and all I hope is that everybody in the community who's representing here tonight will demand answers," began Wayne Williams in a live phone message at a specially convened Atlanta Murdered/Missing Children town hall meeting on April 18, 2019, of family and friends of victims, law enforcement, city officials and community volunteers who conducted searches from 1979-1982.
"Not just answers but demand action. You know it's not just about me clearing my name, but this is about getting some justice for you. God willing let's make it happen. I just wanted to reach out from my heart and say God bless and let's finally get some answers to this thing," he closed.
Surviving family members and childhood friends of those killed or deemed missing, still have no closure, he concluded. The gathering was held at Atlanta's West Hunter Street Baptist Church.
"We don't know. And so, it leaves a herculean task for the Mayor (Bottoms) for the DA, for these families and for all of us in this search for truth," local radio personality, activist and former City Councilman Mr. Derrick Bozeman concluded at the close of the town hall meeting.
Mr. Williams, 61, was never tried for the murder or involvement of any of the children and is currently serving two consecutive life sentences for the murders of 28-year-old Nathaniel Carter and 21-year-old Jimmy Ray Payne. Mr. Williams still maintains his innocence. Two days after his conviction, the City of Atlanta declared the case of 23 children missing and murdered officially closed. And though never charged, Mr. Williams is considered responsible for the deaths of the children.
According to the HBO series, no conclusive evidence was presented at trial attributing the cause of death of the men to an actual murder. Yet others question, was it in fact a coverup? Is race-hatred at the root? Is there a political agenda attached? What if the then President Ronald Reagan administration and the involvement of federal, state and local officials just wanted the cases to go away?
"I was a college student at that time at Georgia State and there was a lot of concern," reflected Steven Muhammad of Atlanta's Muhammad Mosque No. 15, in his comments to The Final Call. "I was a little older than the other students. But the younger students were friends of those listed as missing. As the tensions escalated and they (reporters, community residents) started connecting the dots, after about a year, it was said that a serial killer was out there," he said. Steven had not yet become a member of the Nation of Islam and worked as part of the city's Neighborhood Planning Units (NPU), a collective of city advisory councils that made recommendations to the mayor and city council on zoning, land use and other planning issues. "So, we would talk about it in our meetings. How crazy and scary it was getting out here," he said. "It was out of these meetings," the voice of Camille Bell, mother of the third child found murdered, emerged he said.
Then nine-year-old Yusuf Bell's body was found in the crawl space of an abandoned elementary school Nov. 8, 1979. In April the following year, Ms. Bell along with other moth-ers founded the Committee to Stop Children's Murders. Their expressed goal was to bring to light via media, attention to the unsolved and to many, the ignored crimes against Black children. Upon his conviction the documentary shows Ms. Bell, who never believed Mr. Williams was guilty stating that "if there were 29 victims," Wayne Williams is number 30.
The neighborly culture of Black Atlanta was changed forever. Screen doors on porches no longer remained open all times of the day. Children and women went nowhere alone any longer. People began sheltering in place. No one was out in the streets at night.
"When people understood there was a killer out there. At night it was quiet on the streets of Atlanta. You didn't see anybody moving around on the streets of Atlanta. So, based on that and people were still getting snatched, they said, it had to be somebody in a uniform. Police, Fire, EMS … somebody that could get in and out of the neighborhood, without arousing suspicion. They figured it was a White person in the uniform getting in and out. And under the uniform, was a (Klu Klux) Klan uniform. That was the general, consensus," Steven Muhammad said.
Although visually included in the HBO docuseries, but no account given of the respect already garnered in the Black community, the Nation of Islam figured prominently in the organizing of community patrols and the escorting of men and women in the neighborhoods at night. It was during the early rebuilding efforts of the organization under the leadership of the Honorable Minister Louis Farrakhan.
Longtime member of the Nation of Islam Sylvester Muhammad assisted in the organizing of night patrols and personally rode through communities on a bicycle gave this account: "They really wanted to sweep this under the rug, because they did not want to have to address the racial aspect. So, they looked for somebody like Wayne Williams. They needed a scapegoat. I don't believe Wayne Williams killed any of those boys. And, if he did, most certainly not them all," Mr. Muhammad told The Final Call.
"Even Dick Gregory mention something about the DNA or something being used," he recalled, speaking of the late humanitarian, activist and groundbreaking comedian.
According to HBO and boasting of executive producers whose credits include singer John Legend for Get Lifted Film Co. in association with Roc Nation, the cable giant insists that "the series brings new evidence to light while raising new questions related to the racial tensions and political clashes that brought Atlanta to a boiling point during this tragedy."
In the year since Mayor Keisha Lance Bottoms made her announcement, investigations remain ongoing as families and a community seek closure four decades later.