By Charlene Muhammad CHARLENEM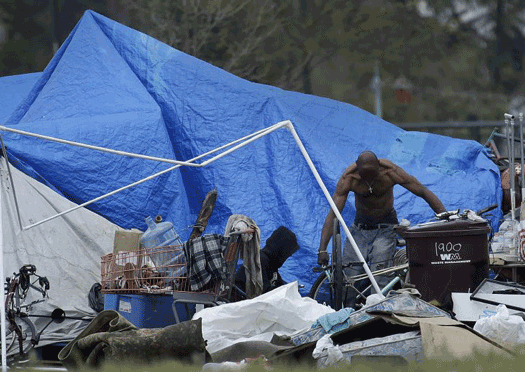 Homeless advocates are working to curb the spread of coronavirus among the already vulnerable U.S. homeless population. They anticipate staggering numbers of infections and urge federal, state and local officials to take clear and certain actions. Activists demand more funding, clearer guidelines, an end to police arrests, and housing to combat the disease known as Covid-19.
"First, it's a moral disgrace that in America we have such a huge homeless population, disproportionately African American," Congresswoman Barbara Lee (D-Calif.) told reporters during a teleconference hosted by California Black Media on April 16.
Rep. Lee is a senior member of the Appropriations Committee, which determines and regulates federal spending and is a member of the Congressional Black Caucus (CBC) which has worked to get billions of dollars to local governments who administer a lot of homeless initiatives.
The CBC's requests in the bi-partisan Coronavirus Aid, Relief, and Economic Security or CARES Act, passed on March 27 includes $4 billion in homeless assistance grants.
Some $290 million would be used for fair housing enforcement–$200 million for the Department of Housing and Urban Development's (HUD) Office of Fair Housing and Equal Opportunity and $90 million to help with an expected surge in fair housing complaints, including pandemic-related financial scams that target protected classes, according to Rep. Lee.
"Believe you me, it has been a priority for CBC for years, and once again we see it's a pandemic upon a pandemic for our homeless brothers and sisters and CBC is definitely focused on that as a priority," stated Rep. Lee.
Many can shelter in place with resources and are getting infected, so what does that mean for the homeless, living on the streets or in overcrowded shelters, say advocates like University of Miami Health System's Dr. Armen Henderson.
He was handcuffed and detained in front of his home by an unmasked, ungloved Miami police officer as he was preparing to deliver tents and other items to the homeless in Miami-Dade, Florida on April 10.
"A lot of police officers in Miami-Dade County have tested positive and he was just in my face. … He put me in danger, because I could have it as well," said Dr. Henderson, who said he was not positive for Covid-19.
"People could make the argument that because I work with the homeless population or because I work in a hospital that puts me at equal threat to get the virus, but during those encounters I have a mask on," he argued.
For over a month, he and colleagues have been volunteering to serve the homeless after their shifts.
"I'm doing okay, working nights right now. … My wife is pretty shaken up though. She's still pretty shaken up from what happened and pretty upset as well; probably more upset than I am," Dr. Henderson told The Final Call.
He feels he was racially profiled, and it's important to note the incident happened at 11:30 a.m. because he was accused of dumping trash. "Who dumps trash at 11:30 a.m.? Usually if you're going to do something like that, it's discreet. You do it at night. It was just a bad excuse, honestly," he argued.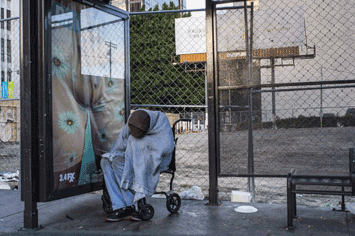 Miami Police Chief Jorge Colina has not apologized, said Dr. Henderson. "He called on Wednesday (April 15). He didn't offer an apology, but he basically wanted to sit down and talk about it. He wanted me to give a statement and stuff like that, but nothing substantive came out of that conversation," he told The Final Call.
Michael Vega, Miami Police Public Information Officer told The Final Call that Chief Colina issued a statement on Twitter, that there was no new update, and the incident was still being investigated. "There is no report. No crime was committed," he stated.
"We are aware of a video circulating on social media involving one of our patrol sergeants handcuffing a resident in the Flagami NET area. An internal affairs investigation is underway and is looking into the incident," read the official department statement tweeted on April 11.
"This has been a trying time. It's been stressful, honestly because not only am I working at night during the pandemic, I'm also in the community, very active among the community that I serve working with homeless people," said Dr. Henderson.
The ordeal has added pressure, but he tries not to let it affect him that much, he said. "I'm just glad I wasn't hurt," he stated.
He's driven to serve the community in addition to his role as a physician because he feels being a doctor, especially a Black one, is not enough, though it's an achievement in itself. Sometimes people lose sight of the way they were treated while in medical school after they get catapulted into the "one percent," he said.
Witnessing the death of Trayvon Martin and continued marginalization of Blacks in health care under White supremacy helped him keep a focus on those ill-afforded the opportunities he's had, he said.
He began working to get physicians out of hospitals and into the community to serve the people, since 2017, he stated.
"I just try to lend my voice where I can, be creative and stay creative and dismantle this system of health care so that it works for everybody," said Dr. Henderson.
He, colleagues, activists, and homeless advocates spoke during a press conference on April 13. It was held in conjunction with the Dream Defenders. The activist group formed in 2012 in protest of the vigilante killing of Black teen Trayvon Martin in Sanford, Florida.
In addition to food and water, they have so far provided over 300 tents to individuals, he said. "Most of them say that they only put them up when it's raining or when they have to because police come around and break them down," said Dr. Henderson.
Hundreds have donated their time, money, energy, and have even handmade hundreds of masks, according to Dr. Henderson.
"We've tested over 30 individuals. All of them to date have been negative, thank God," he added.
The Dream Defenders and several community groups penned a letter to Mayor Carlos Gimenez and Ronald Book, Esq., chair of the Miami-Dade Homeless Trust, urging them to take immediate action to support the homeless community and ensure to stop the spread of Covid-19 across the county.
They pleaded with Mayor Gimenez and Mr. Book to among other things open up hotels, dorm rooms and other properties to those in need of shelter, cancel all rent and mortgages payments, halt all evictions, and stop police officers from crushing peoples tents and arresting people who are simply trying to safely shelter in place.
The virus known also as Covid-19 has claimed the lives of more than 42,600 in the United States and infected more than 795,900, according to the Centers for Disease Control. It has reported no statistical breakdown in terms of cases among the homeless.
The CDC's interim guidance on people experiencing unsheltered homelessness calls for providing health education information and directing people to care; identifying where people can be isolated and receive care if they are positive, awaiting testing or results.
As prevention measures, do not clear encampments during community spread of Covid-19, unless individual housing units are available, the CDC further recommends.
The price tag for 400,000 new shelter beds needed to accommodate everyone who is unsheltered and to ensure appropriate social distancing, and the creation of quarantine locations for the sick and exposed is $11.5 billion, according to research by the National Alliance to End Homelessness.
"A lot of people anticipate there's going to be long term problems after the health crisis is over, given the unemployment numbers and the hits we know have been taken by many low-wage workers in certain fields," stated Joy Moses, research director at the National Alliance to End Homelessness.
"We would think that homelessness is a part of that. Hopefully people will pay more attention to this group and think with more empathy and care towards them, but in some ways it's too soon to tell how bad it's going to get and which direction the national conversation will take," Ms. Moses told The Final Call.
The CDC warns that people over 65 may be at higher risk of becoming severely ill from Covid-19. According to a fact sheet by the National Alliance to End Homelessness, more than 300,000 people over age 50 stayed in homeless shelters in 2016-2017.
An estimated 107,194 people under 45 were living unsheltered on a single night in 2019. Before the current health/economic crisis, the older adult homeless population was projected to trend upwards until 2030. For example, in Los Angeles, the 65+ population was expected to increase by 54 percent over the next five years, reported the fact sheet.
In Chicago, Mayor Lori Lightfoot's administration in conjunction with A Safe Haven shelter has opened a 100-bed isolation facility for homeless infected with Covid-19.
One hundred people have tested positive for Covid-19 -90 residents and 10 staff members, in the Multi-Service Center South, San Francisco's largest homeless shelter, according to media reports. And in New York, 27 of the 460 confirmed cases of Covid-19 among the homeless died.
In Los Angeles, the Union Rescue Mission on Skid Row reduced its numbers from 1,000 to 500, after a staff member died and five others tested positive. The organization transformed its board room and staff cafeteria into isolation dorms.
In early April there were 33 confirmed cases among the homeless, according to Dr. Barbara Ferrer, director of the L.A. County Department of Public Health.
Advocates like Pastor Cue JnMarie, founder of the Skid Row Church Without Walls, is part of community partner Los Angeles Community Action Network's effort which builds and maintains hand washing stations in Skid Row. They called out city officials for installing some hand washing stations in Skid Row, then failing to replenish them.
"We're not going to sit there and let our people die. We strap on N-95 masks and we go to work," said Pastor Jn-Marie.
A key problem is infrastructure, and the crisis exposes the flawed system and need for homes, according to Pastor JnMarie.
"That is a system that has not created a safety net for those who are most marginalized and those who are most at risk. …The proof is right there. The way the city responded to this issue, it is by the grace of God that one entire community is not infected, and people are not dropping dead on the daily," Pastor JnMarie told The Final Call.
"It is partly the prayers of the community and the grassroots effort to work and try to keep people clean that we haven't had more cases in Skid Row. I really believe that," he said.
"I think they don't care. … That's not on their radar. … There's a thing in scripture that talks about the conscious of a person being seared like a steak. It's dull. It can't feel, and I believe that it relates to anti-Blackness or as it relates to Black death, murder, or whatever it is, that our society's conscious has been seared," added Pastor JnMarie.