CHARLENEM National Correspondent @sischarlene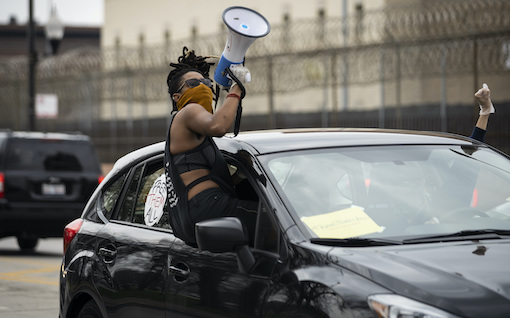 Coronavirus infection rates sweep through some U.S. prisons and jails where inmates cramped in cells and dormitories are powerless against its spread.
Besides the inability to use social distancing, as recommended by Centers for Disease Control Director Dr. Robert Refield as the greatest weapon in America's war against the global pandemic, inmates and activists say deplorable conditions in prisons and jails, including a lack of soap, water, disinfectants, space for isolating those infected, general carelessness of the system and its refusal to accept seriousness of complaints, make matters worse.
Of the approximately 174,000 federal inmates within 37 institutions and halfway houses nationwide, 283 federal inmates and 125 staff tested positive for Covid-19, and eight inmates have died, according to the Federal Bureau of Prisons.
The Congressional Black Caucus (CBC) has called for the release of prisoners, especially pregnant women, children who have not committed murder, and elderly inmates, said Rep. Karen Bass (D-Calif.), chair of the CBC. She co-facilitated a conference call about its coronavirus response with the Black Press of America, the National Newspaper Publishers Association, its Chairman and CEO Benjamin Chavis and member publishers on April 7.
Black lawmakers are demanding $100 million for the Federal Bureau of Prisons to respond to the coronavirus pandemic with critical resources through the bi-partisan Coronavirus Aid, Relief, and Economic Security or CARES Act, passed on March 27.
Additional benefits for the prison system will include testing all incarcerated individuals and staff for coronavirus, prioritizing the release of incarcerated individuals in prisons, jails, and detention centers through clemency, commutations and compassionate release.
It also seeks immediate temporary release to home confinement for low-risk defenders; and free video conferencing and telephone calls for individuals who will remain incarcerated during the pandemic.
To further address problems facing Black families, seniors, workers, businesses, and communities, the CBC is seeking expansion of unemployment benefits to $600 per week, $447 million to HBCUs of the $1.05 billion for Minority Serving Institutions, $15.5 billion in additional funding for nutrition programs like SNAP, $10 million in grant funding to help Black-owned businesses, and over $7 billion in community block grants to prevent poverty, for community development, and to protect the homeless.
"One wonders if you begin to identify this as a 'Black virus,' which we in the Congressional Black Caucus certainly have, to be concerned about our constituents across the nation, we have to be able to challenge the government that there will be no less attention paid to it, because the facts speak for themselves," said Rep. Sheila Jackson Lee (D-TX).
The high percentages of deaths and those impacted by coronavirus fall on the Black community and specifically are slanted toward Black men, she continued.
Though Blacks and Hispanics were approximately 32 percent of the U.S. population, they comprised 56 percent of all incarcerated people in 2015, according to a NAACP Criminal Justice Fact Sheet on incarceration trends in America.
Statistics indicate there were over 400,000 cases of coronavirus in the U.S. and close to 17,000 deaths. Worldwide infections topped over 1.6 million infections and 97,000 deaths.
Fortunately, with private support from a local hospital, Rep. Lee was able to set up four testing sites, she said. "But at the same time, the federal government has nickel-and-dimed the public test kits coming to both the city and county, which is what everyone is experiencing, so diagnostic testing has to be a national call to unleash those tests and to continue to test across the nation because it saves lives," she added.
It was private commitment and support from United Memorial Medical Center that helped her open four free testing sites in the Houston area last month, said Rep. Lee. They are at UMMC, Forest Brook Middle School, Jacinto City Town Center Community Building, and Smart Financial Centre in Sugar Land Fort Bend County, according to local news reports.
District attorneys in San Francisco, Calif. and Boulder, Colorado, have taken steps to release people held pretrial, with limited time left on their sentence, and charged with non-violent offenses, according to PrisonPolicy.org.
Some penal institutions have begun to issue court orders and conduct special hearings to increase the number of people released from local jails. On a single day, judges released 38 people from the Cuyahoga County Jail in Ohio, and they hope to release at least 200 more people charged with low-level, non-violent crimes, the inmate advocacy organization continued.
In addition, more than 85 people (almost seven percent of the jail's population) have been released from the Greenville County Detention Center in Greenville, South Carolina, following a state order from the Supreme Court Chief Justice Donald Beatty urging state judicial circuits to avoid issuing bench warrants and start releasing people charged with non-violent offenses, Prison Policy indicated.
In Chicago, some 300 people have been released from Cook County Jail where 210 detainees have tested positive for Covid-19, according to county sheriffs. Additionally, 60 sheriff's office staff have tested positive.
California was expected to release 3,500 non-violent inmates and suspend intake from county jails for 30 to 60 days within the next few weeks, according to the California Department of Corrections and Rehabilitation.
Prisoner rights advocate Dorsey Nunn of the All Of Us Or None Prison Advocacy organization, is concerned about designations of "who's deserving and underserving" to be released to flatten Covid-19 infection curves.
"This is what you should ask yourself about that virus: if they're already talking about throwing grandma and grandpa under the bus, and do not resuscitate anybody, do you think that we're going to be worthy of a ventilator while we're in prison?" argued Mr. Nunn.
"I've signed onto a whole bunch of letters saying let out the elderly and the vulnerable, and nobody took time enough to say if they let 'em out, where do they go. … We haven't put into place what does it mean when we're releasing people and we don't have a plan," he continued.
Attorney Efia Nwangaza, spokesperson for the Free South Carolina Movement and director of the Malcolm X Center for Self-Determinism in Greenville, S.C., is currently fighting for compassionate release of Kojo Soweto, a fragile, terminally-ill 76-year-old who has been frequently denied parole, despite no disciplinary action in the past two years.
His ordeal underscores contradictions of a system that's supposed to be rehabilitative, she argued. He has served 35 years on a 20 year to life sentence and approximately four years ago, he was told by Lee Correctional Institution medical staff that he had a growth on his kidney. After surgery he learned the growth was cancerous, and now it's incurable, she stated.
"I personally think that they're trying to kill him in there. That's why they're not releasing him," said his daughter Najah Ameen, adding that her father is a "dorm worker" in the jail. She said their family is racking up expensive legal fees, but she lacks confidence that their attorneys will be able to get him out.
"That's one of the things my father's scared of, too. The last time I spoke to him, he was asking me to call the governor to see if the governor can get them (workers) tested before they're allowed to go back to their jobs," Ms. Ameen told The Final Call. "He was afraid of going to work and being around the other people before they got tested, but none of that is going on at the moment," she continued.
Activists are organizing to demand the release for persons 60 and older and for those who are chronically ill with fragile conditions mentally and physically. They were in the process of filing a complaint against a digital monitoring (ankle bracelet) company, alleging it is placing a burden on already financially stressed families even before the virus forced folks out of employment.
"We find here in Greenville, South Carolina, one company–the Sentinel Company–which is cramming people into little offices to collect the fees when the fees for all other services and commodities, including even water, have been waived or held in abeyance at this point and people are not expected to show up and make these payments," continued Atty. Nwangaza.
Inmates themselves began sounding the alarm with riots, demonstrations, even cell phone video pleas for help. Their families and activists have called for their release, along with resources, funding, and accountability to ensure their safety and prevent recidivism.
"…they literally leaving us in here to die," said a man who alleged poor housing and sanitation conditions at FCI Elkton in Elkton, Ohio. His cell phone video recording depicting images he claimed were of Covid-19-infected men and a tent where prison staff were allegedly dumping dead bodies went viral in social and mainstream media.
Nkechi Taifa, conveyor of the National Justice Roundtable Coalition, which advocates for federal criminal justice policy reform, called his message courageous, frightening and heart-wrenching.
He's one of many demonstrating to call attention to the plight of inmates during the pandemic.
"If you are handcuffed, you can't cover your mouth if you're going to cough or sneeze … so they're basically sitting ducks in a ticking time bomb situation, and it's scary," said Ms. Taifa, who insisted decarceration is the only solution.
Over 100 men demonstrated in the recreation yard at Washington State's Monroe Correctional Complex on April 8, after six men in its minimum-security unit tested positive for the virus. They have been moved into an isolation unit.
Guards used pepper spray and sting balls, which release light, noise, and rubber pellets to restore calm after demonstrators ignored verbal warnings, claimed prison officials. A prison health care team is providing clinical monitoring and supportive care for those in isolation, according to a press release dated April 8.
On April 1, all federal institutions suspended social and legal visits for 30 days and increased telephone system use to 500 minutes per month. Inmates, staff, volunteers, contractors, and attorneys approved on a case-by-case basis are screened–not tested–according to a Bureau of Prisons spokesperson.
Screenings don't mean inmates or staff were tested, said a spokesperson for the Federal Bureau of Prisons. Screening for visitors, volunteers and contractors consists of answering form questions regarding travel to and from China, Iran, South Korea, Italy, or Japan in the last 14 days; if the person came in contact with anyone diagnosed with Covid-19 in that time and do they have fever, chills, coughing or shortness of breath. Screening concludes with a temperature check.
A staff screening form checks for temperature and the method taken. For temperatures taken by mouth that exceed 100.4 degrees, by ear over 101 degrees, or by forehead over 100 degrees, staff are to be denied access and placed on leave for three days.
"The ones that are being released, they should be checked before being released, because we don't know if they're releasing them with the virus," said Abdullah Muhammad, head of the Nation of Islam Prison Reform Ministry.
In addition, when inmates are sent home, it puts a burden of food, clothing, shelter on their families, but prison officials don't give them the money that's budgeted for their care, he argued.
"I don't think America is ever going to be the same again, but if we're allowed to get back to work in so-called free society, then we should stay focused on the living conditions of the inmates, because the brothers at Stateville say the water that's coming out is brown," he continued. Similar reports have come out of other institutions, he said.
"People keep saying this is an equal opportunity killer, but it's not," said Kim McGill, co-founder of the Youth Justice Coalition which advocates for children of incarcerated parents and incarcerated youth.
"People that have already experienced long-term, possibly lifetimes without healthcare that have, because of that, more extreme, debilitating diseases on the regular like diabetes, heart disease, asthma, people that are in communities that have less access to healthcare, hospitals, or where their hospitals are going to be less resourced, are going to be the first to die and have the highest infection rates," said Ms. McGill.
As for treatment, when asked directly, the Federal Bureau of Prisons did not confirm reports it purchased $60,000 worth of an anti-malaria drug hydroxychloroquine which President Donald J. Trump has been promoting to treat Covid-19, though he has admitted he didn't know if it would work or not.
Sue Allison in public affairs for the Federal Bureau of Prisons told The Final Call the drug is approved by the FDA for treatment of rheumatoid arthritis and lupus, and is used off-label for other autoimmune conditions. The bureau has patients with those conditions and "needs a supply for their ongoing medication needs in addition to the patients who will need treatment for Covid-19," she added. However, many medical professionals warn the drug is unproven and risky and could harm people with heart or eye conditions.
Prisons and jails received no first look when it came to strategies like social distancing in battling the pandemic, because the incarcerated historically have been viewed as the least valuable in communities, argued Ms. McGill.
"There's just tons of examples where people who are locked up are not seen as worthy of the same protection even that animals get. Even the animals in our shelters in L.A. county get more protection. In fact, L.A. city, for example, spends $13 million more a year to protect stray dogs than it does to protect young people from violence, if you look at the statistics," she added.
(Associated Press Contributed to this report.)