CHARLENEM National Correspondent @sischarlene
A president with a record of putting a good face on the Covid-19 pandemic, even if it means telling untruths, faced a grim reality recently as the United States entered a critical phase of a disease that has crippled the country.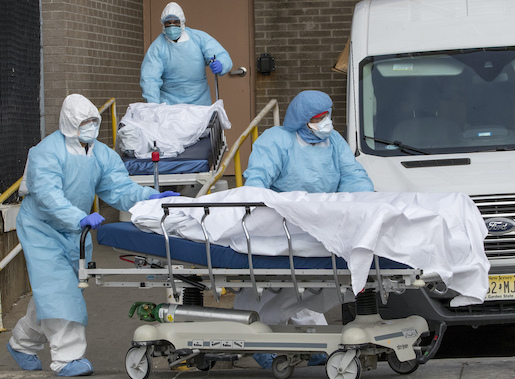 "This will be probably the toughest week between this week and next week. And there'll be a lot of death, unfortunately, but a lot less death than if this wasn't done. But there will be death," President Trump declared April 4 during a White House coronavirus task force press conference.
"We're looking for an obvious focus in the hardest-hit regions. Some of them are obvious and some aren't so obvious. They spring up. They come and they–they hit you like you got hit by a club, an area that wasn't at all bothered," Mr. Trump said.
During the press conference he again expressed concern that the economic hit the country has suffered needed to stop.
He also blasted the media, saying, it was "critical that certain media outlets stop spreading false rumors and creating fear and even panic with the public. I could name them, but it's the same ones. Always the same ones. I guess they're looking for ratings."
The president pledged soldiers, medical workers, professionals, nurses and doctors to help stem the pandemic.
"In addition, we're working directly with hospitals and existing suppliers and distributors to ensure that those with the greatest need are prioritized," he said.
"FEMA, HHS, DOD are developing resources within the next 24 hours. They will have a whole different set of criteria. Every day, it's different criteria. Every day, this horrible, invisible enemy changes a course," said Mr. Trump.
At least 10,524 Americans have already died in the outbreak. More than 356,942 U.S. cases had been confirmed April 6, more than any other country.
"The next two weeks are extraordinarily important," said the White House's coronavirus response coordinator, Dr. Deborah Birx. "This is the moment to not be going to the grocery store, not going to the pharmacy, but doing everything you can to keep your family and your friends safe and that means everybody doing the 6-feet distancing, washing their hands."
She added, Detroit, Louisiana and New York are hot spots being watched closely.
Dr. Anthony Fauci, a task force member and the director of the National Institute of Allergy and Infectious Diseases, stressed the importance of social distancing. "Let's take this to the bank, that mitigation works," said Dr. Fauci April 4.
Mr. Trump criticized governors, saying they were asking for more ventilators and other supplies than needed.
"If a state has ventilators that they know they're not going to need, they should give them over and we should move them with the others," Mr. Trump said during the briefing.
The Centers for Disease Control and Prevention also recommended public wearing of cloth coverings over the face to blunt the spread of the virus, especially from people not showing symptoms. The president said he won't wear a mask.
Vice Admiral Jerome Adams, U.S. Surgeon General acknowledged the task force's guidance on masks has been confusing to the American people.
The task force always recommended symptomatic people wear a mask, because of coughing or if suffering from fever they could transmit the virus to others. However, new data shows people without any symptoms may infect others by coughing, sneezing or even breathing in close proximity, he stated.
Mr. Trump left stay at home orders up to governors, a move being questioned by many infectious disease experts. Governors know what they're doing, and those states are not in jeopardy anyway, the president told reporters. Arkansas, Iowa, Nebraska, North Dakota, Oklahoma, South Carolina, South Dakota, Utah and Wyoming at press time were under not stay-at-home orders from their governors. Dr. Fauci said he doesn't understand why.
"I don't understand why that's not happening," he said on CNN during an April 2 televised town hall. "The tension between federally-mandated versus states' rights to do what they want is something I don't want to get into, but if you look at what's going on in this country, I just don't understand why we're not doing that–we really should be," said Dr. Fauci.
Meanwhile, hospitals are rationing care. New York, epicenter of the virus in the U.S., is running out of ventilators. New York confirmed a statewide total of infections at 102,863. Nearly 3,000 have died. The Jacob Javits Convention Center in New York City became a temporary 2,500-bed hospital used for Covid-19 patients only on April 2.
The National Guard has been deployed in all 50 states, U.S. territories and the District of Columbia to help fight the pandemic. For now, some help run testing sites and assist with medical operations.
In Michigan, which had 12,744 cases, and 479 deaths, at Final Call press time, most of the cases were in Detroit.
"For a long period, Detroit didn't take it as seriously as we should have," said Troy Muhammad, student minister for the Nation of Islam mosque in the Motor City. "You would drive the streets and see people at restaurants and filling these places up, and then we had a big incident where you had just hundreds of people just hanging out partying at the park," he stated. (See related story page 5.)
Detroit Police Chief James Craig has contracted the virus, and over 500 police officers are quarantined, as well as 105 civilian workers. A police captain and dispatcher have died, and State Representative Isaac Robinson died of suspected Covid-19 infection. City Council President Brenda Jones has also contracted the virus, reported several Detroit media outlets.
These cases are very impactful because Chief Craig, Councilwoman Jones and State Rep. Robinson are very active and helpful in the community, said Min. Muhammad.
Detroit schools are also struggling with how to teach children at home since learning April 2 that schools would be closed for the year, he continued. Officials are working to resume education but have found at least 60 percent of students have no internet or computer access, according to Min. Muhammad.
TCF Center, where the Nation of Islam held its historic Saviours' Day Convention 2020, featuring the Honorable Minister Louis Farrakhan's keynote address, "The Unraveling of a Great Nation," was transformed into a 1,000-room hospital for people who have tested positive for coronavirus.
"It just blows your mind when you see, because the message that he gave and now you see it unraveling, and right where he gave the message. It's almost like a war zone, in the aspect that everybody is sick and they just don't have enough to get a control over this thing," stated Min. Muhammad.
The city's under a lot, but drive-up testing for those with referrals from their doctors has begun at a state fairground which is in the Black community, he added. Testing ability has increased from 250 a day in the state to 750 a day, and that's helped a lot, he said.
"Our medical facilities are totally overwhelmed … Detroit, the people weren't responding. I think in the 'hood, we responded a certain way, and we felt this thing would blow over," he said.
People must be careful about misinformation, such as young people or Black people could not contract the virus, the Muslim student minister observed.
"It was a point where they were saying if you were Black you couldn't be infected by this, so I think we went out like that, and it was only until we started seeing people that we knew that people starting making the adjustments," he added.
"One of the things, one of the painful things that will cause many people to lose their lives are the mixed messages coming from those who are the leaders of the people. And because they are not on the same page and their messages conflict, some will go one way. Others will go the other, and death will be the winner," warned Student Minister Ishmael Muhammad, national assistant to Min. Farrakhan, during part two of his message delivered via webcast March 29 from Mosque Maryam "Guidance in a Time of Trouble." The Nation of Islam has suspended its physical meetings around the country.
"The Honorable Elijah Muhammad begged us to not mix up truth with falsehood, nor hide the truth while we know, and he listed the consequences of so doing," said Min. Ishmael Muhammad.
"We are doing as well as can be expected under the pressure that is being applied on the health care delivery system. We are concerned because we are providing direct care and feel at risk because it is not truly clear as to how Covid-19 spreads, so we're at risk for acquiring Covid-19," said Dr. Oliver Brooks, president of the National Medical Association. The largest and oldest national group that represents Black doctors and their patients in the U.S.
Black health care professionals are concerned that available information is not detailed or accurate enough for them to take proper action. Without clarity on how Covid-19 spreads, they feel at risk for contracting it, he said.
"I had a colleague who actually emailed directly to the CDC (Centers for Disease Control) requesting racial and ethnic data and the response that came back was that there are many holes in the information that the CDC is obtaining, and they will be looking to get more racial and ethnicity data going forward," Dr. Brooks told The Final Call.
It's easy to predict that coronavirus is disproportionately affecting Blacks because those at highest risk of dying have conditions such as hypertension, diabetes, kidney disease, obesity, lung disease and chronic heart disease, he warned.
"Unlike many other aspects of our nation, Covid-19 does not discriminate," he said.
The National Medical Association represents the 55,000 Black physicians practicing in the U.S. and who cares about the Black community.
"We are at risk or even higher risk from Covid-19 because of our present situation. For example, generally being poor, less access to health care, living in more crowded conditions living in an environment where there'd be more environmental toxins such that your immune system would be somewhat compromised, so do not take this infection lightly. Follow the recommendations that are provided to you regarding social distancing and basic sanitation or hygiene," Dr. Brooks advised.
And, he said, seek trusted sources for information on Covid-19, such as the CDC and local and state health departments. "I would submit that the CDC is the scientific and not political arm of the government … people, honestly, I want them to trust the CDC even though they may mistrust the U.S. government," he said.
Little to no attention has been given by national press and media to solo and small group doctors who are part of the backbone of and care for the Black community, continued Dr. Brooks, who is also head of the Watts Healthcare Corporation in South Los Angeles.
"From not a 30-foot, but a six-foot perspective, we are struggling with PPE (personal protective equipment) supplies, general infection control, decreased revenues, and general fear and anxiety regarding the infection," he stated. "Doctors are as fearful as the public; however, we have to demonstrate courage, and we are."
People who want to help frontline healthcare workers, whether it's Black physicians in Watts or across the country can do one simple thing, do not get Covid-19, he told The Final Call.
(Final Call staff contributed to this report.)