CHARLENEM National Correspondent @sischarlene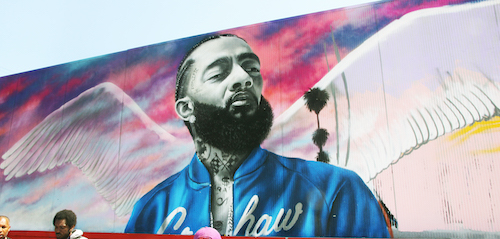 LOS ANGELES–Those inspired by the life of slain hip hop artist and businessman Nipsey Hussle are working a year later to carry on his legacy of peacemaking and community building.
Meanwhile, the trial of the man charged with his murder draws near. A pretrial conference in the case of Eric Ronald Holder, Jr., who allegedly gunned Nipsey down in front of the rapper's Marathon Clothing Store on March 31, 2019, has been continued to April 6, said the Los Angeles County District Attorney's Office.
Plans to gather at the intersection of Crenshaw Blvd., and Slauson Ave., the site of the first smart technology store created by Nipsey and business partner Karen Civil, were put on hold due to the coronavirus pandemic.
The anniversary of his passing has taken a back seat for many political and civic leaders swamped with tackling economic, health and housing problems caused by Covid-19.
The passing of the 33-year-old artist, born Ermias Asghedom, is still felt.
"Nipsey's musical legacy is solidified in the streets from coast to coast, but definitely here in many hoods in Los Angeles," said West Coast hip hop pioneer and Skid Row activist General Jeff Paige.
Nipsey's record sales have continued to climb, and in early January, his Victory Lap went platinum, selling over one million copies.
Mr. Paige is confident Nipsey's family and team are handling the Marathon Clothing Store business, which he believes can help sustain other business ventures.
"When Nip physically left this planet last year, it was reported by his family that over one million orders of Nip's Marathon Clothing came in all at once online. If each order averaged $100, which is very realistic, that would put the overall total at $100 million," Mr. Paige estimated.
Progress on Nipsey's plans for a mixed-use affordable housing project, with apartments on top and businesses on the bottom, on the site of the plaza housing his store seem to be at a standstill. Plans call for demolishing the plaza and rebuilding what is now called Nipsey Hussle Tower.
Despite calls to city officials and others, The Final Call was unable to get clear information on the status of the project and any timetable for construction or completion.
Rob Wilcox, community engagement director for Los Angeles City Attorney Mike Feuer, said their office is preoccupied with the pandemic and he has been unable to get an update on property developments at the Marathon Store site.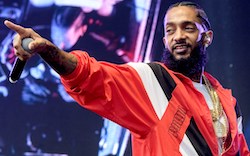 The plaza was closed, gated and tarped August 1, 2019, in anticipation of the start of redevelopment.
There is great hope the project will be completed and there is concern those who never wanted Nipsey to be successful don't want a successful project.
The subject is sensitive and Nipsey's traumatic loss is still very fresh. The plaza was the place where a young Black man's dreams were born and inspired global admiration. But it is also the place where his life was lost.
"LAPD felt it's best it be closed down because of the mass amount of people visiting; a lot of the homies was hanging out," said a man who grew up in the neighborhood. "It scared them, so they felt it best to control the traffic without having to be there, closing it down."
He hopes the site isn't allowed to languish and then be sold in a couple years. "Nip was the attracting force to the site," he said.
Prior to Nipsey's passing, the city tried to shutter the operation run by the entrepreneur and his business partners and supporters.
Before Nipsey and his business partners purchased the mall, the city threatened to shut down the site. Nipsey and his partners were tenants. The owners at the time, impressed by what was happening, decided to sell the plaza to Nipsey and his associates rather than close it.
In a February 13, 2019 letter, Deputy City Attorney Nancy Hagan wrote to Nipsey's partner David Gross, complaining of alleged public nuisance and criminal activity at the property, which the partners, Slauson and Crenshaw Ventures LLC acquired on January 17, 2019. In the letter, Atty. Hagan wrote, "the Property is known as a 'hangout' for the Rollin' 60's criminal street gang, and has been the site of many violent and/or unlawful incidents including, without limitation, attempted murder, shootings, robberies, batteries, and unlawful firearm possession."
In letters to the owners before the property was sold to Nipsey and his business group, Atty. Hagan in 2018 listed several demands. One forbade surveillance cameras installed by tenants in common areas of the property and surveillance cameras that could be remotely monitored.
"Access to the cameras should only be provided to our office, law enforcement agencies, and any private patrol operator should one be retained," continued Atty. Hagan's letter, which Mr. Gross, posted on his Instagram account.
Charlamagne Tha God, bestselling author and co-host of The Breakfast Club, a nationally syndicated radio show, is not an investor in the Slauson and Crenshaw Ventures LLC project.
He is familiar with the redevelopment plan but has not been involved in conversations about Nipsey Hussle Tower since last year. He, Mr. Gross and hip hop artist TI went to Capitol Hill to conduct meetings on Opportunity Zone legislation.
The 2017 Tax Cuts and Jobs Act created Opportunity Zones to spur economic development and job creation in distressed, low-income communities. Investors in those zones receive tax and other benefits.
Charlamagne isn't sure how far along the project is, he knows its gated and tarped. He's concerned.
"This is just my personal opinion. This isn't coming from any conversations I've had with anybody in that circle," he stressed. "I just feel like, you know, the powers that be, who necessarily didn't want Nipsey and those brothers over there to begin with, that (his killing) just gave them a reason to stop Black progress."
"That situation just gave them a reason to stop Black entrepreneurship. That situation just gave them a reason to stop Black empowerment because that's the last they want us to do is build up our own community," he argued.
"It's no secret that they (LAPD) used to come over there and harass Nipsey and his team, so I just think that somebody finally got what they wanted, and that's for that plaza not to thrive, at least under Black ownership."
He has been thinking about what to say on the one-year anniversary of Nipsey's passing.
"It's literally the same thing that I've always said, that when I hear people talk about Nipsey now, they're talking about a new symbol for an old ideology," said Charlemagne.
"And it's an ideology that the Honorable Elijah Muhammad implemented and that's just 'do for self.'
"Build your own. Create your own, and he (Nipsey) represents a new symbol for that old ideology, for people who may not know their history and know about the Honorable Elijah Muhammad or know about brothers like Marcus Garvey or just even know what the NOI (Nation of Islam) stands for as far as building your own."
Not only was Nipsey brilliant in planting that ideology's seed in people's minds, he directed them to where he got those lessons, Charlamagne pointed out.
"He would tell you to read Message to the Black Man by Elijah Muhammad. He would tell you to read The Autobiography of Malcolm X. That was a very, very tragic loss, still hard to understand," he said.
Trains, gentrification and questions?
Damien Goodmon of the nonprofit Crenshaw Subway Coalition hopes the vision for the Marathon Store site happens.
He's more concerned about not even a block away, on Slauson Ave., a billionaire's plans to build a mega development by demolishing the Dorset Village Garden Apartment Homes, where many low-income residents live.
"I'm really concerned about how we're going to come out of this Covid-19 thing. We have had politicians who have spent the last 5, 6, 7 years green lighting, greasing the wheels, deregulating this parasitic industry that wants to see us pushed out to the boonies or even worse into houselessness or death on the streets," said Mr. Goodmon.
He is very skeptical of a county Metro light rail transit line which would connect Nipsey Plaza and the Crenshaw area corridor to the Los Angeles airport.
The project is off schedule, will displace residents and is increasing gentrification, he charged. Mr. Goodmon argues those spearheading the Metro line project have a horrible history of community disruption.
In 15 years, he said, no transit project has been this "disruptive, destructive, and harmful to the community."
Black businesses have complained about the inability to access stores during construction. They complained about losing business or being forced to close. Crenshaw Avenue is a major thoroughfare, but traffic and parking have been disrupted.
Streets and sidewalks have been torn up and traffic rerouted into neighborhood side streets.
According to Jose Ubaldo, communications manager for Metro, its contractor, Walsh Shea Corridor Constructors, has completed significant elements of the project, such as bridges, tunnels, trackwork, and structural elements for all eight stations.
Next up is completion of stations, installation and testing of various train systems and other vital infrastructure, he said. A completion schedule for construction and an opening date will be announced later, he said in an email.
Some fear the Metro project will threaten Nipsey's vision of buying and developing the 'hood by bringing in outsiders and land speculators.
Ongoing projects and striving to make peace
On April 12, 2019, the Los Angeles City Council voted unanimously to rename the intersection of Crenshaw and Slauson "Nipsey Hussle Square" after Najee Ali, an L.A.-based activist, launched a change.org petition. It garnered over 500,000 signatures for the honorary designation.
"The square was something that the Muslim community thought was important to preserve and honor Nipsey's legacy in the community, but more importantly, it's important that we try to follow the economic legacy that Nipsey was just implementing, as far as economic development, entrepreneurship, and ownership," Mr. Ali said.
Councilman Marqueece Harris-Dawson, who worked with Nipsey on his economic vision, also worked with him on Destination Crenshaw, a project spanning 1.3 miles of the Eighth District, home to the artist's businesses.
The project features art and culture celebrating Los Angeles's Black community with Crenshaw Blvd. as an anchor where the work of artists can be showcased. It also includes a park and open space. The project broke ground in late February.
Owned by Nipsey and business partner David Gross, Vector 90 reopened in June in the neighborhood to offer rent-shared and private workspaces.
The cultural hub and business incubator offers technical training, professional development and a curriculum for business start-ups.
LaTanya Ward, aka "F.O.," is a member of the Bloods Black P Stones gang. She spearheaded a peace walk by over 500 street organization members last April. Now she focuses heavily on community work, joining with local, state, and federal officials, civic leaders and non-profits to build opportunity for street organization members, and Blacks in general.
Her comrade, Lil' A.D., who is integral to the peace effort, has worked to mobilize members of so-called street gangs for peace and economic freedom.
Ms. Ward feels Lil' A.D.'s work is more important though he gives her all the credit. He deals with the target population daily.
Their plan includes building an enterprise that allows Black gangs to create and maintain jobs for themselves where they live, according to Ms. Ward.
They had planned a Nipsey tribute rally at a park, rather than at Crenshaw and Slauson, and a retreat where over 100 gang members would gather for a structured conversation leading up to the one-year anniversary of their peace walk.
"I'm thinking that it would be better if we start having to march on his birthday anyway because that's Aug. 15," she said. "And we kind of wanna be celebrating the nigga life more than his death, you know," she added.
"I don't want it to just be about Nipsey. I want it to be known for sure that his death inspired this movement, but this some s–t that's been going on since before Nipsey was born, and definitely before Nipsey was banging," Ms. Ward told The Final Call.
"I love Black people. I don't need them to be no rapper or have no big platform for me to value their life, the same as I valued Nipsey's. They don't gotta even be doing a bunch of good s–t in the community for me to know that they life matter," she continued.
A year after the tragedy, she wants "Black people to work period for a better quality of life, to not let anything distract us from that. … Don't be distracted by Nipsey's death, that some people still are killing other Black people, or the coronavirus or Donald Trump, or be distracted by anything."
Student Minister Abdul Malik Sayyid Muhammad, the Western Region representative for the Honorable Minister Louis Farrakhan and the Nation of Islam, said over the last eight to nine months, there has been an unprecedented drop in crime in the 25 years he has been in Los Angeles.
Even LAPD, in a 2019 crime report, admitted, current "numbers reflect one of the safest times to live in this city, and for the last decade, our homicides continue to remain below 300. Gang-related murders were also down for the second straight year and remain at historic lows, while the number of victims shot was the lowest in 21 years."
"The drop has been just drastic, and the word 'peace' is just reverberating through the streets, when that word was never accepted by the majority. We still have little small flare-ups, but the fires are more easily put out than they used to be," said Min. Muhammad.
"Bringing neighborhoods together, it's much more easier than what it used to be. It appears that our brothers and sisters have finally gotten tired of killing each other. They've gotten tired of the disrespect to one another, and realize or are beginning to realize we have become our own worst enemy," he continued.
"As a result of Nipsey's murder, which the seeds of peace had been sprinkled over Los Angeles for the last 24 years, it appears that we're in the harvest season … it's as if Allah's spirit is certainly in the people," Min. Muhammad said.
He pointed to hope, for example, in seeing an end to one of the longest wars between two street organizations. Watching members acknowledge wrongs done to one another, vow to repent, resolve differences, pledge not to kill one another and shake hands was stunning, Min. Muhammad said.
They are continuing to meet to give time for the agreement to catch on, he said. Even some female gang members have settled differences in ways that brought man to tears, Min. Muhammad added.
"It's like since the Minister left, peace is moving at such a quick rate it's blowing us away," he continued.
Minister Farrakhan visited the Rollin' 60s Crips neighborhood in April 2019 to honor Nipsey. Nipsey was not just an ordinary man, the Minister said.
"Ordinary men don't do like he did. He was a man that God sent this way and he rose up out of a culture that nobody would think that greatness would come out of," said Minister Farrakhan. "It's like the Bible says about where Jesus was born, can any good come out of Nazareth? Can any good come out of the 'hood? And, Nipsey answered and said, 'Here am I. Send me,' " Minister Farrakhan said.
Hip hop journalist Davey D. argued a year after Nipsey's passing to expect Black problems would be solved and skyscrapers in major cities developed by athletes and entertainers is not realistic.
"I think we need to look at the work that people are doing and try to add to it," Davey D. said. He cited professional football player Marshawn Lynch's community investments as an example. "He didn't stop and not become a partial owner of one of the new expansion teams for the new football league. He didn't stop and not become an owner of a restaurant and those types of things," he said.
"Or what Steph Curry's done, with his investments in movies and in putting money behind, I mean, we could go down the list. There's a lot of people doing things. LeBron James hasn't stopped. TI hasn't stopped. … I think what Nipsey was trying to do was show the possibility of us coming together in small collectives and doing something. That's what we should have been emulating when he talked the marathon continues," said Davey D.