[Editor's Note: This article was published online on March 17, 2014, and The Final Call will continue to reprint articles written by our late and dear Mother Tynnetta Muhammad.]
"By the Mountain! And a Book written On unfolded vellum! And the frequented House, And the elevated canopy, And the swollen sea! The chastisement of thy Lord will surely come to pass" ––Holy Qur'an, Surah 52, verses 1-7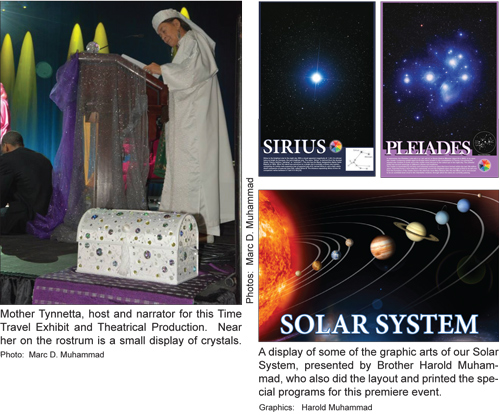 As I begin my article this week, I wish to commend our brothers and sisters who responded favorably to our presentation–Journey to the Stars, Time Travel Exhibit and Musical Theatrical Production during this year's 84th memorial Saviours' Day event in Detroit, Michigan. At the end of our presentation, we asked the audience to write down their questions concerning this subject and place them in our special jeweled treasure box on the stage following the performance. Many questions were submitted which I will attempt to answer within the next few articles to the best of my ability. With this in mind, I wish to thank the members of the Mxodus Coffee team for their overwhelming support of our efforts. It was Sister Deborah Muhammad, assisted by Sister Callie Muhammad, from Columbus, Ohio, who purchased the white satin wedding box which they decorated with sparkling crystals. It will form a part of our special expanding exhibit of crystals and other unique artifacts that will be on display in your area in the near future.
I especially wish to thank Brother Lemuel Muhammad, our technical director of video production and sound from Los Angeles, California, and his assistants, Sister Chinyerim Muhammad and Cayrette Muhammad, also from Los Angeles and Brother Jon Muhammad, sound engineer from Detroit, Michigan, for covering all bases in the technical field. Brother Jon Muhammad also organized the ensemble of musicians who performed with their special sound techniques. He is also a musical composer and performer on the reed flute, crystal bowls, and synthesizer. Brother Lemuel Muhammad also contacted Brother Saddique Muhammad from St. Louis, Missouri, who rendered our 3D hologram viewing of the Honorable Minister Louis Farrakhan's Vision-like Experience when he was called to the mountain in the Mexican town of Tepotzlan where he was beamed up in a glowing light and taken to the Mother's Wheel.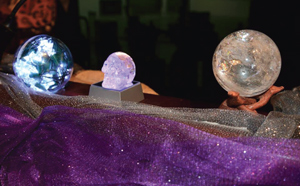 Many, many thanks to Brother Harold Muhammad, gifted Graphic Artist from Chicago, who created all the art posters of the universe displayed in our Picture Book Gallery as well as the programs for that event. Another special thanks to Sister Roslyn Muhammad and Sister Asheen Muhammad from Miami and Jacksonville, Florida, for their exquisite collection of crystals which were on display during the production.
Added to our musical theatrical performance is talented artist and painter, Shernette Muhammad, from Miami, Florida, who rendered for our audience an exquisite hand-painted concept of the Rainbow Color Wheel representing six of our 25,000-year cycles of time history that our Saviour Master Fard Muhammad memorized by heart. There were several requests made with the hopes that this multi-media production would be touring a few cities around the country with a DVD copy of the performance to be made available. We are awaiting editing completion and approval from the Honorable Minister Louis Farrakhan to take this next step.
Thank you, Sister Qanarah Muhammad from Washington, D.C., for your Saviours' Day gift of an assortment of six crystals resonating from your heart. Brother Kim Muhammad submitted the following question on the use of crystals.
"As a Believer/Follower, what should we do in terms of obtaining a crystal and its use as a beginner in our life as followers"? ANS: First of all, understanding crystals is like understanding what our own bodies are composed of in the essence of the life force. Everything that is in our bodies comes from the earth combined with cosmic material. To be crystal in essence is to be a clear reflector of the Divine Energy that exists on our earth and in our bodies and in the universe. To be crystallized into oneness, means to be Christ-like in our thinking and mind, reflecting that Divine Light in all directions until we fill up the earth with Divine Love and compassion as we become one with the will of Almighty God, Allah.
God-consciousness is the light filled capacity of our minds to know yourself within the spectrum of God's Divine Light. A crystal in substance has the ability to amplify our thoughts which is the essence of everything stored from the beginning of time which begins with thought. Our essence and being is derived from the essence and being of Almighty God, Allah, Himself. We cultivate this Divine Light which emanates love, peace, and happiness all around us. All Believers yearn for the life of the hereafter, but only a few are able to reach that reality without understanding the struggle within self that takes us there. We must give up this world and way of life in its entirety and totally rely and surrender our will to the purity of the God-consciousness within.
How do crystals originate? And how are they born? We begin with star material in stellar space. Stellar material is the manufacturing station from which all elements in chemistry are formed in our body and in the earth. They are derived under intense heat with the emission of fire, such as Super Nova explosions. These molecules and atoms of cosmic dust filter through our atmosphere and make it possible for us to breathe, to have oxygen, hydrogen, nitrogen and other elements out of which our planetary system evolves, circling around a central star which is our Sun. The power of our Sun maintains the electromagnetic attraction, such as gravity, to give us life along with eight other planets rotating around her sphere within our Milky Way Galaxy of stars.
The properties of crystal are water and silicone dioxide which under intense heat is baked in the earth producing crystals of various colors, depending upon the nearby mineral material. About 80 percent of the earth's surface is composed of crystalline matter and electromagnetic energy used in modern technology today, such as satellites, watches, radio transmissions, telescopes, computer chips, which store memory.
The Most Honorable Elijah Muhammad stated that the Great Pyramids in Egypt were built in alignment to the Stars, and in order to destroy this great monument, one would have to destroy the Star System to which it is aligned. This is the way our ancient forefathers built ancient monuments and structures around the world.
"The dutiful will be surely in Gardens and bliss, Rejoicing because of what their Lord has given them; and their Lord saved them from the chastisement of the burning Fire. Eat and drink with pleasure for what you did. Reclining on thrones set in lines, and We shall join them to pure, beautiful ones. And those who believe and whose offspring follow them in faith–We unite with them their offspring and We shall deprive them of naught of their work. Every man is pledged for what he does."—Holy Qur'an, Surah 52, verses 17-21
To be continued.
[Correction: In a recent article written by Safiyyah Muhammad titled, "Cosmic travel through time at Saviours' Day," the editorial correction for the name of the director of the Griffith Observatory in Los Angeles, California, should be Dr. Edwin C. Krupp.]