, Contributing Writer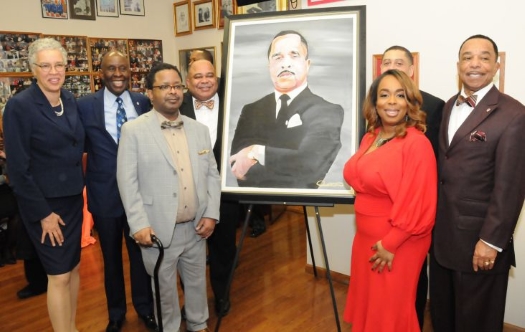 CHICAGO–As usual, elected officials, political candidates, activists and business owners showed up to demonstrate their support and appreciation for the Coalition for the Remembrance of the Honorable Elijah Muhammad (CROE) during the group's 33rd Annual Founders' Day celebration.
This year was different because it was the first held without the "spark plug" of the organization.
In a car, spark plugs get the car started and "if the spark plugs don't ignite, you don't go anywhere," said co-founder Shahid Muslim as he talked about co-founder Munir Muhammad, who passed away July 9, 2019. "Munir was the spark plug of this organization. When he turned the key, we started up."
"I feel great, I'm at the right place at the right time for the right reason, and I'm sad to say that I miss my good friend, Munir Muhammad. He was the person who got me involved with this wonderful organization. I've been on his television show many times and I just believe that when he's not around, we've lost a wonderful human being who has a giving and caring spirit, and a gentleman who I admire and respect, and miss of course," said Jesse White, who serves as the Illinois secretary of state.
Despite not being present physically, his family and the impact of his work were remembered through the Munir Muhammad awards given to individuals and a portrait commissioned by the family. It was clear Munir Muhammad's spirit was strong and many "spark plugs" are committed to keeping CROE going.
Thirty-three years ago, CROE was established to make sure people did not write the most Honorable Elijah Muhammad, patriarch of the Nation of Islam, out of history. Additionally, the organization has been in the forefront as a grassroots media outlet that helped people from all walks of life share their stories via various television shows, most notable being "The Munir Muhammad Show."
The shows currently air five days a week on Chicago cable Channel 25 at 6 p.m. CDT and also airs on Sundays.

During Founders' Day, speakers fondly talked about "Brother Munir," as he was known. Speakers included his son, Jamil Muhammad, who has taken over as host of the show."Those of you who knew my father knew that he was about relationships. He would work tirelessly and be your advocate if you had something of good for the community," Jamil Muhammad said. He was surrounded by a sea of photos that cover walls displaying Brother Munir with governors, aldermen, television news anchors, celebrities and prominent figures in Chicago. Many were interviewed by Brother Munir on his show.
"Many people now talk in the cliché of what diversity should be, but Munir Muhammad exemplified what diversity is in his wide array of guests, his friends, his associates and his partnerships," said Jamil Muhammad.
In honor of his father and on behalf of CROE, he handed out three awards. MacArthur Alexander received the "Munir Muhammad Shining Star Award," Alderman David Moore received the "Munir Muhammad Shine with Faith Award" and the Honorable Minister Louis Farrakhan, of the Nation of Islam–who Brother Munir credited with giving him the tools he needed to defend the Honorable Elijah Muhammad–received the "Munir Muhammad Universal Friendship Award."
Min. Farrakhan was not able to be present and National Protocol Director Abdul Rauf Muhammad of the Nation of Islam received the award on his behalf.
Brother Munir's daughter, Aginah Muhammad, unveiled a portrait commissioned by artist Rob C. Owens. "I wanted to do something that honored my father's legacy," she said.
"I am feeling wonderful that CROE started in our basement years ago and really this is our 34th year, it was just brought into fruition in 1987 but it really started in 1986. I'm just so happy that all of the people who always supported CROE are still here tonight," said Aminah Muhammad, wife of Munir Muhammad.
Many present vowed to keep the organization going to honor Brother Munir and to honor the goal of keeping the name, work and mission of the Honorable Elijah Muhammad alive.
"Continuing the remembrance of the Honorable Elijah Muhammad is so important. While CROE is an organization that carries that memory, it is important for us to continue that legacy as well," said business owner and activist Jimalita Hunter, global director of the Harold Washington Cultural Center. "The hard work that Munir put into making sure that that information is shared generationally is why I'm here. Being the daughter of the honorable Dorothy Tillman and the mother of Dorothy Jean Tillman, we were always welcome here to talk about what things we had going on. I thought it was important for us to show our support not just with our money, but to show our face here today."
"It's important for me to be at Founders' Day because the work we do in Englewood is overshadowed by mainstream media and only shares one narrative," said Asiaha Butler, founder of the Resident Association of Greater Englewood (RAGE). "Munir and CROE really embraced us. RAGE has been around 10 years, but we were new, and we had no viable outlet. This was our outlet to get the message out. CROE has been a valuable impact for our organization and the work we do."
"I am here because of, not only the work of Elijah Muhammad, but Munir gave us a platform both during election season and anytime we had anything positive to share and I had to be here to support the work and legacy of this great organization," added 16th Ward Alderman Stephanie Coleman.
"The Honorable Elijah Muhammad paved the way. He gave us the beacon, the light. He gave us a grand scale look and appreciation of ourselves and what we can do for ourselves," said John Davis, former CBS news anchorman. "Brother Munir was not only a steward of the philosophy, but he put it into practice. He was able to bring a lot of different kinds of people together to support CROE."
Final Call staff writer Tariqah Shakir-Muhammad contributed to this report.