By Charlene Muhammad CHARLENEM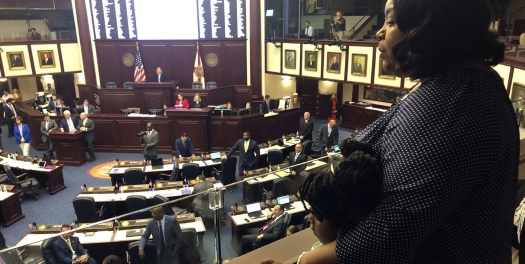 Florida lawmakers rallied behind a six-year-old girl who was ziptied at school and arrested when the state House on March 4 unanimously passed a measure requiring law enforcement authorities to put procedures in place for arresting children under age 10.
In February, Kaia Rolle's family made public footage from the officer's body camera public, intensifying outrage among the public and lawmakers over her arrest that occurred last fall.
Kaia watched from the gallery of the Florida House with her grandmother, Meralyn Kirkland, as lawmakers stood with her in solidarity and approved the legislation, HB 7065.
"Asking for a second chance is a universal principle that is found at the core of our existence here in this country," said Rep. Kionne McGhee, the Democratic leader in the House. Rep. McGhee sponsored the measure in his chamber. Republican Rep. Ralph Massullo sponsored the original bill.
The legislation, an amendment dubbed the "Kaia Rolle Act," was folded into a school safety bill spawned by the Parkland High School shooting. It was adopted unanimously.
Asserting that there were too many young children being arrested at schools, Rep. McGhee told fellow lawmakers it was "incumbent upon us at this very moment, at this very hour, to answer the call that young Kaia rendered when she was being arrested.
"The first call she said was, 'Please, help me,'" Rep. McGhee said. "Young Kaia, I want you to know that this body has heard you," he added.
"I needed people to know that there is this law in the books that allows our babies to be arrested. It was not a one-off with Kaia. It can happen to any child and any family out there, and that we needed to make a change," stated her grandmother Meralyn Kirkland.
"At any point in her life, they explained to us that at age 20, she could be driving down the road, and is pulled over for a traffic infraction, and she could have a flashback," Ms. Kirkland told reporters.
Heartbroken over what he saw on video, Senator Randolph Bracy (D-Ocoee) introduced legislation prohibiting the arrests of children younger than 12 years old, but SB 578, Juvenile Justice failed due to opposition, according to Alex Redkin, his legislative analyst.
He then attempted to take the concept of SB 578 and add it to an amendment to another bill that had been moving through the Appropriations Committee on March 3. Although on the agenda, presentations for the proposal were never heard for a lack of time, so it's dead, too, Mr. Redkin told The Final Call. According to the Tallahassee Democrat newspaper "with the Senate's inaction, the future of the Kaia Rolle Act is unclear, though McGhee said he hopes the Senate will simply take up the House's bill." At Final Call presstime SB7040 remained on hold after being temporarily postponed again, reported floridapolitics.com.
Black children targeted
Videotape footage showing the arrest of the distraught, crying child in Orlando, Fla., once again shed light on the national problem of criminalization of Black children in schools and the damaging effects on their emotional and psychological behavior.
In 43 states and the District of Columbia, Black students are arrested at school at disproportionately high levels, according to an analysis of federal data by the Education Week Research Center.
One reason may be that Black students are more likely than students in any other racial or ethnic groups to attend schools with police, according to the analysis of 2013-14 civil rights data, the most recent collected by the U.S. Department of Education, noted Ed Week's Evie Blad and Alex Harwin.
"In most of the jurisdictions with disproportionate arrests of Black students, the disparities are significant. In 28 states, the share of arrested students who are Black is at least 10 percentage points higher
than their share of enrollment in schools with at least one arrest. In 10 of those states, that gap is at least 20 percentage points. No other student racial or ethnic groups face such disparities in as many states," they report.
Child advocates say counseling is key to managing trauma such incidents cause to children, but ending police contact with children in schools is the ultimate solution.
"I have never seen White children get arrested in an elementary school by White or Black cops. I've just never seen it," said Dr. Opio Sokoni, a Jacksonville, Fla.-based civil and human rights activist.
He likened the ordeal to re-enslavement through the prison industrial complex and convict leasing, where innocent Blacks were rounded up and incarcerated following their so-called emancipation so they could be swept up by Whites and used for planting season or other labor.
"You hear a lot of stories about the adults, males, and how that happened. And then you hear some about women, but children were a part of that, as well, and so I think we just haven't gotten past in this country looking at Black children as something that's precious," Dr. Sokoni told The Final Call.
He argued any police officer called to an elementary school should ask questions right away and on arrival, ask more, because there is absolutely no way that handcuffs should ever be put on a child.
"No one with a gun on their hip should even be touching a child, at all, for any reason," he said. Adults and training in schools are there to prevent such incidents, as well as embarrassment and violation of children's rights, and when things go wrong, children suffer, he continued.
The actual physical abuse of one child spreads to others by mere observance, just as in slavery, he argued.
"How much counseling is this little girl going to get? How much counseling is going to happen to the other children that even if they didn't see it, they found out that this happened? They're going to believe that these big, bad police officers–not 'officer friendly'–but these big, bad police officers are going to come to their school if they don't do what the teacher says," stated Dr. Sokoni.
Additionally, once children are arrested, they often learn the criminal justice system and lose fear of it, or, they can be so traumatized other things begin to happen, he said. For instance, that child could end up hurting other children or take other means that's self-destructive.
Alternative approaches
Dr. Sokoni urged people to figure out alternatives to approaching children and to view the big picture. "When it's all said and done, parents have to understand, they don't mold your children at the school. You mold your children. What they do at school, they teach them how to read and write and so on. No matter what type of school they're in, they are molded at home by their mother and father," added Dr. Sokoni.
A good place to start is by holding people accountable, he said. Too often, similar incidents happen to people that don't have much education or in a school environment that's not robust, and people take advantage of those circumstances, said Dr. Sokoni. Love, flexibility, and respect of parents' rights are just a few alternatives to the problem, he offered.
"When a police force cannot determine another way to handle a six year old, we're in more serious problems than we realized we were in," said Nancy Lockhart, a legal analyst for wrongful convictions and former schoolteacher.
She's certain the experience will follow Kaia for the rest of her life and traumatize her beyond ways than anyone could imagine. But she hoped the city, state, or whomever is responsible, would pay for the child's counseling for a very long time.
"I think it's a part of the criminalization that we see of our children. I'm certain there's another way, however, with this particular officer, I don't know if it's protocol in this particular department, but if it's protocol, then they definitely need some training themselves," stated Ms. Lockhart.
"If it is not their typical protocol and just the strategy of this one officer, not only does he need to be removed from his job, but he also needs Continued from page 5 Arrest Screenshot of Kaia Rolle Photo: Youtube Screenshot of Officer Dennis Turner Photo: Youtube to be removed where his certificate or whatever qualifications are taken away and he doesn't need to work in any other police department, in my opinion," she added.
"It was just wrong. It's just one of the most disgusting things that's happening to our children, and it brings into mind the half a million stop and frisks in New York City which caused a large percentage of young, Black men not to graduate from high school, not to mention others that were affected," said Ms. Lockhart.
Orlando Police Chief Orlando Rolón acted swiftly and announced last Sep. 23 that Mr. Turner was suspended and then terminated. All charges against Kaia were dropped and her record expunged.
"We agreed that that child should not have been arrested and had the policy been followed, the child would not have been arrested," said Alfred Williams, chief of staff for Chief Rolón.
Before, police arrests required the permission of a manager, meaning a lieutenant, captain, even a civilian manager. Mr. Turner's misconduct bumped that up to a deputy chief, which is the second highest rank in the agency, according to Mr. Williams.
He told The Final Call he believes the timing coincided with legislation calling for an end to charging juveniles under 10 with crimes but said they (police department) have no feeling one way or another about the video being released. He also stated the department is not trying to justify what happened.
"That's why we have a policy that says the officers can't make an arrest of a juvenile under 10 without the permission of a manager, but the officer didn't follow the policy, and so we all are taking a beating or getting a black eye because an individual chose not to follow the policy," he continued.
(Associated Press contributed to this report.)