By Charlene Muhammad CHARLENEM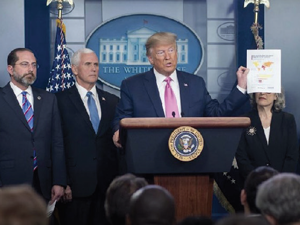 A deadly global virus that experts predict will cause catastrophic long term costs in treatment and a disruption to the American way of life has been downplayed by President Donald Trump, argue critics.
Pres. Trump initially contradicted health experts' warnings and predictions about the coronavirus disease (COVID-19). The viral outbreak that began in Wuhan, Hubei Province, China in December 2019 has spread throughout China and to 31 other countries and territories, including the United States, according to the Centers for Disease Control (CDC).
At Final Call presstime new cases of the virus were announced in Oregon, Rhode Island, Washington state, New York, California and Florida bringing the total number infected in the U.S. to 89 with two reported deaths. Florida and Washington state issued emergency declarations. In the U.S., at least 63 people were being treated for COVID-19 as of Feb. 27, most of them evacuated from Asia, reported cbsnews.com. The origin of two cases, both women in California, have been impossible for doctors to trace, leading the CDC to warn the U.S. has likely seen its first case of 'community spread,' the website reported.
As of March 2, the virus has infected more than 89,000 globally and caused over 3,000 deaths worldwide, including 70- and 50-year-old men in Washington state and Mohammad Mirmohammadi, 71, a member of a council that advises Iran's supreme leader.
According to Mr. Trump, a widespread U.S. outbreak of the new respiratory virus sweeping the globe isn't inevitable even as top health authorities at his side warned Americans that more infections are coming. Mr. Trump sought to minimize fears as he insisted the U.S. is "very, very ready" for whatever the COVID-19 outbreak brings. Under fire about the government's response, he appointed Vice President Mike Pence to lead the administration's response.
"This will end," Mr. Trump said of the outbreak. "You don't want to see panic, because there's no reason to be panicked."
But standing next to him, the very health officials he praised for fighting the new coronavirus stressed that schools, businesses and individuals need to get ready. "We do expect more cases," said Dr. Anne Schuchat of the CDC.
At presstime NBC News reported The Federal Emergency Management Agency (FEMA) was planning for the possibility that President Trump could make an emergency declaration to bring in extra funds and personnel to assist the administration's response, according to internal documents obtained by the news outlet.
Health officials have exhausted an initial $105 million in emergency funding and have been looking elsewhere for dollars. Earlier Mr. Trump requested $2.5 billion from Congress to fight the virus. Senate Democratic Leader Chuck Schumer (D-N.Y.) countered with a proposal for $8.5 billion.
Dr. Nancy Messonnier, director of the Center for the National Center for Immunization and Respiratory Diseases, has bluntly told Americans to get ready for some of the same steps as occurred during the 2009 flu pandemic, such as school closings. "It's not so much a question of if this will happen anymore, but rather more a question of exactly when this will happen– and how many people in this country will have severe illness," she stated.
"What I have heard coming out of the White House is that everything is under control, and that we do not have, at this point, a lot to worry about. The United States has a response that is proportionate and accurate," said Dr. Oliver Brooks, president of the National Medical Association, which represents the interests of more than 50,000 Black physicians and their patients.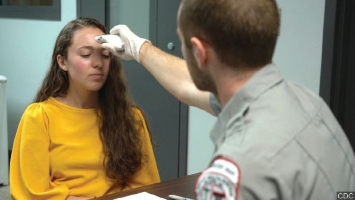 What is true is that National Security Advisor John Bolton reduced staffing for scientists that cover things like global pandemics, spread of infectious diseases, and management of health issues, among other things, the Los Angeles-based pediatrician told The Final Call.
At this point, on a policy management level, the United States is understaffed and underfunded, in addition due to budget cuts to the CDC for management of pandemic and infectious diseases, such as coronavirus, according to Dr. Brooks.
"So, the level of expertise coming out of the White House is not there. Secondarily, this president is not scientifically oriented. He doesn't embrace science, so what we are getting from the president are what I would call beliefs. Beliefs and science are actually opposites," stated Dr. Brooks.
In reality, he continued, there is a response needed from this government to ensure it can contain the virus. "It is not the end of the world. There have been outbreaks of viruses and other infections before. What we have to be is calm and deliberate and scientific," he stated. He said any index case should be isolated and anyone exposed should be quarantined, and those are two separate things.
More than 89,000 cases of COVID-19, an illness characterized by fever and coughing and in serious cases shortness of breath or pneumonia, have occurred since the new virus emerged in China.
Generally speaking, Blacks in the United States have less health care coverage, less access to information regarding issues of health and in this case, infection control, noted Dr. Brooks. Just by the fact that Blacks suffer disproportionately from health-related outcomes, Blacks are likely to be more adversely affected by those that get infected, as is the case with many infections, influenza for example, he continued.
"If you carry co-morbidities (simultaneous presence of two chronic diseases) like heart disease, diabetes or COPD (chronic obstructive pulmonary disease) lung disease, a respiratory virus like the coronavirus, is more deadly, so on a number of levels, access to healthcare and us being sicker as a people in general, there is the potential for us to be more adversely affected if we get infected," Dr. Brooks elaborated.
"That being said, this is a totally new virus and our true knowledge of who lives and who dies when they get infected is not really clear yet. This has only been going on for less than four months or so. Our people should have access to accurate and up-to-date information, and we should get that from trusted sources," he added.
Dr. Brooks recommended anyone concerned seek advice from their doctor or sites like the CDC, NIH (National Institute of Health), and World Health Organization if they turn to internet research.
"This coronavirus, or what the scriptures call pestilence, that is spreading, it's a strong indicator of the finality of this world, that we are in fact in the last days," said Student Minister Ava Muhammad, national spokesperson for the Honorable Minister Louis Farrakhan, reflecting on the Muslim leader's Saviours' Day 2020 address, "The Unraveling of a Great Nation."
The prominent attorney, author, and radio talk show personality highly recommends people read the 91st Psalm, because it talks specifically of pestilence and seeking refuge in the Lord. People's faith in Allah (God), whether they are Muslim, Christian, Hebrew or Agnostic, the Supreme God is their refuge, she said.
"I thought it was very significant where one verse says a thousand may fall at your side; 10,000 at your right hand, but it will not come near you. And that is the time that we are in," said Min. Ava Muhammad. She examined Min. Farrakhan's life in that context, saying, he has resided in a bubble of protection, a hedge, as spoken of in Bible scripture, where Satan challenged God to remove the hedge from around Job.
"Not only the Minister, but the Nation of Islam, we've been protected by a hedge, and if we are to maintain that that protection, because the Minister has in fact by laying down his life for the truth, caused the God to give us mercy and grace. And so, we are protected, but we have to continue to do our best to obey God's will, and that means to separate ourselves from his enemy," continued Min. Ava Muhammad.
She labeled Pres. Trump's contradictions and handling of the coronavirus "plain arrogance, blindness," and an incredibly optimistic posture, absent any details to back up his stance.
As Mr. Trump reassures America that the virus is "going to go away," the stock market–Dow Jones Industrial average– dropped another 1,200 points, which is traumatic in the U.S. financial world, she noted. Japan has closed all schools, which will not reopen before mid-April, due to the virus, she pointed out.
"I think that this just simply reconfirms what the Minister said about Donald Trump. He's specially made to sit in this seat in this time, and in order to continue the agenda that he has in place of making America great again translation make America White again, he does not deviate from his agenda and he is blind," stated Min. Ava Muhammad.
"He is oblivious to any reality that threatens his perception of reality, and so the idea of an outbreak, this viral outbreak that is potentially devastating to the population, he cannot process that because it does it does not fit with his plans. Anything that disrupts his plans he ignores, and just as he ignored the impeachment trial, he will ignore this virus unless and until it crosses his threshold," she added.
Min. Farrakhan has already said, nothing is going to destroy America, because she belongs to Allah (God), she explained.
"The good news is, we should not be overly anxious about an attack or about a virus, but what we should be anxious about is our slowness to disconnect ourselves from a nation that is in the crosshairs of the Lord of the worlds, because when he makes his final move, it's lights out for all of us and so the only way we're going to survive this is to separate ourselves, not only mentally and morally, but now physically into a distinct, geographical area so that we can be excluded from judgment," Min. Ava Muhammad concluded.
"It's not clear exactly how the Coronavirus spreads, the behavior of this particular COVID-19 virus is not fully characterized. What is becoming clear is that some of the old fashion things we can do in terms of cleanliness and hygiene will go a long way to cut down on the virus being spread," Dr. Safiyya Shabazz of Fountain Medical Center in Philadelphia told The Final Call.
"They are not currently recommending that people who are not sick wear masks. Though people that are sick should wear masks, and if you are working around people who are very ill and they are known to have the virus, you should wear the appropriate personal protective material," she stated.
She recommended washing hands regularly to reduce the spread, cleaning surfaces regularly with alcohol-based cleaning and disinfectants like Lysol and bleach and avoid handshaking and kissing.
(Nisa Islam Muhammad and Associated Press contributed to this report.)