ERICTOUREM, Contributing Writer

DETROIT–The National Prison Ministry of the Nation of Islam, headed by Student Prison Reform Minister Abdullah Muhammad, hosted a "Solving the Problems of Unjust Incarceration Through Reparations and Separation" workshop during this year's Saviours' Day convention.
Participants said Page 25 in The Final Call is one of the most important pages in the newspaper due to its focus on the Prison Reform Ministry. Page 25 and the adjacent page offer news and information provided for and sometimes from the belly of the beast. The articles speak to the program and position of the Nation of Islam.
The panel opened in prayer and moderator James Muhammad and everyone who graced the platform quoted from the "Book of 25," referring to page 25 dedicated to the national Prison Reform program.
On the panel were husband and wife Mike and Debbie Africa of the MOVE organization, and Steffany "Stet" Frazier, who served 25 years of a life sentence in federal prison for conspiracy to distribute crack cocaine. Also present was Attorney Warren McAllister.
Mr. and Mrs. Africa have been members of the MOVE organization since 1974. They, along with seven other members, were known as the MOVE 9 after a third-degree murder conviction in the death of a police officer in 1978. They were sentenced to 30 to 100 years in prison.
In 2019, the couple was reunited upon release after serving 40 years in prison, separated from each other.
Mrs. Africa was 22-years-old and five weeks into her prison sentence when she gave birth to Mike Africa Jr., secretly in her cell because she did not want anyone killing her baby.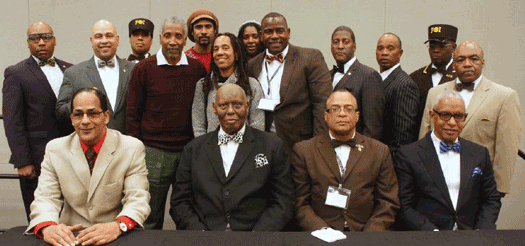 "I had my son and I left him, but he found a way to come back and get us," Debbie Africa said. "I was in a jail cell, but I wasn't going to let that stop me. I secretly gave birth to my child. No doctors, no midwife–they didn't even know. One of the reasons I was so determined was because we had so many babies who had miscarried at the hands of the police. We had one actually killed by the police. This was 1978, I was just so afraid. I was not going to let anything happen to my baby."Once he was born, I wrote a note to Mike Sr., and let him know that he was okay. That baby 40 years later is sitting right there," she said pointing to their son in the audience.
"I had a baby in prison. And he through his years of hard, hard, hard work and through tough times where he and his sister were alone. All that he has been through, he was looking at transcripts since age 14- or 15-years-old. He was a very instrumental part of our release and the rest of the MOVE 9. And, I am telling you if it were not for him, we would still be in jail," she said.
The Move 9 suffered under then-15-yearsoldMayor Frank Rizzo and his desire to make an example of the outspoken and radical Black organization. There had been clashes with police and officials over the years and a stand-off ensued a little over a year. The group was accused of having weapons and threatening to kill city officials, police and reporters. Part of the intense friction was related to the group's call for members previously arrested to be released. Tensions continued to escalate until they exploded in the summer of 1978.
Police struck the group's compound using a bulldozer to get through barricades. Gunfire erupted shredding the house in a hail of bullets using unrelenting firepower previously promised by the mayor. Officials said firefighters were injured and a police officer were killed by MOVE gunfire. Water had been hosed into the home's basement to force MOVE out. Some suspected part of the department's ire was stoked by feelings of embarrassment that police could not break the group.
The MOVE 9 insist the officer's death was from friendly fire from other officers. They have maintained their innocence for decades. Two weeks before the attack, MOVE had reached an agreement with city officials to turn over their weapons.
Debbie Africa said MOVE members only armed themselves after constant beatings, arrests and murders. Once MOVE was armed, the random attacks stopped, she said. Then, they sat with the city's police department articulated their positions and demanded reparations.
The city agreed on condition that MOVE turn in all weapons, she said. "So, we decided to go into this agreement and one of the things we had to do was turn over the weapons. We turned them all over and they were all inoperable," said Debbie Africa.
Once weapons were turned in, police came to the home, searched for more weapons, and found none, she said. Two weeks later came the final assault. Debbie Africa said MOVE had no weapons, despite police and media reports.
All MOVE 9 members are out of prison, two died while incarcerated.
In 1985 came the infamous Osage Avenue bombing following another stand-off between MOVE and police. Officials say MOVE was armed when confronted for making problems in the neighborhood. In the end, there was more gunplay, a stand-off and a bomb was dropped on the home by police. MOVE members eventually surrendered but an intense fire sparked by the police "incendiary device" destroyed 61 homes left over 250 residents homeless. The travesty happened under the tenure of Mayor Wilson Goode, who was Black and infamously said he would have bombed MOVE again. After leaving office, he admitted he was afraid of his own police department.
Eleven MOVE members, including founder John Africa, five children and five others died in the 1985 tragedy. Ramona Africa was arrested and jailed. She was released in 1992.
Both Mike and Debbie Africa expressed deep appreciation for Minister Louis Farrakhan's strong speech on behalf of MOVE.
"After the bombing, you would have thought a lot of people that you would have thought would be raising their voices who said that they were leaders, who said they were champions of the community, their silence was deafening," Mr. Africa said.
"The only one who did was Minister Farrakhan. A lot of people fell silent or either switched sides. And Brother Farrakhan talked about the treachery of the system. The treachery they did to babies and how they have a history of doing this. He made it clear and not just in words. The pallbearers that assisted our family in burying our family after May 13 (1985) was the FOI," he recalled.
True prison reform and rebuilding lives
Throughout the workshop Minister Abdullah was continuously greeted by people reentering society who had been guided by his more than 30 years of work within the U.S. prison system.
One of those who has returned to society is Stet Frazier.
"In order to help prison reform, you have to understand the system," he said. "It is difficult to work on prison reform if you don't use the minds of those that were incarcerated even on the state level. The federal level has what is known as the United States Sentencing Commission, they populate policy statements. Those policies that they actually make are not for you to be re-sentenced. It's only to modify your sentence. So, you have to go through ropes to meet a criteria to even get the modification," he said.
Steffany "Stet" Frazier served 25 years of a life sentence in federal prison for conspiracy to distribute crack cocaine. Mr. Frazier, though guilty of the crime, had never been arrested, had no prior offenses and was sentenced under the then-legal crack cocaine laws.
Under these laws, Mr. Frazier was sentenced 100 times harsher for the possession crack cocaine than if he were in possession of white powder cocaine.
The last 19 of his 25 years, the teachings of the Hon. Elijah Muhammad and the convening of the historic 1995 Million Man March showed him how he needed to live his life. He created self-improvement, business, credit and financial literacy programs in the belly of the beast, hoping fellow inmates could reenter society, help communities they once ravaged and make them decent places to live.
Since his release he has not only served the community he once offended, but he has traveled the country speaking about crack cocaine sentencing disparity.
Mr. Frazier was released as a result of the First Step Act signed into law by President Trump that weighs disproportionate time against the offense.
"I was denied clemency with President Obama twice. When you have prison reform, if you don't have the minds of us in the system, you can't do any reform. You have to know and understand the system. One hundred to 1 simply means this: For one kilogram and a half of crack cocaine with a street value of $45,000 is equivalent to 150 kilograms of powder cocaine which is equivalent to millions of dollars. Fifty grams of crack cocaine can give you a sentence of 10 years to life. That same statute of 150 kilograms of powder cocaine offers a sentence of 20 years or less," he said.
Minister Abdullah Muhammad talked to attendees about the need to investigate the recently reported atrocities and deaths in Mississippi's corrections system, especially conditions at infamous Parchman Penitentiary in Parchman, Miss.