JABRIL.MUHAMMAD
[Editor's Note: This is a reprint and was published September 27, 2010.]
"And you are three sorts." "And ye shall be sorted out into three classes."
-Holy Qur'an 56:7 (M. Ali and Y. Ali translations)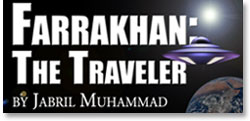 One afternoon, the Honorable Elijah Muhammad shared something with me which, if carefully studied, reveals a great deal about the hearts of Master Fard Muhammad, the Honorable Elijah Muhammad, the Honorable Minister Louis Farrakhan and the kind of heart we have to have if we are going to fully participate in the plan of the salvation of the original people here in America and throughout the earth.
The Honorable Elijah Muhammad said to me (and I suppose to others) that Master Fard Muhammad used scissors to cut a small section from a Bible and, in a way unobserved by others, He pressed it into one of his hands and then eased away.
A moment later, he looked at it. It was the 23rd Psalm. I cannot say for sure if it was The King James Version, which in any case begins with: "The LORD is my shepherd; I shall not want. He maketh me to lie down in green pastures: he leadeth me beside the still waters."
A few words down, it continues: "Yea, though I walk through the valley of the shadow of death, I will fear no evil: for thou art with me; thy rod and thy staff they comfort me. Thou preparest a table before me in the presence of mine enemies: thou anointest my head with oil; my cup runneth over."
There is more. It's beautiful.
The book of Psalms, so say the scholars and scientists of the scriptures, reveals the heart of King David, who was one of Allah's greatest prophets. This man, David, is universally regarded as one of the greatest signs, or types, of the Messiah, who is to appear at the end of this world and is to establish the kingdom of God.
Psalms very deeply reveals the heart of the Messiah. It reveals his heart in his most private and intimate moments with the Lord of the Worlds.
All that I have just written has a direct and the most intimate relationship to words spoken by the Honorable Elijah Muhammad to Minister Farrakhan, in 1956, in his home in Chicago: "You remind me of David." This is so rich and filled with significance!
I am writing these words on September 17–the 20th anniversary of the momentous more-than-a-vision experience that Minister Farrakhan had, the significance of which he outlined a few days ago, on September 14, on a national webcast, which was also heard via radio in several states by millions; potentially 10 million. It was more than a speech. It was a powerful experience, as we were permitted to see Allah's guidance, working in a servant over years, which affects all life on the earth.
Consider these effective words from Minister Farrakhan, which are indicative of the exquisite qualities of his heart.
In his open letter, dated Aug. 22, 2005, appealing "to all those who would be a part of The Millions More Movement" he wrote:
"
IN THE NAME OF ALLAH, THE BENEFICENT, THE MERCIFUL.
"For years, decades and centuries, leaders have arisen among us who have fought, bled and died to see us united as a people.
"Willie Lynch, a Caribbean plantation owner, developed a set of protocols that would ensure, if followed, that Black people–wherever we were found on the planet–would never be able to unite.
"So, these seeds of dissention and division have worked 100 percent to keep the former colonial and slave-master's children in power over us. All that Willie Lynch advocated in 1712 continues until this very day.
"Those who wish to maintain power and control over us are fearful of anything or anyone who might bring unity to a fragmented people. So every leader who showed such ability or skill was castigated, evil spoken of, falsely accused, imprisoned, beaten or killed, only for us to later learn how valuable they were, male and female, to our advancement as a people.
"From the time that I was a little boy, I hungered to see us as a united people. When I heard the voices of the Honorable Elijah Muhammad and Malcolm X, I believed that the teachings that they presented would be a unifying force for all of our people. However, in our lack of understanding of the universal nature of His Message, we were not permitted, with our limited understanding, to unite the whole of our people, but we were successful in uniting a segment of our people, to produce the Nation of Islam as an example of what a united people could produce in the way of providing for our necessities of life.
"The Honorable Elijah Muhammad called for a united front of Black leaders and organizations to plan the uplift of all of our fallen people. Kwame Ture, also known as Stokely Carmichael, carried the theme of a United African Front and worked to produce this to the end of his days.
"I am so thankful to Almighty Allah (God) for the words that He caused me to write and say that have become the basis for the call of the 10th Anniversary of the Million Man March and the creation of the Millions More Movement.
"For the first time in our history, those of us of different ideologies, philosophies, methodologies, denominations, sects and religions, political and fraternal affiliations have come together to create the Millions More Movement. Each of us, who have agreed to work together for the benefit of the whole of our people, have said from our particular platforms, based on our beliefs and understanding or the lack thereof, words that have offended members of our own people and others; and our ideology, philosophy, religion and pronouncements may have hurt the ears and sentiments of others outside of our community. Therefore, this has kept us working inside of our own circles with those who think as we think or believe as we believe. As a result, some of us would never appear on the same stage with one another, for fear of being hurt by association with those with whom we have serious disagreements.
"The Millions More Movement is challenging all of us to rise above the things that have kept us divided in the past, by focusing us on the agenda of the Millions More Movement to see how all of us, with all of our varied differences, can come together and direct our energy, not at each other, but at the condition of the reality of the suffering of our people, that we might use all of our skills, gifts and talents to create a better world for ourselves, our children, grandchildren and great-grandchildren."
***
Please reread and think into the whole of this wonderfully insightful letter which I am concluding my quote of next issue, Allah willing, with a few statements about this letter.
***
I suppose that many of you are aware of the reports that part of the American government was at least contemplating the use of the chemicals that had the power to alter the sexual preferences of Iraqi soldiers, as part of their plans to defeat Saddam Hussein and his regime. I wonder about the possibility of the use or misuse of these chemicals by some "rogue" elements of the United States government in the school systems of America?