[Editor's Note: This article is reprinted from Volume 32, No. 1 and The Final Call will continue to reprint articles written by our late and dear Mother Tynnetta Muhammad.]

"And how many a sign in the heavens and the earth do they pass by! Yet they turn away from it. And most of them believe not in Allah without associating others (with Him). Do they then feel secure from the coming to them of an all-encompassing chastisement from Allah or from the coming to them of the hour suddenly, while they perceive not?" —Holy Qur'an, Surah 12, verses 105-107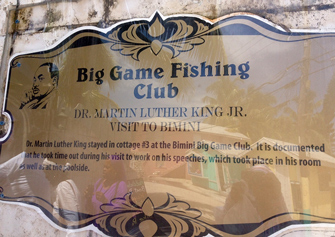 It was during my senior year of high school at the age of 16, when the Divine Light of Islam spread its glorious rays around me and embraced me for the duration of my life. Traveling with the Wise Man, Master Fard Muhammad and His Companion, the Most Honorable Elijah Muhammad, is the theme of my life's journey until this day, taking me into worlds upon worlds of Divine Majesty. Visiting the Island of Bimini for the first time in 1997, departing from Fort Lauderdale, Florida, in the company of a few sisters, I did not realize the extent to which Bimini would play such a significant part in my life, even touching upon memories of my early childhood growing up in Detroit, Michigan.
As I walked through the historic photo gallery of the Bimini Museum, accompanied by some of the students and staff members of Muhammad University of Islam from Detroit in the last week of May, I had recurring flashbacks to the early years of my growing up in the city of Detroit. The name of Henry Ford, Founder of the Automobile Industry, came before me in connection with a cadre of industrial scientists and inventors, who were also involved in the Automobile Industry, some of whom made their way to this enchanting island in the sun from Detroit, Michigan. It is also noteworthy that some of our top entertainers, renowned authors, sport figures, politicians and educators, are among the registry of famous visitors and residents of this little island.
I previously mentioned a brief history of the Most Honorable Elijah Muhammad's interest in the Bahamas, and the enriching stories shared with me through his eldest daughter, Sister Ethel Sharrieff, with recall of many experiences she had during the time when Master Fard Muhammad visited with her father in their home. She had purchased a home in the Bahamas and spoke often about the beauty of the island where she lived. With our current outreach to Bimini, which now includes the purchase of a plot of land under development, we are following in the footsteps of those great ones that came before us.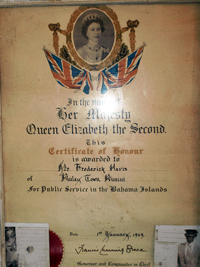 While visiting Mexico in the spring of this year, 2012, the Honorable Minister Louis Farrakhan spoke to me about my memoirs, suggesting that I might consider going to Bimini to write the outline and topics that I wished to include in my book. I was pleasantly surprised at his suggestion which took place during a discussion where family members were present. I wondered if he was encouraged by my many travels there thinking that perhaps such a journey would be a source of inspiration for me.
The early history of our Saviour's Presence in Detroit, Michigan, and the Founding of the Nation of Islam also comes to memory, along with the many stories I heard from the Most Honorable Elijah Muhammad and other family members about the Master's meetings with several highly placed and influential Caucasians in the city of Detroit prominently from Grosse Pointe. Our recent meeting on the island with an elite businessman also from Detroit, Michigan, owns property in Bimini and in other locations, and has offered us land acquisition on the island.
He spoke to us about his close friendship with the former congressman, Adam Clayton Powell, while he lived on the island. He also spoke to us about his early beginnings in Detroit, Michigan, links to Henry Ford and the Ford Estate in Grosse Pointe. Everything and everyone is all telepathically linked to serve Allah's Greater Purpose in the whole embodiment of Divine Creation. In my previous article, we also focused on the great Civil Rights leader, Martin Luther King, Jr., who also spent time on the Island of Bimini and was inspired to write many of his famous speeches including, "I Have A Dream."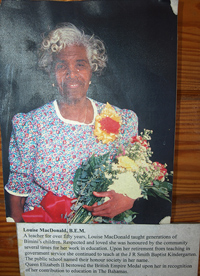 On the days of October 5-7, there will be a special tribute to Martin Luther King's visit to the Island of Bimini, retracing his footsteps and inspirational moments he experienced on Bimini, particularly focusing on his writings while he was there. There will be a three-day program, including a tour and an honorary banquet dinner, to take place at the newly-developed North Bimini Bay Resort. Martin Luther King, III, will be a major speaker at the banquet sponsoring scholarships for Bahamian students to attend a college selected in Jacksonville, Florida. On Sunday morning, October 7, there will be a church service held at the Cathedral of Mt. Zion Missionary Baptist Church.
During our last business trip to Bimini, we stopped in front of the Big Game Fishing Club and read a plaque that was dedicated to Martin Luther King's previous visits to Bimini, citing his room Number 3 where he spent memorable moments composing and writing some of his last speeches, which included his acceptance speech for the Nobel Peace Prize in 1964.
On October 6, a bust and plaque of Martin Luther King, Jr., will be unveiled with live streaming internet viewing available to the public on sight at the Bimini Bay Resort. We will note that October 7th is the date corresponding to the birth of the Most Honorable Elijah Muhammad in Sandersville, Georgia, in 1897. This event takes place on the Island of Bimini preceded by seven days before our own Holy Day of Atonement in Charlotte, North Carolina, on October 14. Nothing that happens is a coincidence. Our universe, itself, is a complex Telepathic Thought Field that incorporates everything in Creation. All the forces of physics, including electromagnetic energy, makes up all the constituent parts of atoms and subatomic particles in a Whole force field producing our DNA and all the genetic materials of life.
"Say: This is my way: I call to Allah, with certain knowledge–I and those who follow me. And glory be to Allah! And I am not of the polytheists. And We sent not before thee any but men, from the people of the towns, to whom We sent revelation. Have they not then travelled in the land and seen what was the end of those before them? And certainly the abode of the Hereafter is best for those who keep their duty. Do you not then understand?" —Holy Qur'an, Surah 12, verses 108-109
To be continued.