, Contributing Writer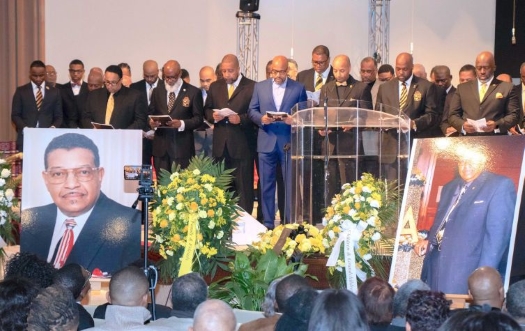 CHICAGO–Roughly a thousand friends, family and Lindblom High school alumni flocked to Christ Universal Temple to celebrate the life of Berve Power Sr., a man who–with style, swagger and fearlessness–maintained, protected and loved his family, made chemistry interesting to Black students and was a strong example of Black fatherhood and manhood to many Black youth in Chicago, including the writer of this article.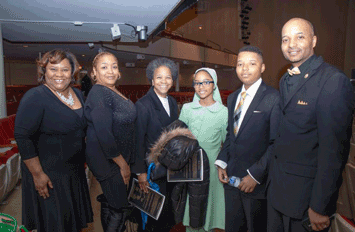 "A tree is known by the fruit it bears and a man is known by his works," said one of his sons and namesake, Berve M. Power II, student national secretary of the Nation of Islam, who delivered an eloquent eulogy that summarized a homegoing and memorial service that recalled Power as a teacher, friend, coach, Alpha Phi Alpha fraternity member, father, brother, son and sharp dresser.
Berve Power Sr.'s fruit not only includes his children, all four of whom are graduates of an HBCU, but hundreds of college graduates, many doctors, lawyers, pharmacists and professionals in various walks of life and a host of admirers who affectionately used to compare his family to the fictional television Cosby Show family of the 90s.
All four of his children spoke with love, admiration and eloquence about their father at the Jan. 18 service. Powers II, recently named Sa'ad Alim Muhammad by the Honorable Minister Louis Farrakhan, talked about his father's legacy by telling several anecdotes highlighting the many principles his father lived his life by.
Berve Power Sr. was born in Plumerville, Arkansas on April 26, 1941. He grew up the youngest of 11 brothers and sisters. He graduated from Philander Smith College where he pledged Beta Chi Chapter of Alpha Phi Alpha in 1959 and graduated in 1962 with a degree in chemistry.
In 1967 he began working at the University of Chicago as an electron microscopy technician in the cardiology department. In 1968 he became a chemistry teacher at Lindblom Technical High School where he retired in 2000.


The anecdotes offered by Sa'ad Alim Muhammad displayed a deeper understanding of his father. He shared the story of how a White property owner decided to fence off an area of land that included the Powers family cemetery. Mr. Powers Sr. had one conversation with the man that included many expletives and the next day lead his family through the fence and that area of land remains open to the Powers family to this very day.Berve Power Sr. left those that admire him with several principles that his son eulogized that included "If it ain't broke, don't fix it;" and when it comes to protecting family and friends, "don't start none, won't be none." Other words of wisdom he shared included: when raising children there will be both joy and pain so be prepared to accept both; always be proud of your Black heritage; don't attempt to run other people's life; exhibit Black excellence; and finally that friends and family must lean on each other during trying times.
Berve Power Sr. is survived by his wife, Bonnie Power, three sisters, four children, four grandchildren, over 100 nieces and nephews and a host of other loving family and friends.
His family has set up an educational endowment that honors their father's commitment to education for students with special needs. It is named in honor of his grandson Haydon who has cerebral palsy. For more information visit AKAEAF.org and click: Donate Now then select Endowments: Haydon A Steward Scholarship Fund.