ERICTOUREM, Contributing Writer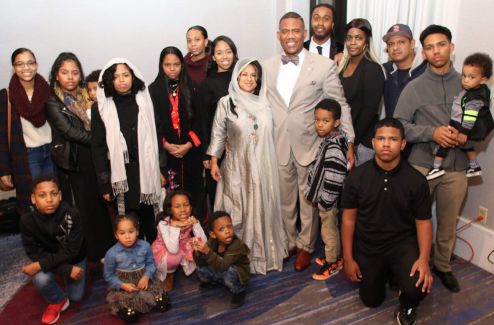 COLLEGE PARK, Ga.–Through heavy rain and wind gusts on a recent Sunday, the Doubletree Atlanta Airport Ballroom expanded its capacity to receive Believers, supporters, family and friends in celebration of Sis. Ruth Muhammad and her triumphant return to the United States after what should have only been a two-week excursion to Mexico.
It turned into nearly seven months of persecution, where her refusal to be vaccinated due to religious belief became a point of contention that would not only deny her reentry to the U.S. but could have banned her for a maximum of 10 years due to alleged illegal entry into the United States.
Sis. Ruth, born in Sonora Caborca, Mexico, has lived in the United States since the age of seven. She is a registered member of the Nation of Islam since the age of 18 and has served as a helper to the Honorable Minister Louis Farrakhan for the last 30 years. She is the wife of Student Minister Stanley Muhammad of Muhammad Mosque 15B, in College Park, Georgia, and together they have nine children.
News spread quickly of her plight in Juarez, Mexico. Her refusal, however, to give in, to abandon her faith and convictions in Islam as taught by Min. Farrakhan was non-negotiable. It would prove unwavering with no give or capitulation from her, nor the believing community.
Sis. Ruth was granted victory over the opposition of U.S. Consulate officials. She eventually received the direct support of United States Senator Johnny Isakson (RGa.), and her victorious stance against immunization could potentially serve others as related to international travel requirements. The celebration of her return was held Dec. 22.
"We thank Allah and the Most Honorable Elijah Muhammad for the Honorable Minister Louis Farrakhan," stated Student Min. Stanley Muhammad in his remarks to The Final Call. "We would not have been successful if we were Lost-Founds and if we didn't have the teachings of the Honorable Elijah Muhammad. Because of the Honorable Minister Farrakhan's love, his faith, his sacrifice to stand up September 1977, and be able to share the life-giving teachings with us, my wife, myself and my family–blessing us to know who the true and living God is and for the believing community was absolutely magnificent," he said.
"They came and supported us in this time of trial. We couldn't have made it without the Minister's followers. So, we are in debt to Allah forever and His Exalted Christ and the Messiah in our midst, the Honorable Minister Louis Farrakhan," he added.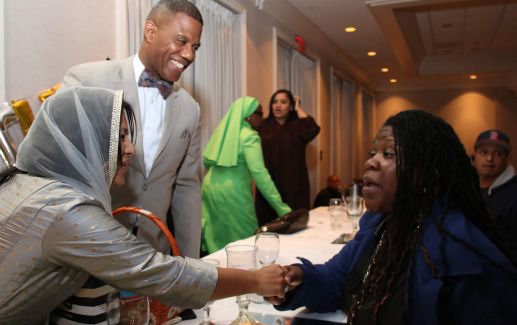 Upon Senator Isakson's direct demand of the consulate to release Sis. Ruth's visa, she returned to the United States Nov. 28."I follow Sis. Ruth's daughter Fatimah on Instagram and I heard about what her mom was going through and I wasn't able to help then," lamented Courtenay Covington, a social worker. "But when she said that she was home and that they were doing this, I just wanted to come and support, meet the family and welcome her back home," she said. Prior to the event, Ms. Covington had never met or laid eyes on Sis. Ruth. But when their eyes met, it was as though they had known one another all their lives. "No matter what title we claim, we are family," Ms. Covington said.
"I always believe in supporting and I always believe in doing what I can to assist. And I have been around the Nation of Islam all of my life. I am from Detroit. It costs nothing to support. Support is not just financial. Especially in this holiday season a lot of people are feeling unloved and not supported. So, sometimes support is giving somebody a smile or telling people they can make it or connecting people to resources. Whatever we can do to support each other" is a collective victory, Ms. Covington added. "Because when we all come up, we all grow, flourish and prosper," she said.
The night was filled with song and testimonies. A slide show presentation by Stanley and Ruth Muhammad's 17-year-old son Mustafa explained through visuals the culture and the growth of Islam in communities while Sis. Ruth was in Mexico. He introduced the Muslims in Mexico to the Georgia celebration attendees and, at points, an elated Sis. Ruth chimed in, identified family members, and spoke to what steadfast belief and faith can and will do.
It was a victory for Islam, she said.
While in Mexico, the Muhammad family raised a Study Group and held three meetings in the cities of Guadalajara and Guanajuato. Two meetings were live webcasts from Min. Farrakhan, beginning with his July 21 webcast. Then Min. Stanley rented a 40-passenger bus with the assistance of Brother Rafael X who lives in Morales, Mexico, and holds NOI study group meetings. They packed the Marriott Hotel and viewed the Holy Day of Atonement address live in October with the men translating each event into Spanish. The third presentation was a 2015 video of Min. Farrakhan at the Latino Lincoln Methodist Church in Chicago, where the Minister's words were translated into Spanish by Student Minister Abel Muhammad, Nation of Islam Latino representative.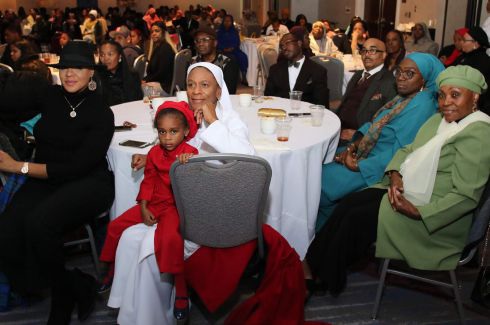 The December evening celebration boasted the expertise of Atlanta's own DJ Dave and songstresses Sis. Aliyah and Sis. Najama of Mosque No. 15B. Organizers of the Fajr Prayer Line also helped organize the evening. Believers came from as far as Tampa and St. Petersburgh, Fla. Testimonies and congratulations were offered via telephone from Student Minister James Muhammad of Tampa and Student Minister Ibrahim Muhammad of Chicago. All food was deliciously prepared by the banquet committee of Muhammad Mosque No. 15B, with the only requirement for all who attended was to RSVP. It was the family's way of showing appreciation for prayers and sacrifices made on behalf of Sis. Ruth and family.Committee members included the couple's children Faatimah, Basheerah, Raeesah, Safiyyah, Mustafa, Tariq and Maryam; Najama Muhammad of Mosque No. 15B; Student Protocol Representative Valda Muhammad; Bro. Lenford and Sis. Maryam of the Southern Regional headquarters Muhammad Mosque No. 15, and Sis. Carmalitha Muhammad of Mosque 15B, who also served as event emcee.
Also in attendance were Riverdale City Council member Cynthia Jones and South Fulton County City Council member Khalid Kamau. Both officials were very supportive throughout Sis. Ruth's ordeal.
"This was a victory for all of the Believers in the Nation of Islam," Sis. Ruth shared with celebration attendees. She thanked them and her family for unconditional love and support, saying things were not easy. "But it proves the Honorable Minister Louis Farrakhan is right and that we serve the true and living God," she said.
Sis. Ruth went on to say that overcoming the demands of the consulate to vaccinate were comparable to Muslim pioneer Muhammad Ali being a conscientious objector to the draft during the Vietnam War. She thanked Allah (God) for the strength of her husband. She shared with the women of the audience, "Sisters, be patient, if you serve Allah, He will provide the man for you. I thank Allah he gave me an FOI!"