FINALCALL.COM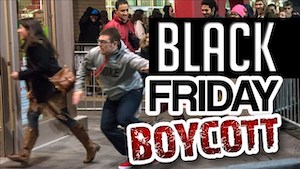 It's been four years since the Honorable Minister Louis Farrakhan introduced the subject "Justice Or Else!" to mark the 20th anniversary of the historic Million Man March, which drew some two million Black men to Washington, D.C., under the banner of atonement, reconciliation and responsibility.
A major part of responsibility is taking charge of the destiny of our community and addressing the ills and the wounds, external and self-inflicted, that we suffer. A major tool at our disposal is the strategic use of Black dollars to support the Black quest for justice. The Minister's call for a holiday spending boycott is growing into an annual and year-round effort to hold others accountable by withholding our money until we receive justice and spending money with one another to increase our strength and our ability to solve our own problems.
The patriarch of the Nation of Islam, the Honorable Elijah Muhammad, warned that the Black Man must do something for self or suffer the consequences. When we see the deep-rooted poverty, crumbling storefronts, drug dealing, sex trafficking, loss of homeowners and the lack of Black wealth, it's very well apparent that this little man from Georgia had big ideas that were worthy of studying and Supreme Wisdom needed to elevate a fallen people.
Want and the fear of poverty have been tools skillfully deployed by our enemy. They threaten and punish those who would use their wealth, their talents and their platforms to push for justice. So from a police officer who witnesses injustice but who is afraid to report or challenge it, to professional football's three-year-old "white-cott," defamation and refusal to grant opportunity to former San Francisco 49ers quarterback Colin Kaepernick, economics are a key part of the struggle. While Kap has stayed strong and refused to kowtow to a league steeped in White supremacy and angered by his dignified protest against police violence and racial injustice in society, many remain afraid and refuse to act.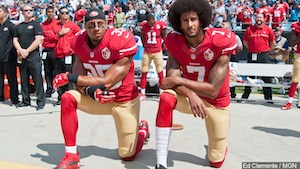 But we have the opportunity to act today in a collective manner that would not put us in danger, nor demand that we take a vanguard position. All we have to do is decide we will not spend our money this shopping season. We can inflict pain on a recalcitrant system where businesses benefit from our oppression and support those who oppress us. As Min. Farrakhan observed several years ago, it's time to redistribute the pain.
Take a lesson from the drum major for justice, Dr. Martin Luther King, Jr., in a message delivered the night before he was assassinated in Memphis in 1968: "We don't have to argue with anybody. We don't have to curse and go around acting bad with our words. We don't need any bricks and bottles," said Dr. King. "We don't need any Molotov cocktails. We just need to go around to these stores, and to these massive industries in our country, and say, 'God sent us by here, to say to you that you're not treating his children right. And we've come by here to ask you to make the first item on your agenda fair treatment, where God's children are concerned. Now, if you are not prepared to do that, we do have an agenda that we must follow. And our agenda calls for withdrawing economic support from you.'
"And so, as a result of this, we are asking you tonight, to go out and tell your neighbors not to buy Coca-Cola in Memphis. Go by and tell them not to buy Sealtest milk. Tell them not to buy–what is the other bread? Wonder Bread. And what is the other bread company, Jesse? Tell them not to buy Hart's bread. As Jesse Jackson has said, up to now, only the garbage men have been feeling pain; now we must kind of redistribute the pain. …
"But not only that, we've got to strengthen Black institutions. I call upon you to take your money out of the banks downtown and deposit your money in Tri-State Bank. We want a 'bank-in' movement in Memphis. Go by the savings and loan association. … Put your money there. You have six or seven Black insurance companies here in the city of Memphis. Take out your insurance there. We want to have an 'insurance-in.' Now these are some practical things that we can do. We begin the process of building a greater economic base. And at the same time, we are putting pressure where it really hurts."
Despite reports of a great economy, experts say America is in the midst of a "retail apocalypse," with closure of hundreds of stores. And, that's not all.
WalletHub, a personal finance website, reported that despite near-record credit card debt levels, some 35 million Americans still have credit card debt from last holiday season, and nearly one-third of consumers will spend less on holidays this year than last year.
"That indicates people are just treading water financially and have been unable to use the past 12 months to prepare for the next recession, the arrival of which is just a matter of time," warned WalletHub CEO Odysseas Papadimitriou.
"The fact that nearly one-third of consumers plan on spending less this holiday season than they did last year could be either good or bad news. It depends on whether people are recognizing the need to cut back and save before it's too late or simply beginning to falter financially."
Don't be among those clinging to a financial cliff and trying to keep from falling.
With Blacks getting over a trillion dollars out of this economy, we need to use it strategically and do business with one another as many are doing in cities across the country. Save, invest wisely and prepare for a rainy day that is bound to come.
This year give the gift of love and kind deeds–as Min. Farrakhan beautifully advised last year–to help build unity in our community. Instead of feeding American consumerism, consider joining with others to open a business or provide a needed service. We can do better and we will surely benefit from wise spending and frugal, productive activity. Slavery is debt and we need to overthrow that slave master as well.
Our economic unity is bigger than any weapon and it doesn't cost a thing. We just have to decide to use it.