FINALCALL.COM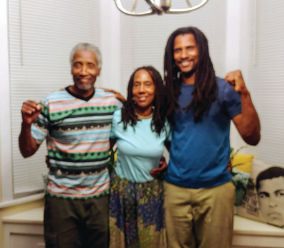 "Forty years ago, Mike and Debbie were separated from each other. After decades of time, love and the pursuit of happiness has brought them back together."– Mike Africa Jr.
The MOVE organization is a family of strong, serious, deeply committed revolutionaries founded by a strategically minded Black man named John Africa. The principle of their belief is explained in a collection of writings they call "The Guidelines," authored by John Africa. To honor their beloved founder and acknowledge the wisdom and strength he has given them, they say "Long Live John Africa!"
John Africa taught the group that life is the priority and that all life comes from one source, from God, Mom Nature, Moma. Each individual life is dependent on every other life, and all life has a purpose. MOVE was a radical movement dedicated to Black liberation and a back-to-nature life-style and all its members took on the surname Africa.
On May 13, 1985 a massive police operation was launched, and the group's headquarters was bombed in Philadelphia. Years earlier in 1978, nine MOVE members were arrested after Philadelphia police raided the group's home and a police officer was killed. Nine MOVE members, including Mike and Debbie Africa, were convicted of third-degree murder and were dubbed the "MOVE 9." The couple, who have a son, Mike Africa Jr. was paroled in 2018.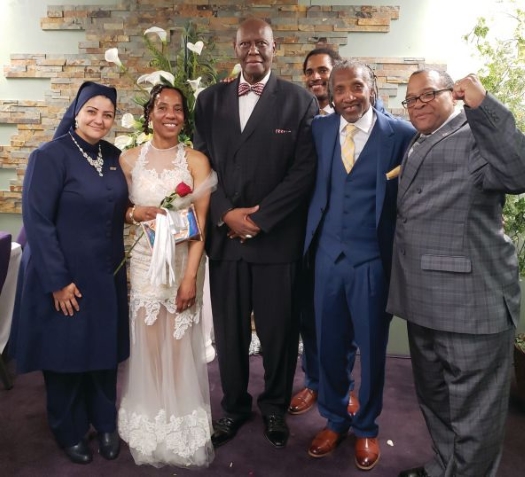 The Nation of Islam Prison Reform Ministry, Delaware Valley Region interviewed Mike Sr. and Debbie Africa at their home. They were interviewed by Gregory Muhammad, student prison reform minister, Delaware Valley Region and Catherine Muhammad, administrative assistant for the Prison Reform Ministry, Delaware Valley Region. The following are excerpts from the interview.Brother Mike Africa (MA): Brother Minister Louis Farrakhan spoke very highly of John Africa and he condemn those who would condemn him. The people who were pallbearers at John Africa's funeral were the Fruit of Islam (FOI). So, that's how far Min. Farrakhan's commitment goes back to our organization. How Pam has been to Saviours' Day a few times and how Mike Jr., been there a few times. Minister Farrakhan's pledge to all the people has been consistent. Our respect, highly respect Minister Farrakhan.
Brother Gregory Muhammad (GM): What were your thoughts of being separated from your wife and unborn son?
MA: Being in resistance, being an activist that threat is always there. The threat that you could be separated. If not by imprisonment, then by death. It's always there. The events that were leading up to August 8, 1978, the threats were so intense coming from officials, police. They made it clear at the time that they didn't want us to continue to exist, and, not just the headquarters or Philadelphia, but, anywhere. But we made a commitment that we were going to speak up. One of our children had been murdered at the time and that was what the confrontation was essentially about.
All we wanted to do was bring attention to it and get some justice for it. It meant we wanted to expose those who are guilty and hold them accountable. We just wanted the situation exposed because they kept on saying that it was complaints from neighborhoods. It was everything except what it was. It was about the murdered child. They finally said, the child did not exist. We had City Councilwoman Janine Blackwell, who's the wife of Lucian Blackwell, who was a city councilman at the time, there. She came to the house and saw the baby. The officials still didn't do nothing about it. The confrontation was to bring exposure to them. What do you do if your nephew or niece or anybody that you loved was murdered? In our case we didn't have to know them.
Winston Hood was murdered at that time (referring to MOVE confrontation with police and city officials), going down to demonstrations about that, at that demonstration the same thing could have happened. You know how these situations can mount and deteriorate into other situations. So, just going somewhere to speak out about something can cause separation, just as it had many times.
It just didn't come at this level of intensity. So, we didn't know whether we were going to make it out of there alive or not, yet alone, to separate or be in a situation where we would be separated; where we could still communicate. Where we still could resist and lend our voices to activism.
GM: What are your thoughts on the day of your illegal arrest and being pregnant?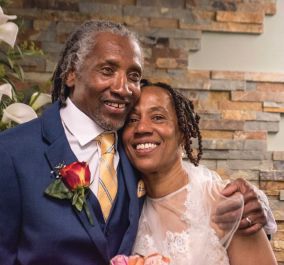 Sister Debbie Africa (DA): When I look back on it and review everything that happened, how it happened, step-by-step; I handled it pretty strong. Now, I didn't say those terms to myself as I was going through it. I didn't say, Oh, I got to be strong. I got to make sure I handle this the right way. It wasn't like that, it was just a natural feeling. It was a natural way, I mean, I did it. I did what I had to do. I wasn't thinking about how I'm going to handle this. I handle the way, I did, without telling them (prison guards and staff) very carefully, so, they wouldn't find out. So, those are the things I did think about. But, as far as actually, giving birth, my main focus was to make sure I did everything I could to keep them from finding out.
As far as handling it, I almost don't want to say "strong," because people see "strong," cold. A lot of people when they hear the word "strong," they think you're cold. It was a hard thing to go through, a hard decision to make.
Try to keep him (Mike Africa Jr.) as long as you could; and, the life that I spent, it was just tough. Like I said, it was very hard. I was emotional, I didn't just give him away. It was a lot of emotions involved; and I didn't want to do it.
Nobody else knew about it (birth of her son). The anxiety of guards coming in taking him from me; there were just so many other awful options. We physically made sure that they knew he was born, and we did it in front of a judge. At that point, we were having our preliminary hearings at the House of Corrections (Philadelphia County Prison). Going in front of the judge every day we just took that opportunity. My sister Janet also took a note to the judge let him know that she had the baby. This was so everybody would know.
Catherine Muhammad (CM): There is no replacing the time that has been stolen from you and your family. What advice or words of comfort would you give to a sister in your shoes on holding on and not giving up hope?
DA: I would tell her, look at all the examples of people who had a long time (and) everything worked out for them; eventually, they did get out. I would give that person much encouragement and much hope as I could as far as staying strong no matter what.
CM: Is there something you have always wanted to do that you are now able to do since you are free?
DA: I'm not really sure if there's something I would do other than being with my family, which is the natural thing to do. I am just drawing it out by taking advantage of every minute that makes me feel happy.
The Nation of Islam Prison Reform Ministry in the Delaware Valley Region continue to support the MOVE family on behalf of the Honorable Minister Louis Farrakhan and his Student Prison Reform Minister Abdullah Muhammad. Support the Nation of Islam Prison Reform Ministry by visiting page 25 of The Final Call newspaper.