By Charlene Muhammad CHARLENEM
The problem of abusive policing in schools gained attention again after the unwarranted arrests of two Black six year olds by a Black, male officer in Florida. And, according to advocates opposed to police targeting of Black and Brown youngsters, the arrests brought to light an ongoing national problem.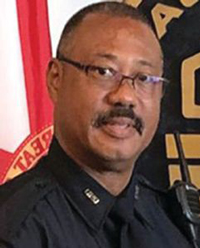 Orlando Police Chief Orlando Rolón terminated School Resource Officer Dennis Turner, who arrested the boy and a girl in separate incidents. Both youngsters were charged with misdemeanor battery, said police.
Meralyn Kirkland told local station WKMG-TV her granddaughter was not doing well due to sleep apnea, a potentially serious disorder in which breathing stops and starts, and the cranky little girl kicked a staff member at Lucious and Emma Nixon Academy Charter School on Sept. 19. Mr. Turner handcuffed the child and took her to a juvenile detention center. The boy was arrested in a similar incident.
News of the children's arrests went viral and Police Chief Rolón announced Sept. 23 that Mr. Turner had been suspended and then fired. Chief Rolón, who apologized to the children and their families, issued a department-wide notice reminding officers that policy clearly prohibits the arrest of a juvenile without a higher-up's approval.
Mr. Turner had a disciplinary history that included excessive force and a racial profiling allegation, according to the Associated Press. He was disciplined seven times during his 23-year career and subject to 16 citizen complaints, said AP. He retired from the department last year and was working in the reserve unit when he arrested the children.
"This just confirms that the quintessential relationship between Black and White in America has never changed from the time it was formed, which began as a kidnapper-victim relationship and then moved into a slave master-slave relationship. White America has a predisposition to contain Black people, to lock us up, to keep us in custody, to limit our movement," said Dr. Ava Muhammad, national spokesperson for the Honorable Minister Louis Farrakhan and a Nation of Islam student minister.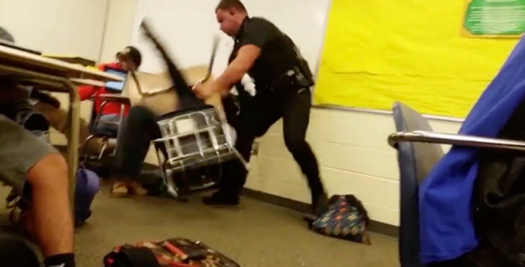 "And, of course, there have always been other Black slaves, other Black servants who helped to facilitate this, whether it was out of fear of reprisal or motive to hold on to their own position in this slavery system," said Min. Muhammad, an attorney and host of the popular online radio show "The Elevated Places."In recent years, she said, as White America has returned to its original founding structure, more of these incidents are occurring.
"We know that some states, such as Georgia, actually have laws that permit the incarceration of children as young as seven. And so, the resource officer being Black is almost meaningless," said Dr. Muhammad.
"It doesn't matter. If they're employed in that system, they're trained in that system, and they adopt an attitude that reflects the slave master's perception of reality. And that's why they're very quick to arrest and lock up Black people of any age. It doesn't matter what age," Min. Muhammad said.
State Attorney Aramis Ayala, whose office serves Orange and Osceola counties in Central Florida, assured the community that she heard their outrage, and had no intention of prosecuting the children.
"I was feeling a little sad that I still had to go to the court, but now, I don't have to. It's making me happy," young Kaia Rolle told WKMG-TV. Her grandmother said things should never have gotten that far and questioned the school's role in the incident.
In a video posted by the Orlando Sentinel, Ms. Kirkland said she doesn't trust the school and said her granddaughter asked the ladies in the school office to go with her. Because of her granddaughter's condition, Ms. Kirkland said she communicates with school officials almost daily.
"I can't accept knowing that my granddaughter was being arrested, handcuffed, and taken away, and nobody said can I go with her or follow her?" she said. "Even if they're saying they couldn't stop the process, somebody could have gone with her … done something to try and mediate this for her so she's not as traumatized."
State Attorney Ayala noted this was not the first time she's seen the arrest of very young children, and she hopes it's coming to an end.
"The state of Florida has led in the arrest of children ages five to 10 prior to me taking office," she noted during a Sept. 23 press conference.
"These very young children are to be protected, nurtured, and disciplined in a manner that does not rely on the criminal justice system to do it. Systems are not designed to raise our children," said State Attorney Ayala. She also declared she would not participate in sending children through a schoolhouse to jailhouse pipeline.
"One, it's ridiculous! It's outrageous! It's frustrating, enraging," said Maria Fernandez, a senior campaign strategist at the Advancement Project. She works with the Police-Free Schools Campaign.
For Ms. Fernandez, the Orlando incident brought back images of a White deputy in Columbia, S.C., who slammed a 16 year old on the floor for "disturbing school." The Black girl had refused to leave a classroom in October 2015.
Among other incidents was the 2005 arrest of kindergartner J'aiesha Scott in Pinellas County, Fla., who threw a temper tantrum after a jellybean game. Staff took her to the principal's office where three officers handcuffed her and placed her in back of a patrol cruiser for hours. She cried for her mother.
"We were all like, oh my goodness! This is happening in our schools, particularly to Black children, particularly to Black girls. So, I got a gut-wrenching feeling that here we are again," admitted Ms. Fernandez.
"Fundamentally for us, a cop is a cop is a cop," she said. "And, the way they treat young people on their way to schools, in their homes, in their apartment complexes, and walking down their communities is how they view them, how they treat them in the schools."
Being called by different names–school resource officers, safety agents, and school security officers–doesn't change cops, she noted.
"Some places even call them peace officers," Ms. Fernandez said.
According to "We Came to Learn," a 2018 report released as part of the Advancement Project's Police-Free Schools Campaign, police officers in schools are increasing with dire consequences for Black and Latino students.
There are between 14,000 and 20,000 School Resource Officers nationwide, not including security guards, street cops, and other law enforcement officers patrolling public schools, the report indicates.
Twenty-four percent of elementary schools (grades K-6) have some sort of school police presence; 42 percent of high schools (grades 9-12) overall and 51 percent of high schools with considerable Black and Latino student enrollment have some sort of school police, according to the report.
"The presence of these officers has had violent consequences for many Brown and Black students of all grade levels, and yet, their numbers continue to increase," the report warned.
Ms. Fernandez and advocates like Jonathan Stith of the Alliance for Educational Justice felt they were making progress. They have been working to get police out of schools across the country, partnering with advocates like Saudia Durrant, a staff organizer for education justice with the Philadelphia Student Union.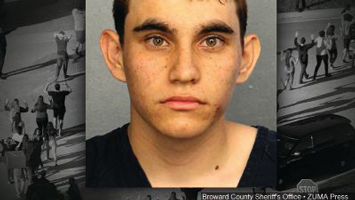 But, they said, a new problem is an influx of school resource officers in reaction to the mass school shooting in Parkland, Fla., where Nikolas Cruz allegedly used an AR-15 assault rifle to kill 17 students and teachers at Marjory Stoneman Douglas High School on February 14, 2018.
"Ultimately what happens is Black and oppressed youth end up paying for the crimes of White children," said Mr. Stith.
"Also it speaks to kind of where we are in this moment, where it does feel like we're taking a step back under the (Secretary of Education Betsy) Devos administration that just recently talked about how they were doing a great job of making education great again, and we know what that means," said Mr. Stith. "That means the erosion, the systematic stripping away of students' rights."
Last year, the Trump administration rescinded federal guidelines on school discipline enacted by President Barack Obama in 2014. The Obama administration measures sought to cut disproportionate school discipline rates for Black students.
"What we are clear around is that nothing will prevent this except winning police-free schools," insisted Mr. Stiff. "So it does hearken back to all that we've seen and understanding what happens with a six-year-old Black girl, how it grows into what we saw at Spring Valley, when they're at 16, when they're violently attacked by school resource officers for normal behavior," he said.
"It debunks a lot of the myths we have about our young folk and what they're up to and it's also even captioned in our report and why we titled it, 'We Came to Learn,' because that's the spirit of young people," Mr. Stith told The Final Call. "Regardless of how they arrive at the school, maybe from a rough journey getting there, but they come there to learn, and they're met with police force that is ultimately denying them a right to an education."
"We Came to Learn" recommends ending policing in schools and investing in community-building that improves safety and education for Black and Latino students.
Black children are policed differently because they're viewed differently, declared Ms. Fernandez.
"All these things are reminiscent of the 'super predator' myth, that our girls are promiscuous, that our boys are dangerous, thus they need to be controlled and the only way that they can control them and dominate them is through violence," she said.
According to We Came to Learn's map of police violence in schools, there were 48 assaults on Black children and children of color during the 2018-2019 school year–which averages out to one incident a week.
It's hard for parents to exercise power as police are sometimes there to deal with mothers and fathers, said Mr. Stith.
"We've seen stories and cases where parents have been arrested on site, and most recently, the assault at Shortridge in Indianapolis. There was a young man who was punched by a police officer as he stepped in between the officer and his mom, who was making a move towards him, so there's a real concern that parents face with the police," he explained.
If schools are supposed to allow young people to learn, develop and make mistakes having police officers present is a "fundamental flaw," said Ms. Durrant.
"Especially in Philadelphia, the poorest big city in America, if you want to talk about day and night contradictions. We see communities and streets where they're building luxury apartments across from streets with Section 8 low income housing," she said. "We're seeing schools that barely get money for students to have a gym, to have good quality food during lunch, to have enough teachers, to have small classroom sizes, to not have AC in 90 degree weather, but then at the same time, they're getting police."