By Charlene Muhammad CHARLENEM
'Bad attitudes' won't end school for Calif. students but what about Black students across America?
LOS ANGELES–After years of pushing children out, students will no longer be suspended for "willful disobedience" in California, but what about the rest of the country?
Willful disobedience or willful defiance suspensions are judgement calls for teachers and administrators. They are subjective and possibly influenced by personal feelings or biases. Presumed violations could include everything from refusing to remove a hat, to failing to do schoolwork, not following directions, talking back, wearing clothing deemed unsuitable for school, not putting away cell phones, or anything a teacher deems outright rebellion.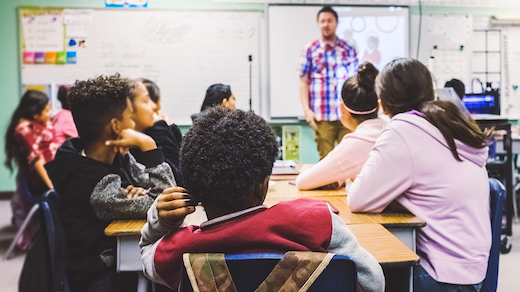 Gov. Gavin Newsom ended willful defiance suspensions for grades K-8 and placed a moratorium on willful defiance suspensions for high school students until 2025 by signing SB 419 on Sept. 9. The moratorium will give school systems time to collect data and evaluate their handling of older students.
Teachers still have the right to remove disruptive students from classrooms.
The bill stops full suspension, or removal of a student from school for minor offenses. The change is effective July 1, 2020 and would apply to public and charter schools.
Currently students cannot be suspended or recommended for expulsion unless a superintendent or principal agrees that suspension is warranted.
Educators, parents, teachers and education reform advocates say the change is a step in the right direction, particularly for Black children. Research indicates willful defiance suspensions disproportionately target Black male students most.
According to the 2018 report, "Get Out! Black Male Suspensions in California Public Schools," suspensions for willful defiance represented 20.8 percent of all suspensions of Black male students in California middle schools–and in high school, it was 25.6 percent.
"Black children make up 18 percent of American preschoolers, but they also make up about 48 percent of the preschoolers that have received at least one out of school suspension," said Taharka Anderson, director of Student Affairs for the Afrikan Black Coalition, a statewide organization of Black students in California. "So sometimes when people are having this conversation about suspension/expulsion, it's easy to suggest that these are bigger kids who are disrespectful and violent and threatening."
Mr. Anderson works to decrease detentions and expulsions, particularly in Southern California schools.
"We're already having a major disparity in a preschool. What we know to be true is that Black males, in particular, there's a lot of stereotypes about their criminality, about them being violence prone, about them being framed historically as latent rapists waiting to strike. This is a part of American history, this demonization and dehumanization of Black males, in particular," Mr. Anderson told The Final Call.
According to "Get Out! Black Male Suspensions in California Public Schools: The statewide suspension rate for Black males is 3.6 times greater than the statewide rate for all students. While 3.6 percent of all students were suspended in 2016-2017, the suspension rate for Black boys and young men was 12.8 percent.
Since 2011-2012, suspension rates of Black males in California declined from 17.8 percent to 12.8 percent.
The highest suspension disparity by grade level occurs in early childhood education (Grades K through 3) where Black boys were 5.6 times more likely to be suspended than the state average.
"It's a very complicated thing. You do have teachers with racist ideologies or classist ideologies," Mr. Anderson admitted. "You also have crowding in classrooms where you have 30 to 40 young people in one classroom with one educator."
Educational challenges include how to handle children with different needs, such as hose exposed to violence, having problems at home, or coming out of foster care with social, personal and emotional issues. There is also the question of whether teachers will get the help they need with students they want out of the classroom.
"Let's say for some of our schools, there's like one counselor per 1,000 to 2,000 young people, so I think, sometimes when we have conversations about school discipline, we're not focusing on the complexities in terms of the various kinds of resources and support that our schools are not receiving," Mr. Anderson continued.
He and other advocates agree some educators blatantly kick out young people for things that are not serious, or penalize Black children for behaviors that they don't penalize other students for. He and others also said children should not be experiencing prison-like conditions in school.
"So my question, and this is how we push the envelope forward? What is the use of keeping our children in these schools if the actual school site is functioning like a prison or a juvenile facility? How long are we going to suggest that this is a happenstance or that this is unconscious? At what point are we going to push the envelope forward and suggest that this s–t is being done on purpose to our children and it serves a particular function within racism, White supremacy and an anti-Black Untied States of America?" asked Mr. Anderson.
Some school districts in Oakland, Los Angeles, San Francisco, Pasadena, and Azusa have already eliminated or modified willful defiance suspensions.
Attorney Judith Brown-Dianis, executive director of the Advancement Project, a nonprofit organization based in Washington, D.C., feels the win in California is important.
"We know that across the country, really Black children are over-suspended and unnecessarily suspended for willful defiance … and so we know that racism can sink into the decisions about suspension, especially for something that is subjective," she said. "So the new California ban on suspensions for willful defiance will hopefully set the tone for the rest of the country to understand that children should be in the classroom and learning."
Significant racial disparities must be eliminated, and banning policies like suspensions for willful disobedience is a first step to ending some of the discrimination Black children face every day, she added.
"We have to be moving away from a punishment frame for our children," Atty. Brown-Dianis told The Final Call.
"What I found out, of course, is that it's not just in Ohio, right. It's everywhere!" said Zakia Sankara-Jabar. "It's in California! It's everywhere where Black children are targeted for the school-to-prison pipeline," said the co-founder of Ohio-based Racial Justice NOW, a national organization committed to dismantling structural and anti-Black racism, especially in education.
The organization was founded out of her own experience, when she pushed back against suspension and expulsion of her three-year-old son in preschool.
Her son is now a 12-year-old seventh grader, but his journey as a new preschooler in Ohio during the first tenure of Barack Obama's presidency was rocky. "You had a lot of, let's just be real, poor, working class White people, White people in general, who were not happy about having a Black president and a Black family, so regular everyday Black people felt the brunt of White people's animosity," she said.
Parents, advocates and organizers in Ohio claimed victory when their work led to a moratorium on out of school suspensions for pre-K students, the creation of the "office of males of color" in the Dayton Public Schools and passage of a 2018 law limiting pre-K to 3rd grade suspensions and expulsions for public and charter schools in the state.
"We did it because it doesn't make sense to suspend and expel children that young," said Ms. Sankara-Jabar.
"Plus, in Ohio, there is a 3rd grade reading law so we used that law as leverage to put pressure on the legislators. Like how is it that you're going to continue to punish a kid for not being able to read on grade level when you've got schools who are suspending and expelling them starting when they're three years old?" she said. "We did that in Ohio, so I'm very grateful that this kind of work is happening all over the country."
She urged Californians to stay vigilant and monitor the process, especially when it comes to implementation.
"We have found that once they achieve the policy changes, pressure comes in from bigger organizations like school board associations. Sometimes even teachers' unions will do a lot of things to stall or outright disrupt the implementation of certain laws like this … from their side of it, they feel like they need more resources. They feel like there should be all kinds of other things happening before some type of ban is implemented. And so, from a parent's perspective, I don't think that that's necessarily true. Also from a parent's perspective I would also say yes, of course, I'm always going to say more resources in schools that need them the most. I'm always going to advocate for equity," Ms. Sankara-Jabar stated.
Los Angeles-based CADRE, Community Asset Development Redefining Education, has worked to raise awareness about subjective suspensions since 2011-12.
Such suspensions justified concerns about racially biased perceptions about behavior, leading to Black students being suspended four times more often than White students for the same things, said Maisie Chin, CADRE executive director and co-founder.
Willful defiance suspensions are often used in response to typical adolescent behavior and social emotional development, she said.
"School discipline for decades has no longer been about children and youth's development to learn from their actions and become more self-determining," explained Ms. Cain. "Instead, it has been about social control, so it is not surprising that the more it is about that, the more students act out and rebel, which in turn justifies institutional punishment."
"It is a vicious cycle that does not create a positive learning–or teaching–environment for anybody. It alienates families from their schools and sets up an antagonistic relationship from the start."
Ms. Chin warned willful defiance bans often lead to schools and teachers finding ways to remove the students they want out–whether by arrest, calling school police, sending students home "unofficially," or escalating reasons for suspensions.