CHARLENEM National Correspondent @sischarlene
LOS ANGELES–Mobs of men roaming America in pairs or more have been killing and maiming Blacks and Latinos, raping women and girls, and stealing.
And, they were all cops.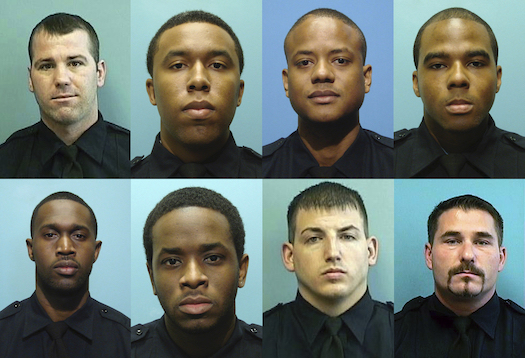 In Houston, former officer Gerald Goines has been charged with two counts of felony murder and is facing life in prison in connection with a deadly January drug raid of a home that killed a couple who lived there and injured five officers. Police say he lied on a search warrant about a confidential informant buying heroin at the home. Mr. Goines later admitted there was no informant and he bought the drugs himself, according to authorities.
Two New York City detectives accused of having sex in an unmarked police van with an 18-year-old woman they had arrested for marijuana possession will receive probation, not jail time.
Eddie Martins, 39, and Richard Hall, 34, pleaded guilty on Aug. 29 to official misconduct and other charges stemming from the September 2017 encounter.
Judge Danny Chun will sentence the men in October to five years of probation. Prosecutors wanted them jailed for at least a year. Sentencing is set for Oct. 10.
The detectives, who were allowed to resign and were found guilty of misuse and abuse of their authority, were feeding their own lust, ego and disrespect for women, he said. They were not found guilty of rape, however, because of a since-closed loophole in the law and questions about the veracity of the victim.
"If this was your mother, I'm talking to the officers now, if this was your sister, was your grandmother, was your niece, would you feel the same way? If this was done to them, how would you feel?" asked Student Minister Abdul Hafeez Muhammad, Nation of Islam Eastern Region Representative, who is based in New York.
Blacks have only one recourse, which was prescribed by the patriarch of the Nation of Islam, the Honorable Elijah Muhammad, he said. "Our unity is a weapon more powerful than a hydrogen or atomic bomb. Minister Farrakhan said our unity will solve 95 percent of our problems," Min. Hafeez Muhammad continued.
In Baltimore, after a year of reviewing thousands of arrests by the police department's disgraced and criminally convicted members of the Gun Trace Task Force, city State Attorney Marilyn Mosby is asking courts to toss nearly 800 tainted cases. The cases, mostly older ones, and the defendants released from prison, were compromised by the crooked cops and officials plan to begin vacating convictions next month.
Members of the Gun Task Force lied, stole, robbed and dealt in drugs and falsified time sheets for years before their capture.
Such egregious misconduct stems from the lie cops can do no wrong, unions that protect good and bad cops, secretive and protective police departments, prosecutors who fear going after cops, racism and a lack of unity in the face of wrongdoing under the color of law, argued advocates for police accountability and activists.
The Fraternal Order of Police (FOP) which consists of law enforcement officers across the country, boasts a membership of over 346,000 with over 2,000 chapters wields significant power and influence on how cops are dealt with. In Maryland, the FOP is very influential.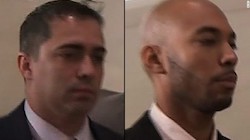 "Police unions play a significant role in Maryland politics, from campaign endorsements to influence peddling. According to public records, the largest police associations, including the Baltimore Fraternal Order of Police, donated $1,834,680 to state politicians over the last decade and retained several of the most prominent lobbyists in the state," reported The Intercept in an article titled, "Baltimore Activists Recount How Police Unions Crushed Accountability Reforms."
"The Maryland State FOP organized its members to show up in force during the hearing on the police reform bills. The Facebook page for the group shows officers packing the legislative room when the reform bills were debated," the publication reported May 1, 2015.
Harry "Spike" Moss, a longtime activist based in Minneapolis, Minn., rejects the pro-police mythology. The dominate culture and judicial system of this country has a serious racist mentality tied to oppression dating back to the annihilation of the Indigenous people and enslavement of Blacks, he said.
"After the civil rights movement, they watched the sheriffs Down South be supported in their wrongdoing. They then told their people–skinheads, Klan, all Nazis, their race–join law enforcement," Mr. Moss said.
They had a legal way to push White racists and White superiority on Black people, he said.
Blacks want to believe America is the land of the free, the home of the brave, so most are in culture shock after going into courtrooms seeking justice, he said.
" 'We've got witnesses! We've got proof! We've got cell phones! We're gonna win!' You go in there and you get your behind kicked, and your mind is blown away for life," Mr. Moss said.
But if Blacks had enough sense to follow those with the right message, like Nation of Islam Minister Louis Farrakhan, they would have united generations ago and would not be preyed on by the enemy, Mr. Moss argued.
"We refuse to be one. We want to be the N-word. We want to be Negroes. We want to be spooks, coons. We want to be Vice Lords, Disciples, Crips, Bloods. We want to be everything but one," he said.
Louisiana State Attorney General Jeff Landry did not file charges against officer Blane Salamoni, who fatally shot Alton Sterling in Baton Rouge in 2016, nor officer Howie Lake, II. Neither did the U.S. Justice Department, which conducted a separate investigation.
A 37-year-old father of five, Mr. Sterling was shot six times in the back, according to a lawyer for the children.
Officer Salamoni had a history of bad behavior inside and outside the department, but his actions only came to light as the Sterling family fought a civil case against the department and internal memos came to light.
Officer Lake was suspended for three days and Officer Salamoni was fired for violating department policies.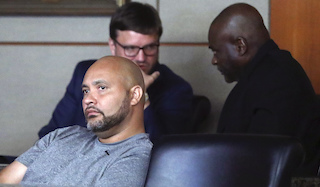 "That is not just. That man should have been brought to justice and he should have been arrested, and that did not happen," said Abdul Rashid Muhammad of the Nation of Islam mosque in Baton Rouge. He is a spokesman for the Alton family and a relative.
The mosque called for an economic boycott within a week of the shooting, and in one day was able to take $5.8 million out of Baton Rouge's economy by shutting down the largest mall in the state and three other malls, said Min. Rashid Muhammad.
"The young people was on board with it, but the Negro leadership was not, so they pretty much undermined the work that we were doing with the economic boycott. We felt like we would have been able to get justice for his family had we continued on that path, but they worked very hard against us," he said.
Benjamin Crump, a national civil rights attorney, has fought cases of police violence all over the country from Trayvon Martin's shooting in 2012 in Florida to Alton Sterling's 2016 shooting by police in Baton Rouge, La., to Stephon Clark in Sacramento, Calif., in 2018. It's hard and frustrating work but he sees some light in the dark tunnel.
"It's the young people not only marching and protesting, but it's them registering people to vote. It's them serving on jury duty. It's them becoming lawyers, both public defenders and prosecutors. It's them creating more diversity within the ranks of police departments so our children are looked at as children and not as animals," Atty. Crump said.
He feels the failure to call police officers out and denounce systems that allow for abuses and hiding wrongdoing stems from rhetoric from the highest levels of leadership–the White House, the U.S. Senate, the Supreme Court.
"It's the overt racism that has been used by the leader of our country and then it's the intellectual justification of discrimination being used by our Senate and our Supreme Court," Atty. Crump argued.
When a Black person is convicted of a crime, it seems like the system is perpetuated by making sure he's locked up and they throw away the key, he said.
According to Cephus "Uncle Bobby" X Johnson, co-founder of the Love Not Blood Campaign, police misconduct has thrived, especially in California, due to rigid police union laws like the Peace Officers' Bill of Rights. It grants protections and privacy regarding certain police personnel records.
Former Bay Area Rapid Transit District officer Johannes Mehserle killed Mr. Johnson's nephew Oscar Grant, III on New Year's Day 2009.
Secrecy around police actions and procedures breed deviation, warned Mr. Grant. But progress is coming through California Senate Bill 1421, a new law pushed by police victims' families to make police misconduct files accessible to the public, he said.
The Grant family gained access to Mr. Mehserle's records. "His history revealed to us just what kind of bad, sick, troubled officer he was and his racism. In 2008 alone he had six incidents of use of force complaints filed against him, and then in the seventh month, he kills my nephew," said Mr. Johnson.
"The agency knew it! But they allowed him on the force, to continue to act in the way that he did, and of course my nephew ends up dead behind his acting, but this is happening all over the country."
An investigation by the Arizona Republic found little evidence exists in Phoenix Police Department records about wayward officers ever disciplined.
The police department had a practice of purging such files regularly.
Hundreds of officers in recent years were allowed to erase records of their misconduct from files kept by the department. The purging was standard for more than two decades under the police union's contract, but the public was unaware of it. The contract also prohibited misconduct detailed in purged records from being considered in any future disciplinary investigations.
Cheryl Dorsey, a retired Los Angeles police department sergeant, author, and police expert, feels the tide is starting to turn. But, like anything else, progress comes in baby steps. She celebrates minor successes, but there's still a lot of work to be done.
She points to the firing of a police officer in New York as a small victory.
"As long as you have folks like Pat Lynch on the Patrolmen's Benevolent Association, supporting every use of force, every deadly use of force he sees, calling now for the resignation of the Commissioner James O'Neill because he rightly fired Daniel Pantaleo in the choking death of Eric Garner, calling for the replacement and removal of (Mayor Bill) De Blasio, because he didn't, and couldn't really, rightfully, override that termination, it's offensive," said Ms. Dorsey. She was referring to the White officer fired in connection with the videotaped death of Eric Garner in New York. Swarmed by New York cops in Staten Island on July 17, 2014, the Black man pleaded, "I can't breathe" 11 times before he died. It took five years for Mr. Pantaleo to be fired. He wasn't charged with choking Mr. Garner to death and no other officer was charged with a crime.
Police unions are "powerful, and they lobby, and they have access to folks ears. Why would an officer do anything different when you have that kind of support?" asked Ms. Dorsey.
Commissioner O'Neill terminated Mr. Pantaleo after he used an illegal chokehold on Mr. Garner, who was allegedly targeted for selling loose cigarettes in front of a store.
Angry police union officials say there should not have been any firing and officers feel betrayed.
"Daniel Pantaleo was not fired because he choked Eric Garner and used a prohibited hold. He was fired because he lied," observed Ms. Dorsey. "A good defense attorney on any case, on any arrest, that would have the name of Daniel Pantaleo would go into court and say your honor, this officer is a proven, known, demonstrated liar and therefore my client gets off."
National Black police officer groups have a role to play, but Ms. Dorsey said she's careful not to paint them all the same way. Some work to hold the system accountable, but others like the Oscar Joel Bryant Foundation in Los Angeles have become watered down, she said.
"You know there's a term for Black folks that don't want to get involved, house Negroes, right? So, if you think the way that I think, there's a price to pay. If you're concerned about promotion, if you're concerned about coveted assignments on the police department, if those things are of interest to you, then you go along to get along. You want to make sure that you don't wind up in the field with the rest of the Negroes," said Ms. Dorsey.
And, she added, there are some progressive police associations across the country, particularly on the East Coast. "Those brothers and sisters over there are not afraid to stand straight," she said.
(Final Call staffers and the Associated Press contributed to this report.)