FINALCALL.COM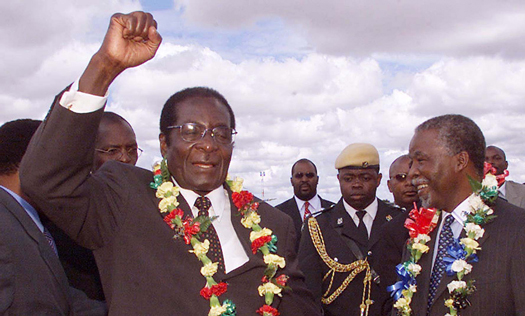 The Black World has lost one of the lions of liberation in the struggle to free Africa and defend global Black freedom. He must be seen through the eyes of those he served, not through the eyes of those who only wanted "success" on terms that served White interests.
The death of Robert Gabriel Mugabe, the former president of Zimbabwe, was reported Sept. 6. Most of the Western press described him as a man who liberated and later destroyed his country. They accused him of human rights violations and wrongdoing over 37 years of rule. But this is the same man jailed for over 10 years without trial by the White minority government of Rhodesia in Southern Africa as he sought true freedom for his people.
He would ultimately help lead his country to independence. He was hailed for armed struggle and skilled negotiations as Zimbabwe came to birth in 1980. "Cde Mugabe was an icon of liberation, a pan-Africanist who dedicated his life to the emancipation and empowerment of his people. His contribution to the history of our nation and continent will never be forgotten. May his soul rest in eternal peace," said President Emmerson Mnangagwa, who succeeded the aging freedom fighter.
The leader of the ZANU-PF party was touted for the Lancaster House agreements which negotiated an end to the struggle against White rule with the accords backed by Britain and the United States. Expanded education, solid economic times, farming and tourism followed and Mr. Mugabe never bowed to Western demands. Africa and Zimbabwe must chart their own future and control their own resources, he boldly asserted.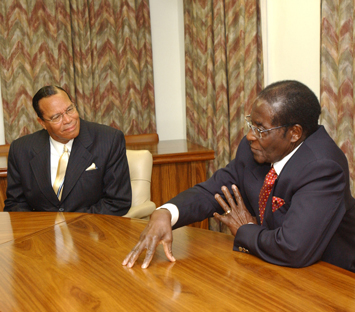 Twenty years into "independence" came a fateful decision that ushered in Western sanctions and economic woes intended to crush him: President Mugabe took land back from minority White farmers, who descended from those who took the land. Great Britain and the United States had reneged on promises to pay for the land as part of a program to return it to Black Zimbabweans, who had been forced off of and murdered for land. War veterans demanded what a revolution brings, control of the land, not just a flag, a national anthem or powdered wigs in parliament.
In a 2008 interview with April Ryan of the American Urban Radio Networks, Nation of Islam Minister Louis responded to a question about Bush administration demands that President Mugabe step down. "When Britain did not follow through with what she promised Mugabe; and America did not either, then the people that fought alongside Mugabe for the liberation of that land, pressed Mugabe–after nearly 20 years–that 'we didn't fight them so that we could be marginalized in our own country on our own land.' Back then, Mugabe was the 'darling' of the Commonwealth; the darling of America; the darling of Great Britain. But when he began to take the land back that many fought and bled and died for, then he became a 'tyrant,' and a 'terrorist.' And the West went to work to undermine the government and his authority," said Min. Farrakhan.
"I visited Zimbabwe, and I have sat with Mugabe. The AIDS virus there is killing our people by the thousands. You have a White population there, but they are not infected with AIDS as the Black population is. So, I cannot go along with President Bush's call for Mugabe to step down! This criminal element that has the gall to call somebody else to resign? Bush should have stepped down after telling the lies that he told to the American people! And Britain ought to keep her mouth shut! Let Africa settle Africa's problems! Not the Europeans who have sucked the blood of our people for all of these years!" he declared.
It's important to note these anti-Mugabe charges and sanctions that nearly killed Zimbabwe only came after his move to literally take back his country. Mr. Mnangagwa, the current president, is a former deputy for Mr. Mugabe, who was accused of grooming his wife to take over. That didn't happen. Mr. Mugabe stepped aside two years ago and passed away in a hospital in Singapore. He was 95 years old.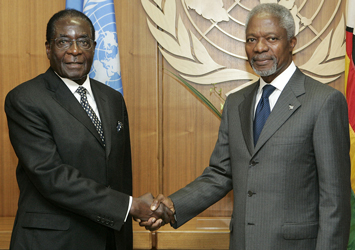 While Western media vilified Mr. Mugabe, others paid tribute: "South Africans join the people and government of Zimbabwe in mourning the passing of a liberation fighter and champion of Africa's cause against colonialism," said President Cyril Ramaphosa. "Under President Mugabe's leadership, Zimbabwe's sustained and valiant struggle against colonialism inspired our own struggle against apartheid and built in us the hope that one day South Africa too would be free. During the decades of our own struggle, Zimbabwe's liberation movement supported our own liberation movement to fight oppression on multiple fronts. After Zimbabwe achieved independence, the apartheid state brutalised and violated Zimbabwe as punishment for supporting our own Struggle. Many Zimbabweans paid with their lives so that we could be free. We will never forget or dishonor this sacrifice and solidarity."
South Africa faces a similar problem of a White minority owning a majority of land and its president has committed to returning land to Black South Africans. How long will it be before President Ramaphosa is painted as Africa's new Black demon for doing what is right?
Since Mr. Mugabe was working to get free from the British and the West, it should not be surprising that they vilify him, observed Omawole Clay of the December 12th Movement, which has supported President Mugabe and will protest continued sanctions Sept. 21 in New York.
"Africa has lost one of its greatest heroes, one of its greatest liberation fighters," Mr. Clay continued. He never veered from his principles for armed struggle, leadership and struggle to organize liberation for Zimbabwe and Africa with a mission to end colonization, said the Pan Africanist leader.
The hardest thing after winning liberation politically is winning the economic battle, argued Mr. Clay. Mr. Mugabe understood the political liberation had to be protected by control of land and economics, he added. "They went to war to change the fundamental relationship to the land. Because a people without control of their land is a people still enslaved to someone else," said Mr. Clay. There was "a concerted and universal effort by the West to destroy that example through sanctions, which in the 21st century are the atomic bomb and the H-bomb of the West against developing countries," he said.
The legacy of Robert Gabriel Mugabe can never be defined or determined by those who opposed and still oppose full and complete freedom for Black people. If we don't understand that today, we are making ourselves willing slaves. Long live comrade Robert Mugabe!