ERICTOUREM Contributing Writer

ATLANTA–The Honorable Minister Louis Farrakhan, the Farrakhan and Rahman families, national laborers and friends graced the stage of Muhammad Mosque No. 15 at a memorial for Nation of Islam pioneering Minister Abdul Rahman Aquil Muhammad and the launch of the Circle of Life Rahman Foundation.
The evening was broadcast live via the foundation website www.CircleofLifeRahmanFoundation.com. Min. Rahman Muhammad joined the Most Honorable Elijah Muhammad and the Nation of Islam in 1956 and tirelessly labored with Minister Farrakhan in rebuilding the Nation, starting in the late 1970s.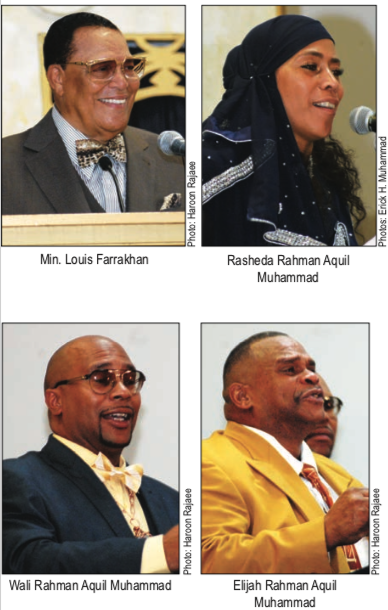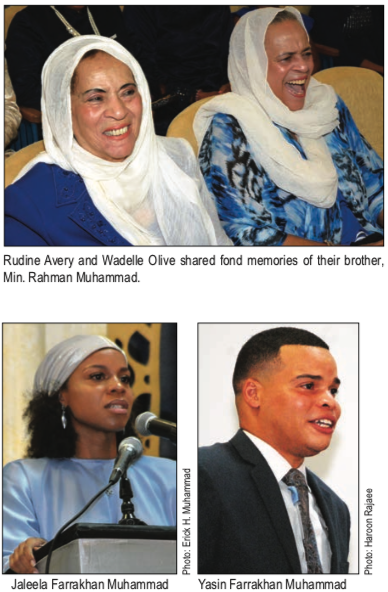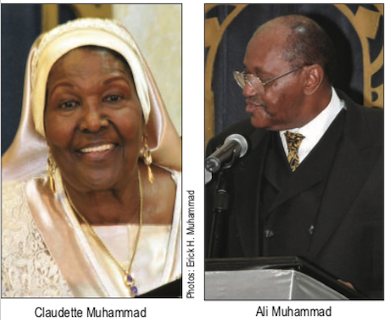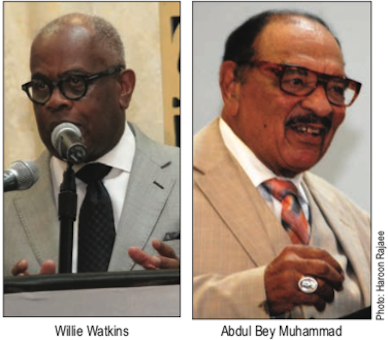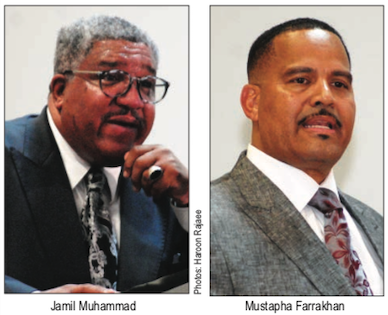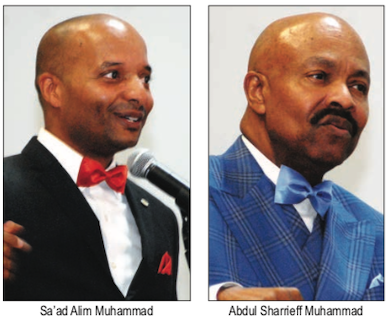 Min. Rahman Muhammad, known as "The Rock," passed away April 22 due to complications related to liver cancer. He was 87. At his prayer service, Min Farrakhan called for a 40-day period of mourning, followed by a return to the city and an opportunity for those who loved "the Rock of the South" to share their memories and to pay tribute to his contribution to the Nation and their lives.
And, great tributes were paid from his family and children, Muslims touched by his life and friends who remembered him as a man of faith, works and spirit.
His daughter, Rasheda Rahman Aquil Muhammad, spoke heartfelt and humorous words about her father, his commitment to the Teachings of the Hon. Elijah Muhammad, his love for the Believers in Islam and their love for him and his practice of Islam even at age 87.
She shared how her father would observe the fast of Ramadan despite his age and maintained his prayers. Whether it was talking about his 20 years of work with icon Muhammad Ali, or other endeavors, my father would always steer the conversation back to Elijah Muhammad, she said.
He enjoyed traveling and teaching, which was sometimes challenging for her as his main caretaker trying to make medical appointments. But, she said, as he traveled the country and was acknowledged by Muslims, he continued to teach and it brought him life. He was also in good hands, she added.
"I am thankful for the Hon. Elijah Muhammad, who changed the trajectory of his life," she said. That experience also changed her life, she added.
Caring for her father was important but she was also serving a higher purpose. "I was helping the man who helped the man who helped God," Rasheda Rahman Aquil Muhammad said. "It was a direct line," she continued. "He was taught by the man who was taught by God. So any time I would get weary, and sometimes I did, I had to remember that."
"I'm thankful that at age 87, he was still doing the work of Elijah Muhammad," she said. "He was still giving orders at 87, sometimes too many." Her words brought a laugh from the audience.
"At 87, he was still preaching the gospel, even when he was tired," she said.
Her father touched people wherever he went, even nurses at the places he went for treatment, she noted. Her mother, Zarifah Mildred Rahman Aquil Muhammad, and father had seven children. She thanked Muslim brothers Khawee, Kenneth, Ali and Albert, who she called her father's faithful servants who did not have a chance to speak.
Sharing emcee duties with Student Minister Jamil Muhammad was co-caretaker of Min. Rahman and director of the upcoming documentary, "The Rock of the South: The Man Behind Muhammad Ali," Wali Rahman Aquil Muhammad, his son.
The audience also heard from another son, Elijah Rahman Aquil Muhammad, grandchildren Jaleela Farrakhan Muhammad and Yasin Farrakhan Muhammad, Min. Rahman Muhammad's sisters Rudine Avery and Wadelle Olive. Special acknowledgement was given to those in the Rahman family that have passed away by the immediate family, son Wali and Min. Farrakhan.
"I'm going to tell you something. When my father started talking about Black people, there was a certain octave he just went up automatically," said son Elijah Aquil Rahman Muhammad, as he referred to the unique pitch of excitement that was present in the voice of Min. Rahman Muhammad. "He loved Black people more than you loved yourself. My daddy was a soldier for Allah and he will always be."
Ms. Wardelle Olive said, "It is indeed my pleasure to stand here and say thank you on behalf of our family. I wish so that my mother and my father could see this. To see what you think of their son." Rudine Avery shared a personal reflection regarding the life the famed Muslim minister lived before accepting Islam. "My brother took me under his wings when I was six years old," she said. She explained how her brother, then known as Samuel Saxon, Jr., gave her some "defense courses. So, when my brother finished with me, I believed I could defend the entire family," she said.
She reflected on the experience he had with racism in the Carolinas returning home from the army, riding in the company of a White serviceman who was speeding. A state trooper, she said, warned the driver to slow down, saying, "We care about you (Whites). But we don't care anything about those niggers." "That bothered Brother. He talked about that a lot. Then one day he came home and talked about this brother named James X, that's all I remember. And he started talking about the Nation of Islam. My brother joined the Nation and he never looked back."
"My grandfather didn't believe in wasting time," said granddaughter Jaleela Farrakhan Muhammad. "Every encounter he was teaching me and he never discounted me because I was a girl or because I was a child. He taught me like he would teach any man. When I was seven years old he asked me, 'Precious, what do you want to be when you grow up?'
"I told him all kinds of things. I said him I want to write a book, I want to see the people on Mars; I want to build a robot. I want to this, I want to do that. And he said, 'those are all great things Precious. But the best thing you could be is what Allah wants you to be.' And I said, 'well what does Allah want me to be?' He said, 'He wants you to be supreme girl. Supreme," she said with a broad smile. "But, that always stuck with me, but it wasn't until now that I am in my mid 20s that I realize what he was teaching me–to be favorable to Allah and to live by Allah's standards. Not by the standards of this world and of this society. Be what Allah wants you to be. Do the best that you can because he wants you to be supreme," she said.
Fighting back tears, grandson Yasin Farrakhan Muhammad spoke on God coming and finding a Black man, "One that the world said could not be anything and he took that man and made him everything!"
"The whole world revolves around him and I am so thankful that he left us his divine gift to us all. Some of us who were present and were built by the Most Honorable Elijah Muhammad understand what it felt like to be built by that type of man," he said. He continued saying he wanted to bear witness "to this man, today. I want to bear witness to the man that Rahman loved. He saw Elijah in him," speaking of Min. Farrakhan.
"And he (Min. Rahman Muhammad) knew it every walking minute of the day. These are Actual Facts. That's real love. I am so thankful to Allah that I have the honor and pleasure and privilege to be among those who have honored my grandfather. To hear your words on him and to show to the world today that he was in fact, a man made by God. You can't make a man into what you are not yourself," Yasin Farrakhan Muhammad said.
"I'm thankful for everybody's presence. I just really wanted to express my gratitude, number one to Allah; number one to the Most Hon. Elijah Muhammad in which I owe everything … I thank Allah for the Honorable Minister Louis Farrakhan, who is my everything," he said. "And I would love it if we, as well as myself, could make a recommitment to this man and what he's taught us. Because it is what he deserves and it's what we deserve."
"Life is very short in comparison to time. And right now is our moment and our season," observed Mustapha Farrakhan Muhammad, student Supreme Captain of the Nation of Islam. "The love that we would show for one another in this time will be a testimony as to how deeply we want to be free and liberated. I just wanted to say to the Rahman family–a powerful family–you have without your own doing sacrificed your lives to aid your father in his mission. I know, because we do the same. You had no choice in the matter. None. And our lives serve a higher purpose."
Mustapha Farrakhan acknowledged the blessing of traveling with both his parents to Atlanta and visiting another pillar and Nation of Islam pioneer, Minister Abdul Allah Muhammad, and the joy that it was to share that special moment. "Those men and women that sacrificed to build a foundation for us to stand on, we would be remiss in our duty as Muslims and Believers if we don't commit ourselves to the principles these great men have structured their lives on," he said.
He closed by saying he wanted to be of those who give flowers while his parents live.
"Our fathers have given their entire lives to the freedom, justice and equality of us as a people. And we as their family members will find no joy in this life if we try to escape what our true destiny is, which is to follow in the footsteps of our fathers and our mothers to make sure that the establishment of the Nation of Islam is to be what it is. It is Khalliday, 'one who would remain forever.' That is our Nation of Islam."
The sight of the hundreds gathered in the mosque sanctuary as well as in a beautifully adorned overflow room, the pouring of financial support as well as online tributes touched the family. It was reported during the offering of donations that one of the payment portals crashed because of the influx of contributions. Min. Farrakhan gave $5,000 of a personal pledge of $10,000 to the foundation.
"He (Min. Rahman Muhammad) had Bro. Ali sent me this big framed storyline of his accomplishments in Atlanta under the Honorable Elijah Muhammad," said Nation of Islam archivist and Student Minister Carlos Muhammad of Muhammad Mosque No. 6. "He told Brother Wali send this to Brother Minister Carlos because he would know what to do with this and he would make sure that everybody knows and never forgets the great work that we did. And so I thank Allah for him and I pray to Allah that I will be found worthy to share all of what we can find of our Nation's history to the community, especially the portion of our Brother Minister Abdul Rahman Muhammad."
An entrepreneur and visionary
"Min. Rahman was truly a visionary. He opened four restaurants, bakeries, fish markets and our Messenger Messiah was importing fish from Peru," said Ali Muhammad of Mosque No. 15 of his lifelong friend. "Min. Rahman felt that our FOI under Captain Lawson should be more mobile so Min. Rahman and myself purchased 25 postal trucks for the FOI to take the fish, produce and the Muhammad Speaks (newspaper) to our people," he said.
They would go on to lease two refrigerated trucks, stop at ports of entry and pick up and deliver fish to Muslim temples throughout the Southern Region of the United States.
"Abdul Rahman was my friend. We sold suits to preachers," and broke down barriers between Black Christians and Muslims, said Willie Watkins of Watkins Funeral homes, another lifelong friend of Min. Rahman Muhammad. Mr. Watkins as a one-time junior loan officer at the Citizens Trust bank welcomed a $10,000 deposit from Min. Rahman Muhammad and the Fruit of Islam to purchase of Atlanta Bankhead Muslim Temple.
Believers bear witness
"If there is anything that I have done in the way of good for our Nation, or in the way of service to the Honorable Minister Louis Farrakhan, one person that is owed a significant debt of gratitude from me is Min. Abdul Rahman. He and I struck up a bond," said Sa'ad Alim Muhammad, student national secretary of the Nation of Islam. They bonded over pool games which grew into a father-son relationship, he said. "You couldn't tell me I wasn't one of his sons. And there is something to be said for looking out for the new ones … the young ones coming into the mosque that are full of energy, full of vitality, full of love for the Teachings of the Hon. Elijah Muhammad as taught by the Honorable Minister Louis Farrakhan because we have no idea the future of that person," he added.
"I thank you sincerely for affording us this opportunity to come forward and fellowship and give grace and majesty to Brother Minister Abdul Rahman Muhammad. He's a person who always was so kind to me," said Claudette Marie Muhammad, who served for many years as the Nation of Islam Director of Protocol. She shared how Min. Rahman Muhammad would reassure her. " 'You are qualified to do what he (Min. Farrakhan) has asked you to do. And furthermore he is the man of God, not a man of God, but the man of God. And he knows more about you than you know about yourself,' " she recalled him saying.
"I mention to all of us at the Minister's table that all of us should thank Allah that we was given an opportunity to work, and serve alongside the greatness of Min. Rahman," said Abdul Bey Muhammad, another legendary Nation of Islam minister. He traveled ahead of storms forecast from his home in Florida to support the foundation launch and offer his testimony. "Many of us don't know what greatness is all about, but that man was a tall man, a great man. And all of us should be delighted to have known that great man," said Abdul Bey Muhammad said. "We should treasure the actions of another Believer in our midst, who doesn't lie, doesn't cheat, doesn't steal," he said, reflecting on Min. Rahman Muhammad's dedication and service. "I just wanted you to know how wonderful it was to work with him."
"Though I was physically born in Detroit, Mich., I was spiritually born here in Atlanta, Ga.," said Dr. Wesley Muhammad, a Nation of Islam student minister. "Minister Rahman in ways is foundational to my Islam," he said.
"The other thing about the Rock is that he loved the Teachings and there was not an aspect of the teaching of the Black Muslim theology that he was ashamed of. So, I came out on Sundays hoping to hear the Rock because I knew I would hear the Teachings being expounded on. He loved the Teachings of the Most Hon. Elijah Muhammad and that was impressed on me," said Wesley Muhammad.
Southern Regional Student Minister Abdul Sharrieff Muhammad shared his honor, love and respect for Min. Rahman Muhammad, and how the great minister said to him, "There can be no air between you and I."
He shared how different spaces and places in the Southern Region bear the image and name of Minister Rahman Muhammad. As long as I live, the name of Abdul Rahman Muhammad will live, he declared.
A longtime, friend, helper and companion to Brother Rahman Muhammad, Kenneth Muhammad cared for the Muslim minister on a daily basis. "As I looked at all the people who were at the memorial, I had to hold back tears because I knew how happy Brother Rahman would have been to see the love his family and the people have for him."
In addition to the testimonies was music performed by Stanley Baatin Muhammad.
The foundation, created to secure the vision and work of Min. Rahman Muhammad, is committed to developing assisted living facilities for the elderly, mentally challenged, victims of substance abuse and finishing production of a documentary based on his life's work.
"What a wonderful evening. What a beautiful evening," said Minister Farrakhan at the conclusion of the Aug. 31 event. "We came at the call of the Rahman family to celebrate and memorialize the life and times, sacrifice and work of Brother Abdul Rahman Aquil Muhammad. We needed 40 days," he said. "That gives us time to let the loss settle so that we could do as Sister Rasheda (Min. Rahman Muhammad's daughter) did. Speak and not break down, but say exactly what needs to be said," he said.
Min. Farrakhan told the hundreds gathered that if there were a class and a title for Min. Rahman Muhammad, it "might well be called the salutatorian and even the dean of the ministers of the Hon. Elijah Muhammad. Because when most of them would speak evil of me, it was Abdul Rahman that defended me," he said. He shared his experience during the African Congress held in Atlanta, Ga., in 1970 and special instructions given to him by the Hon. Elijah Muhammad about how to address the gathering of Black leaders. The Minister honestly admitted the approach did not immediately agree with his spirit, but he obeyed his leader's instructions. And, the Hon. Elijah Muhammad sent Min. Rahman Muhammad to report whether the Minister did what he was told. "Rahman said, 'yes sir,' " Min. Farrakhan recalled. "He met me at the airport, treated me wonderful. But he was observing me all the time because, he had only one love. It was God, Master Fard Muhammad, and the Hon. Elijah Muhammad, and if I was to earn his love I had to demonstrate obedience to my teacher. And the world can bear witness, I've been an obedient servant to the Hon. Elijah Muhammad."
The Minister closed the point by saying Min. Rahman Muhammad was able to report back that he did exactly what he was told to do. "Rahman knew that he and Farrakhan would be together in the rebuilding of our father's work," he said.
"Abdul Rahman was my cheering squad. I don't care how well you can throw the ball in the hoop, if you don't have a team, I mean a backup, cheerleaders, that when the going gets rough, your cheering team will pick you up and help you to go down the court and make another score," said the Minister. "Rahman is the Rock and he sure was my rock. There's nothing that we wanted to do in the name of the Honorable Elijah Muhammad and our Saviour that Rahman did not lead the cheering, the push forward, not just in Atlanta, but wherever the push was to be made, he was there."
"Brother Rahman called 'The Rock,' became the greatest minister that the Honorable Elijah Muhammad ever had in this city, which was a great city for Elijah Muhammad, and he always wanted Atlanta to get great," said Min. Farrakhan. "The 15th Surah of the Qur'an is called 'The Rock,' not an accident. In this chapter, it was named The Rock because of the mention of the dwellers of the Rock in Verse 80 whose fate is mentioned as a warning to those who contemplated the slaying of Prophet Muhammad. … But the Rock was to assure the Believers that nothing planned against Islam, nothing planned against the Prophet would be successful because of the Rock, the dwellers of the Rock," he said.
Min. Farrakhan asked Nation of Islam mosques and study groups around the country to support the foundation. He also asked for individuals to donate $100 or what they could to support its work.
"Death is the only thing that stops us, and Rahman was thinking about this mission up to the last moment of his life., said Min. Farrakhan. "Every Muslim wants to die in their faith. Brother Rahman lived in faith and died in faith," the Minister said. He thanked those in attendance and others for their support and those who were inspired by the spirit, life and work of Min. Rahman Muhammad.
For more information or to offer support visit, www.CircleofLifeRahmanFoundation.com.