By Kenetta Muhammad
ATLANTA–As the Project Separation Tour continues, it stopped in Atlanta for the 16th town hall meeting. Student Minister Dr. Ava Muhammad, national spokesperson of the Honorable Minister Louis Farrakhan, recalled that the tour started when she came through Atlanta, heading to Birmingham, Alabama, to start her tour around the country. Now Black people from all over the country are calling her saying that they are ready to separate, she said."You may ask separate from what? We must be separated from our former slave masters, and we must become an independent nation. Minister Farrakhan in the Time and What Must Be Done Series stated, 'the Honorable Elijah Muhammad said that this is a people disagreeable to live with in peace,'" said Student Min. Ava Muhammad. "No matter what we do to show them our faithfulness, our love of country, even our love of them, they hate to see unity, progress and real economic development that would change the condition of the masses of our people."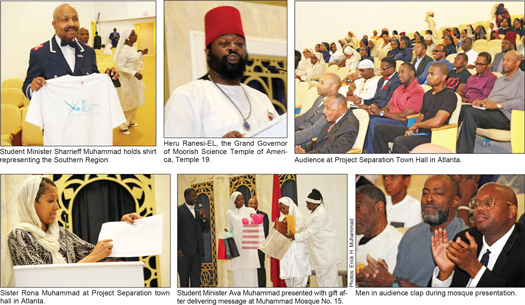 In Atlanta, Student Min. Ava Muhammad joined forces with the southern regional laborers of the Nation of Islam, including Student Minister Abdul Sharrieff Muhammad, southern regional representative of Min. Farrakhan who has been priming the city with work in the community. Many economic platforms and businesses have been developed through like-minded Blacks coming together and pooling their resources.
Atlanta, known as "Black Mecca" is a great city to bring the discussion of separation because it has more Black-owned businesses per capita than any other major city. According to Forbes, Atlanta is listed as the number one city where Black Americans are doing the best. It also stated that 20 percent of Atlanta's Black workers are self-employed, the highest rate in the country. Atlanta is a prime location for separation because it is locally run by a Black mayor, the city council president is Black and the city has recently become the center of the film industry for Black directors and producers.
This monumental weekend in Atlanta started on Friday, July 26, at 7:00 p.m. with a roundtable discussion held in a packed room at the Loudermilk Center. The discussion focused on "Starting the Conversation" surrounding the need for a Black independent economy. We can not separate without a solid economic base and a governing body to handle our affairs.
Min. Farrakhan once stated, "I want to say to the government: We are not just somebody that's desirous of separating from you on our own. The program of separation is given by God and backed by God as the only solution to the toxic relationship between Black and White."
The panel discussion was hosted by Student Minister Darryl Muhammad of Macon, Georgia. Student Min. Ava Muhammad, Student Min. Sharrieff Muhammad, Student Secretary Sean Muhammad of Muhammad Mosque No. 15 and Sister Tequella Muhammad of Memphis, a disaster preparedness advocate and financial advisor were panelists.
One of the main focuses of the discussion was the launch of a Capital Giving Campaign by the southern region of the Nation of Islam led by Bro. Sean Muhammad. "Capital is wealth, capital is stocks, where it differs from money, money is a means for exchange. Capital is what creates long-term businesses and financial success." The Campaign's goal is to help create financial programs and budgets, create jobs and businesses, and ultimately help build a nation.
The event had 4,700 views via Facebook Live and as the program ended, Dr. Ava Muhammad stated, "In the very near future, Minister Farrakhan is going to call for a vote on separation."
On Saturday, July 27 the town hall meeting was held at Muhammad Mosque No. 15 at 3:00 p.m. The event was attended by people from throughout the community and included a question and answer session about the Project Separation movement. The meeting was moderated by Sister Rona Muhammad. In addition to Student Ministers Ava and Sharrieff, Heru Ranesi-EL, the Grand Governor of Moorish Science Temple of America, Temple 19 was on the panel. The relationship with the Nation of Islam and the Moorish Science Temple, founded by Noble Drew Ali, has been so important over the years and is growing. Brother Heru stated during his introduction, "A slave with money is still a slave, especially if you do not convert it into something that's beneficial for our people."
This statement set the tone as the panel started to take questions from the audience. There were 4,400 views via Facebook Live. One of the questions asked was, "what do we tell our families that want to gain more understanding on separation?" Student Min. Sharrieff answered, "We are already separated and unequal. The ghettos of America, we are already separated. What we have to do is follow Minister Farrakhan now and just realize that we are separated right now. We must study what Minister Farrakhan is teaching us. Do you see the rise of the police killing us?" he asked.
"Did you see in Marietta, Georgia, where a Black senator, she was 9-months pregnant in the grocery store and got in the express line with one more item than allowed and the Caucasian man working there called her a 'Black B!'? There was not one Black man there to stand up for her. They are doing this all over America, in their mind, we are already separate but unequal. We have to wake up quickly!" he continued.
The questions asked by participants were very well thought and answered thoroughly by panelists. One participant asked, "what role will religion play in our separation?" "Islam is not a religion, but a way of life. God does not hate White people because they are White. He hates them because they are wicked, and if you are Black and wicked, we have no place for you in our states and territories," responded Student Min. Ava Muhammad. "This is a coming together of the righteous," she added.
At the end of the gathering, attendees were asked to sign a petition supporting separation–not asking everyone to move–but to support separation as we start to create Black-run states.
The weekend ended on Sunday, July 28 with a keynote address by Student Min. Ava Muhammad at Muhammad Mosque No. 15. She spoke on "Making Our Communities a Decent and Safe Place to Live." The mosque was packed as she recapped the weekend activities with the crowd. The meeting had 7,900 views via Facebook. She shared many facts about what will strengthen the foundation of the Black community.
She also emphasized that marriage and the relationship between Black men and women plays a very crucial role in the development of strong families that in turn produce a strong community. Student Min. Ava Muhammad stated to the audience to clean up our indecent ways so that we could unite and evolve into who God has intended us to be.
"We invented almost everything in this country that makes life livable. It is time to do something for ourselves." To learn more about Project Separation or to get updates about future events, visit www.projectseparation.com.