By Charlene Muhammad CHARLENEM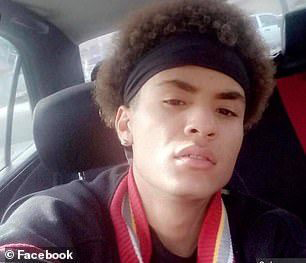 Michael Paul Adams has been charged with one count of first degree premeditated murder for fatally stabbing Elijah Al-Amin, a 17-year-old Black youth in Peoria, Arizona. His next court date for pretrial conference is August 29.
Mr. Adams, a 27-year-old, White male, was arraigned on July 18 and is being held on $1 million bond for the July 4 killing.
"My son was a lovable kid. All he did was work, come home, go to the gym, play the little video games that he likes to play, and he was just a remarkable kid," said Elijah's father, Raheem Al-Amin.
He told The Final Call people are coming to him, sharing things Elijah's done in his short life, and the last 18 months. The best way he could explain his emotions was to say Elijah reminded him of himself, at 17, before the world could turn him.
Elijah, who was buried on July 8, was the oldest of Mr. Al-Amin's three children, said his father. "His brother just goes in his brother's room and sits there and stares. He was on the couch, listening to his music, and he just busted out crying," he said.
"Being compassionate, being that positive energy, and I just remember myself being that way, and then he took over. He became my teacher, because I forgot some things that I didn't remember about myself, and he kind of showed me the way again," said Mr. Al-Amin.
"When he passed, I look at it as it's a violent act, but we can't question Allah's taking our kids home, because Allah created everything that we see, so Allah takes," said Mr. Al-Amin. "I can't argue about our maker. I didn't create my child. He was a gift, but at the end of the day, he's not mine, and that's the best way I can describe him."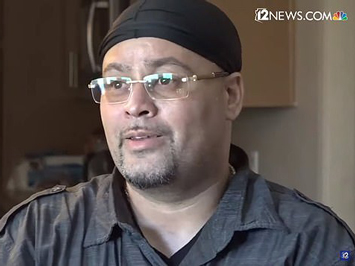 He said of course like all parent-child relationships, they had their ups and downs or arguments, but Elijah was a great child, said Mr. Al-Amin. The teen was a "go-getter," he continued.
"He works at Subway. He was trying to get a job at AutoZone. He was trying to get a job working at Dicks Sporting Goods, and I was just like, this guy is really on his lil' hustle, like, wow! He's really doing it at 17," said Mr. Al-Amin.
Elijah wanted to pursue a career in hotel management and was in the Reserve Officers' Training Corps (ROTC) in high school, but got out after he realized the end game was recruitment for the military, explained Mr. Al-Amin.
"He was named after Elijah Muhammad … I explained to him you'll never forgive yourself killing innocent women and children," said Mr. Al-Amin, referring to the Honorable Elijah Muhammad, patriarch of the Nation of Islam.
He wants people to know how shocked he was to learn his son emulated him online and called him his superhero, according to Mr. Al-Amin.
Mr. Adams faces punishment of life in prison or death by lethal injection for killing the unsuspecting teen at approximately 1:45 a.m. on July 4 at a Circle K.
According to reports, an eyewitness to the fatal encounter said he had been at the Circle K convenience store changing an exterior light fixture, when the Mr. Adams allegedly asked if he needed any help. The witness declined and Mr. Adams walked away. Sometime later he returned, and the witness took him up on the offer. After they finished changing the light fixture, the witness said he'd buy Mr. Adams drink from the Circle K, according to police records.
The witness went to the counter to complete paperwork for his labor, and Mr. Adams walked over to the soda machine. The witness reported when he looked over at Mr. Adams, he saw him grab Elijah "from behind, around the neck, and using his right hand, stab the victim in the right side of his neck with a knife."
Police records state Mr. Adams walked toward the counter and was pacing around the aisles directly behind Elijah before striking. He cut Elijah's jugular vein, carotid artery–a major blood vessel in the neck that supplies blood to the brain, neck and face–the esophagus down to the vertebrae, which form the spinal column. He also stabbed the teen in his back, near the rib cage, and there is a puncture wound on the left knee, trauma surgeons told officers.
Mr. Adams told police he stabbed him, because Elijah was listening to "rap music" in the parking lot through his vehicle radio.
"Adams stated rap music makes him feel unsafe, because in the past he has been attacked by people (Blacks, Hispanics, and Native Americans) who listen to Rap music. Adams further stated, people who listen to rap music are a threat to him and the community," read the police report.
Activists and concerned citizens want hate crime charges filed against Mr. Adams, but Arizona has no such law on the books. It can be considered at sentencing, said Bill Montgomery, Maricopa County District Attorney. Elijah's death trended on social media under the hashtag #JusticeforElijah shortly after news of the story broke.
Mr. Montgomery stated in a July 11 press conference, there's no evidence revealing Mr. Adams is associated with any White supremacist group. Neither has he seen anything that suggested the suspect has adopted such ideology or proclaimed anything like that, he stated.
Jacie Cotterell, Mr. Adams' lawyer, asserts her client is mentally ill, and blamed the Arizona Department of Corrections of releasing him on a prior case without medication or supervision. He had been released just two days prior to stabbing Elijah. Many in social media decried it is a ploy to get her client acquitted, or as a way for him to avoid standing trial altogether.
The Arizona Department of Corrections has refuted the claims, saying Mr. Adams was not classified severely mentally ill, nor was he on medication. In a release questionnaire completed at the time of arrest, Detective M. LeBaron did not check a box provided to indicate Mr. Adams was mentally disturbed. He did check one box that indicated Mr. Adams was on "mental health probation," however.
Next steps involve a review of whether or not Arizona will seek the death penalty. Mr. Montgomery said the review is done in every first degree murder case filed to ensure consistency in seeking justice up to and including the death penalty.
As for Mr. Adams, Mr. Al-Amin chuckled, then said he doesn't think any justice can be done for what he did to his son.
"The way I look at justice is like, this is a justice of world justice, but when you meet your maker, you have to justify that, what you've done. For the person who basically killed my son, I don't think any prison or anything is gonna make it right," Mr. Al-Amin told The Final Call. "I think it's between him and his maker, and that's the justice I'm going with," he said.
Usama Shami, president of the Islamic Community Center of Phoenix said special prayers and supplication were offered for Elijah. He's known Elijah's paternal grandfather, Jabril, for over 20 years and the child visited the mosque with him a few times, Mr. Shami stated. Elijah was also buried in a Muslim cemetery in Maricopa County, he said.
"As a father, we feel with the parents, and we have seen this time and time, senseless killings … It's just shocking. As a parent you feel this could happen to anyone, your own children. We pray for the family and for Allah to grant them patience. It's a very hard thing to go through," Mr. Shami told The Final Call.
Ron Davis said he was heartbroken by images of Mr. Al-Amin in interviews about the incident. Mr. Davis' son, 17-year-old son Jordan, was killed when 47-year-old White male Michael Dunn fired into a vehicle carrying him and three other Black teens. Mr. Dunn, who said he was upset over their loud music is currently serving life in prison.
"All the things that are going through your mind. I remember what was going through my mind when Jordan was killed, and it just came back to you know. You raise a good son, and that's the first thing and the ultimate thing on your mind that you want to get out to the people, that this wasn't a thug, that this wasn't some type of lunatic, some type of aggressive kid," he told The Final Call..
"This was a kid that just got off from work, going to the gas station, playing his music loud, playing rap music loud, such as my son, Jordan Davis, and because somebody not only doesn't like the rap music or the loud music, but the seed of it all is this rhetoric that's going on in this country, whereas, if you see someone different than who you are, then you don't value their life, so he didn't value this young man's life," Mr. Davis told The Final Call.