By Charlene Muhammad CHARLENEM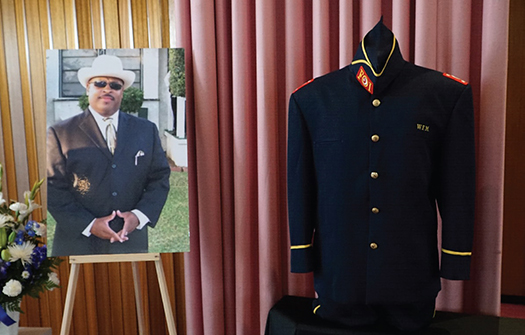 LOS ANGELES–South Central Los Angeles mourned the death of Jerome "Brother Shorty" Muhammad aka "Lenchmob Shorty," a great father, brother, student, friend and hip-hop artist who passed away due to kidney and liver failure. He was 52.
Family and friends packed Harrison and Ross Mortuary for his Janazah (Muslim funeral service) officiated by Student Minister Abdul Malik Sayyid Muhammad, Nation of Islam Western Region Representative on June 27.
Jerome Muhammad gained notoriety for his iconic contribution to West Coast hip hop and popularity as a member of the rap group "Da Lench Mob"–a rap collaboration with artists Ice Cube, J-Dee, and T-Bone. Their debut album "Guerillas in Tha Mist" was certified gold in 1992.
Then Jerome Washington, "Shorty" competed as a founding member of a local lock dancing ("pop lock") team in his South Central community, which transitioned into the Marvin Avenue Gangster Crips to protect their neighborhood from growing violence.
During his moving homegoing service, men and women spoke about his transition as a Muslim, and how Jerome Muhammad saved and impacted their lives and shared lessons he learned as a member of the Nation of Islam.
He was introduced to the teachings of the Honorable Elijah Muhammad and the Honorable Minister Louis Farrakhan while on tour with Ice Cube and Public Enemy, during the height of his music career, according to his family.
Businessman, actor, rapper and director O'shea Jackson (Ice Cube) shared an endearing message on video; J-Dee via phone message, and Yo-Yo (Yolanda Whitaker), in person. Ice Cube said he knew they had a real soldier with them when Shorty joined Da Lench Mob, because he always gave 100 percent– whether he was rolling with the homies, the group, or the Nation of Islam.
"We're going to miss Shorty, because with us, he was our conscious in a lot of ways and would tell us things like how we should be living, the things that we needed to stay away from. When Shorty joined the Nation, a lot of us couldn't keep up with his discipline and he went all out. Where a lot of us dibbled and dabbled, Shorty was all in and I always respected him for that," stated Ice Cube.
Many offered tear-jerking but at times humorous personal eulogies. One speaker named Katrina invoked hearty laughter throughout the mortuary when she spoke about her admiration for the young South Central leader as a child and his good looks. She sparked applause and praise for God when she shared how he helped her not to take a drink of alcohol at a recent party, after she had been delivered from crack cocaine, prostitution, gang banging, homosexuality, hustling, and more.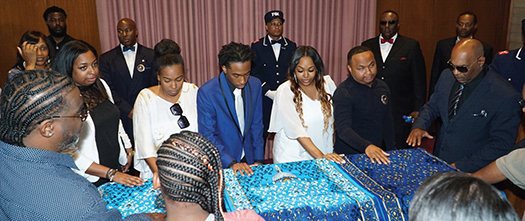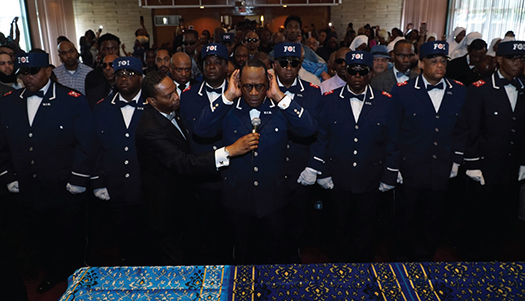 "When I seen Jerome and I was at the party … I said well you know, everybody sipping and singing and things like this here. I said I guess I'll siiiiip! Jerome said, you can't do it. God spoke through him quick," she stated."He said you got something on the inside of you that the next lady needs, and when he said that I said see ya! … He saved me from me!" said Katrina.
Now she ministers to young women and girls being sex-trafficked on Figueroa Avenue, a major corridor in South Los Angeles, she said.
Dawn Muhammad, said when she first met Jerome Muhammad, they used to drink 40 oz. of beer every day. The mourners/celebrants laughed. She hadn't seen him for about two weeks, but she kept waiting on the 40s, she said. One day, he knocked on her door.
"I looked through the peep hole, and he was bald headed with a bow tie. I opened the door and said, 'What happened to you!? Where the 40 at!?' He said, 'That ain't me no more.'" From there, she began attending study group at Mosque No. 27, but she still wanted to drink and gang bang, so she went her way.
One day, Jerome, his wife and another brother heard someone beating her in her home, she continued. The man had busted her mouth wide open, and she pulled a gun and threatened to kill her abuser, who then left. Jerome Muhammad predicted the man would come back and kill her, and vowed to protect her and her daughter, she stated. "He said I'll get you off drugs and alcohol and I'll take you out of this apartment and protect you," she said, crying. "I surrendered and said what I gotta do, brother?" shared Dawn Muhammad.
She said Jerome Muhammad called "the brothers"–the FOI (male members of the Nation of Islam). The FOI secured the apartment building and when the man returned, they protected her, shared Dawn Muhammad.
"There's a difference between a n––r and a Black man … Jerome was a real Black man! … He came and kept his word and they backed all them gang bangers out my driveway." Jerome Muhammad and the brothers came and they moved me. They took me from a single apartment to an apartment with six months free rent, and I began to study and thus started a journey to my life," she testified.
"It changed my whole life, ya'll. Today, I'm a decent mother, a decent sister. Today, I don't gang bang and I'm not using drugs and alcohol, so it was mandatory that I be here and pay homage to this brother, because to me he was the best brother I ever met in my life. Thank you, Brother Jerome!"
Born in Indianapolis, Brother Jerome moved to L.A. with his mother and two siblings when he was two years old. He passed on Father's Day, June 19. He is survived by his mother Mable Washington, ex-wife Annette McDonald and children: Jerome Washington, Autumn Washington, Jaquise Muhammad, Naasirah Muhammad, Joshua Muhammad, Naila Muhammad, Ameer Muhammad and a host of grandchildren, aunts and uncles. He was preceded in death by his father Jeff Washington.
His father as a child used to stand in front of the door of a liquor store in his neighborhood and pretend he was a super hero, said his son Joshua Muhammad His father believed that God blessed him with the spirit to protect everybody, he said as he fought back tears.
"As I got older, I see what he means. Everybody's here united because of him for some reason … This dude was really something else," he stated.
"I was wondering why I'm going to these high schools, bringing in people from the 'hood, trying to change the way they think … trying to get their minds right, and I see why I'm doing that now. It's because of him," said Joshua Muhammad.
"This is the first Black man in my life that ever embraced me and told me that he loved me; the first brother that ever took enough time with me to teach me about knowledge of self. I didn't know nothing about being Black," said Jerome Muhammad's friend, "Seven."
He said not only did Jerome Muhammad instill value into him that people didn't have enough patience or time to do, but he taught him how to eat healthy, eat to live, and more.
"The first married family that I was ever around, mind you, the way a lot of us brothers was coming up, we didn't see that! We've seen broken homes. We were raised in the streets … and this brother welcomed me into his home, his wife and his children, and made me feel welcome. This was like, dang! A married Black couple, and it was beautiful," he recalled.
"More brothers need to be like that. You see a younger brother, if you have any knowledge, if you have any kind of wisdom, impart that to these youngsters, because the youngsters are wildin,' because they have lack of leadership," said Seven. He saluted the FOI. "He was one of you, and it works," Seven concluded. "This was beautiful. This is the unity in the name of Brother Jerome "Shorty" Muhammad."