By Charlene Muhammad CHARLENEM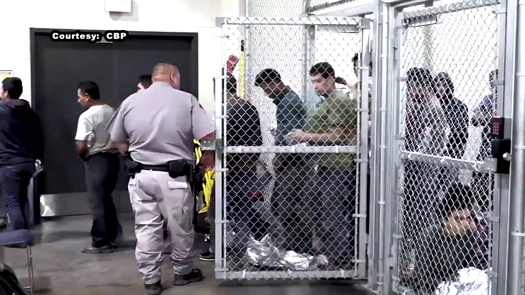 MISSION VIEJO, Calif.–Human and immigrant rights activists are calling on Congress to shut down child detention centers by cutting off funding after seeing images and hearing testimonies of horrific conditions inside the facilities.
Children have been denied soap and toothbrushes, crowded into unsafe conditions, separated from their families, subject to cruel treatment leading to lasting traumas, and, some have died in custody and with parents as they crossed the Rio Grande River, according to the public policy advocacy group MoveOn.
"Horrifically, these conditions aren't an accident. They are the byproduct of an intentional strategy by the Trump administration to terrorize immigrant communities and criminalize immigration–from imprisoning children in inhumane conditions to threatening widespread raids to break up families to covering up reports of immigrants dying in U.S. custody and abuses by ICE and CBP agents," said MoveOn.
Outrage over the conditions prompted "Close the Camps" protests across Southern California on July 2. Protests began at noon in cities including Los Angeles, Burbank, Van Nuys, Panorama City, Pasadena, Fullerton, and Irvine.
"I almost cried yesterday, because to see in the heart of Mission Viejo, in South Orange County, that on a Tuesday morning at 11 a.m., people actually left their work to come and participate," said Guerline Jozef, director of Haitian Bridge Alliance, Inc., also known as The Bridge, who participated in a protest in Mission Viejo, near Irvine.
The Bridge formed in part to help assist Haitian migrants held in Border Patrol detention camps after they traveled through the Caribbean and Central and South America, seeking asylum at the Mexico-U.S. border.
Ms. Jozef said she expected a small number of protestors, but became extremely emotional seeing a main intersection filled.
"They cared. It wasn't just people having a facade, but people really cared about the issue, want to partner, want to collaborate and that really made a difference," Ms. Jozef told The Final Call.
The Bridge works to help expand the visibility and reach of the Haitian community in California and to assist wherever needed. For the past three years, members have conducted visitations, specifically focusing on Black migrants, according to Ms. Jozef.
"We do so, because the narrative of Black immigrants and Black migrants are not part of the larger narrative. When we hear about immigrants and migrants, we always think about Mexicans and Central Americans and South Americans, not understanding the real crisis at the border is with Black folks. It's with Black people from Haiti … Togo, from Cameroon, from Eritrea, from the Congo, from all these other countries from Mother Africa, but we don't hear about their stories, see their faces," stated Ms. Jozef.
Migrants, many held in standing room only cells depicted by senior camp staff as "ticking time bombs," only get one hour a day outside, said Ms. Jozef. She reported accounts of migrants being given bologna sandwiches to eat, and sometimes the sandwiches were rotten.
"We hear people not getting medical care, medical treatments when they need it, and we have witnessed some of those inside of the detention centers, inside of the spaces where they are caging people simply for wanting a better life, simply for doing the legal thing of asking for asylum," said Ms. Jozef.
Jennifer Costello, acting inspector general of the U.S. Department of Homeland Security, documented the poor conditions in a redacted report released on the same day of the protests.
Ms. Costello indicated that some issues require immediate attention and action and encouraged DHS to address dangerous overcrowding and prolonged detention of children and adults in the Rio Grande Valley.
Ms. Costello's report stems from unannounced inspections of U.S. Customs and Border Protection holding facilities in May 2019 and on June 10. DHS specifically visited five Border Patrol facilities and two ports of entry.
Border Patrol was holding about 8,000 detainees in custody at the time of our visit, with 3,400 held longer than the 72 hours generally permitted under standards identified as "TEDS" and which govern interaction with detainees, specifically, transport, escort, detention and searches, according to the DHS report.
Of those 3,400 detainees, Border Patrol held 1,500 for more than 10 days. In addition to the overcrowding, 826 (31 percent) of the 2,669 children had been held longer than the 72 hours generally permitted under government standards. More than 50 children younger than seven had been in custody over two weeks while awaiting transfer to the U.S. Department of Health and Human Services. That department as well as ICE, Immigration and Customs Enforcement, are operating at or above capacity, the report continued.
"While all facilities had infant formula, diapers, baby wipes, and juice and snacks for children, we observed that two facilities had not provided children access to hot meals–as is required by the TEDS standards–until the week we arrived," wrote Ms. Costello.
"Instead, the children were fed sandwiches and snacks for their meals," she continued.
Protestors want the camps shut down, money used for family detentions pulled, and families to be reunited. MoveOn is circulating an online petition demanding the release of all detainees of the Trump administration's detention camps immediately and that ICE and Customs and Border Protection be defunded. "Congress must not give a single additional dollar to agencies who continue to harass and terrorize immigrants and people of color," says the petition.
With Republicans controlling the Senate and some differences among Democrats, defunding of the federal agencies appears unlikely.