@jehronmuhammad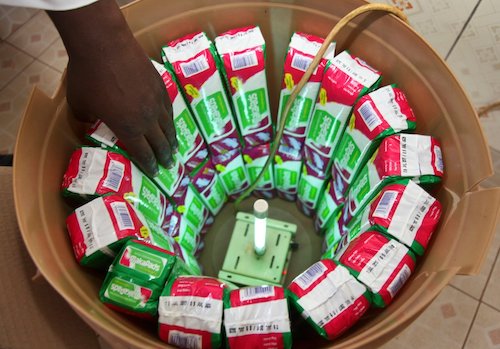 While South Africa and Tanzania, facing increased "global" scrutiny in 2018 removed their tax on women's sanitary pads, the government of the East African country re-introduced the tax while unveiling its budget, according to the Daily Nation.
This taxation of menstrual products has intensified menstruation stigma and has been especially "punishing to girls from low-income homes who have been reported to miss school during their period because they cannot afford menstrual products," reported African Exponent.
UNESCO estimates that 1 in 10 girls in sub-Saharan Africa skip school during their menses, and that 20 percent of girls drop out of school entirely due to "period poverty."
According to a 2018 United Nation Population Fund report, "menstruation taboos can keep women and girls from touching water or cooking, attending religious ceremonies, or engaging in community activities. These taboos reinforce gender-based discrimination, perpetuating the idea the menstruating women are unclean."
"Menstruation is not a luxury or a choice. Tell the government and parliament we want pads without tax," Tanzanian activist Maria Sarungi Tsehai wrote on Twitter.
According to African Exponent, the only other countries that have removed value added tax on sanitary products are South Africa, Kenya, and Nigeria.
The stigma of menstruation has been a hot topic among Muslim women. Sophia Jamil told the BBC, "Some people don't want to admit this problem exists because they see it as a negative reflection on the Muslim religion, but there is a problem."
"There is only a problem if women are already stigmatized," said educator Rita Muhammad. Muhammad, who has taught school in Sudan, Ghana and China, continued, "If women are seen as the mothers of civilization and the second self of God, as all our male and female Nation of Islam members are taught from the door, then that alone rules out the possibility of any kind of stigmatization."
The Islamic religious text, the Holy Qur'an mentions menstruation once, and it pertains to sexual intercourse: "And if they ask thee about menstruation. Say: It is harmful; so keep aloof from women during the menstrual discharge and go not near them until they are clean."
A harsh reality for countless female consumers, especially if they are poor, is having to pay a "pink tax." Advocates say the pink tax is a form of gender-based price discrimination, with the name stemming from the observation that many of the affected products are pink.
According to axthepinktax.com, "it costs more to be a woman. No joke. It's called the Pink Tax. Because of it, the average women is charged an extra $1,351 every year. Just for being a women. It's time to take back what's yours."
A recent headline, "Pinktax: The reality of being an African female consumer," delivered another wake-up call for female consumers in Kenya and beyond.
Not only are women taxed for being a woman, African women have suffered in silence because of inferior personal care products.
A recent call went out on twitter, using the hashtag #MyAlwaysExperience, asking women to share their experience with Proctor & Gamble's Always sanitary products. According to author, public relations and communications professional, Kylie Kiunguyu, "As the hashtag gained traction it became clear that many women had been suffering in silence, enduring burns, rashes, friction wounds, itchiness, bad odors, and undue discomfort. This appears to be mainly owing to the product's plastic overlay, scent and general quality. In fact, as the hashtag persisted, women began to compare the products available on the continent with those available in the West, particularly the UK and the U.S. Not only were the latter pads found to be of better quality but they were also cheaper."
Kiunguyu, who is based in Kenya and is a staff writer for thisisAfrica.me, noted that substandard products have historically been dumped on the African continent.
"It is no secret that there is what one could term 'an African standard.' Many multi-nationals use the continent as a dumping ground for substandard products that would not be approved for distribution anywhere else. There have been numerous documented cases of this practice. So how is the Always case different?"
She continued, "It is different because it is the exploitation of women and girls at their most vulnerable. It is different because women and girts trusted P&G's (Proctor & Gamble) product when they were at their most vulnerable. It is different because it brought to light decades of unnecessary agony."
How does one get involved? On globalcitizen.org, you can start by taking the pledge to turn menstruation into a normal fact of life. The pledge reads:
"I pledge to support the global Menstrual Hygiene Alliance in achieving its mission to turn menstruation into a normal fact of life by 2030. Together, we will enable every women, girl, and menstruator to manage their menstruations hygienically, with confidence, in dignity and without stigma.
"Girls around the world are staying home from school and not participating because they lack the ability to manage their periods in safety and with dignity. Without education on menstruation, as well as access to products, adequate water, sanitation and disposal facilities, girls are often not attending school regularly or choose to drop out of school all together."
Last year South African fitness guru, blogger and social media influencer Candice Bodington, partner to Sanlam in the #SanlamPinkTax campaign, said, "Women … have a lot of purchasing power and a strong market impact. By providing as much awareness and sound financial guidance as possible, we hope to help women to navigate unique fiscal obstacles like pink tax via informed decision-making."
Follow @jehronmuhammad on Twitter.