CHARLENEM National Correspondent @sischarlene
LOS ANGELES–Children–everywhere, from babies to young teens–welcomed motorcycle riders, low riders, folks driving Corvettes, riding sports bikes and minibikes into Gonzalez Park in Compton for the 75th Peace Ride.
The highly anticipated event was dedicated to slain, beloved rapper and entrepreneur Nipsey Hussle and mothers of murdered children.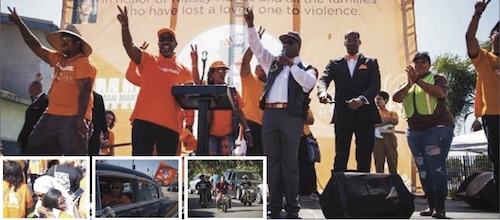 It was an unusual sight. Not just the three-mile procession, but children and families enjoying the park without threat of gang or gun violence. The purpose of the Peace Rides is to reduce gang violence through education and community involvement.
The June 23 Peace Ride was one of the best ever, in particular because over 150 more gang sets dropped their rags into a "basket of peace" and additional participation from the Los Angeles police department and sheriff's department, said Student Minister Abdul Malik Sayyid Muhammad of Muhammad Mosque No. 27 in Los Angeles. The basket of peace symbolizes those gang members will agree to stop the killing.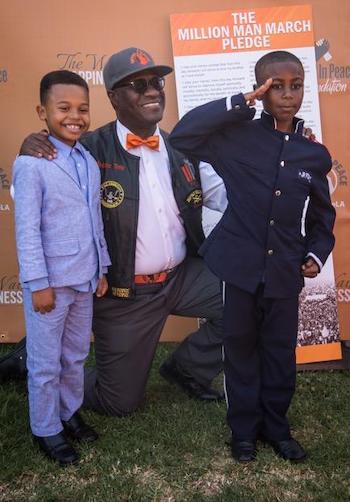 Nipsey Hussle, born Ermias Ashgedom made music about the rough, gritty reality of the L.A. gang lifestyle as a member of the Rollin' 60s Crips but he'd begun to evolve his message and worked toward forging peace between rival gangs.
"To have the rest of the rides in Nipsey's name and it was one of the things that he wanted. It was unprecedented to have the Peace Ride end in a Blood neighborhood, which was actually an enemy to his set, that welcomed us," said Student Minister Sayyid Muhammad, who also serves as western regional representative for the Honorable Minister Louis Farrakhan.
Days before he was allegedly gunned March 31 by Eric Ronald Holder, Jr., a Crip and rapper also known as "Shitty Cuz," in front of his Marathon Clothing Store in South L.A., Nipsey put on thousands of dollars' worth of gold chains and jewelry, and traveled alone by city bus to the various 'hoods across the city, according to Student Minister Sayyid Muhammad.
The self-made millionaire, who has inspired millions worldwide, told those he encountered that he was offering his life if it would end the bloodshed, said the Muslim minister.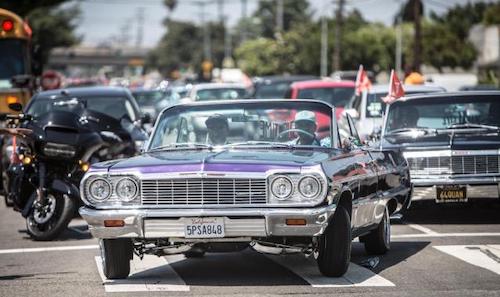 According to Student Minister Sayyid Muhammad, there is a hunger and a leaning towards peace unlike ever before, since the passing of Nipsey Hussle and Nation of Islam Minister Louis Farrakhan's visit to Los Angeles during funeral services and memorials for Nipsey.
Barbara Pritchett, CEO and founder of the non-profit anti-violence Gentle Giants Foundation, mentors youth and had been promoting the latest Peace Ride. But her call for community participation increased after four different Black men were murdered the weekend before the most recent Peace Ride. One of her two sons was killed three years ago and the other 12 years ago.
"I ride for them and for my cousin whose son was murdered. I ride for my two little nephews whose father was murdered, and then I ride for my sisters who I met along the way, who have lost their children, but my ride is a full circle ride," Ms. Pritchett told The Final Call.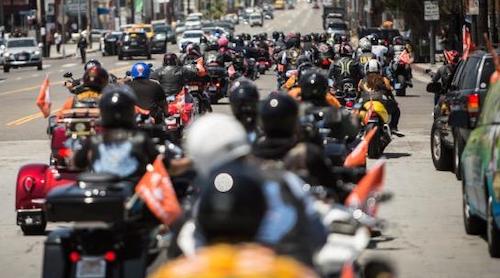 Many bonds were forged among the 3,000 participants–from a bus and van load of mothers in tears, to young men sworn as enemies because they claim different gang affiliations.
"The Peace Ride is very important, because it shows our men, Black men, in positive positions, and a lot of times in our community, Black males don't see that. A lot of times, they don't have that father image in the home. So, when they see it and to see it in a positive way, where we're not fighting, where we're able to all get along no matter if I'm red or blue or green or yellow, tall or small, it don't make a difference," said LaWanda Hawkins. She started Justice for Murdered Children on December 6, 1995, when her only child, Reginald, was murdered at 19.
The event centered around children, who enjoyed face painting, bounce houses, and other treats. Little girls participated with teens and young women in Mosque No. 27's MGT & GCC Vanguard drill exhibition. Youth recited poetry, played guitar, and sang. Legendary hip hop artist West Coast Kam, rapper Yusef Muhammad, and Watts rapper Stix (aka Wattstix) hyped up the gathering, dubbed the United in Peace Festival, with positive, conscious raps for peace.
Vinson Muhammad, an Atlanta-based artist aka ALäZ (formerly known as "Allah's Apprentice") provided live music with his trumpet and DJ Gigi Sweet spun records throughout the day.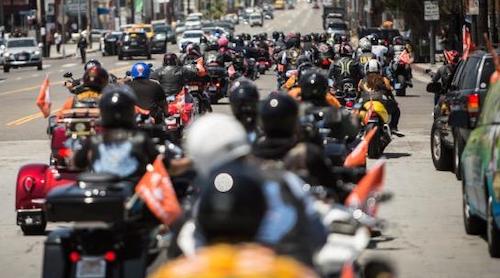 The presence of the Nation of Islam during the days following Nipsey's death made an impact with the Muslims helping to usher mourners through the makeshift memorial outside Nipsey's store and the place where he lost his life. The Muslims also distributed thousands of free copies of The Final Call newspaper devoted to Nipsey and encouraged unity and peace at a time of great pain. The Muslims were also present during the Peace Ride and in the park. Their presence helped to create the proper atmosphere for the young people and the community and there was an incredible call for peace with Nipsey's murder. Student Minister Sayyid Muhammad said, "That's why you saw so many children, and that doesn't happen! Black people watch other people have fun in the park. They get re-stimulated, because it's so many dead, Black bodies that's been in these parks. The parks in the inner cities of L.A. are our killing fields … a cemetery, but we are bringing Black people back out to the parks as long as the Nation is there."
Laurence Cartwright aka "Boogalue" of the Piru Crips, who works with Cease Fire, was pleased about youth involvement in the Peace Ride. He helped coordinate strategy meetings between key, active and influential gang leaders from different neighborhoods. "These are people that usually see each other and they probably go to war with. When you see them, you're probably going to shoot 'em on sight. But we brought these people together, face to face, to talk and come with resolutions on how we could have a cease fire," Mr. Cartwright told The Final Call.
After a small planning meeting at Campanella Park between rival gangs, the Nutty Blocc Compton Crips and the Swamp Compton Crips, Pastor Rayford Owens of Faith Inspirational Ministry Baptist Church opened his doors for a larger meeting, which included the Fruit of Islam, the men of the Nation of Islam and others. Mr. Cartwright is also a member of the church.
As a result of that meeting an agreement was forged, not a full peace treaty, explained Mr. Cartwright. "It's really an agreement. The agreement is: Ya'll stay on ya'll side, and we stay on our side. … If you see us in the street or somewhere, I won't shoot at you and you won't shoot at me," Mr. Cartwright told The Final Call. That was a start.
"A lot of people been wanting to kill their drama, but it's like they didn't know how or it wasn't nobody able to stand up. Wouldn't nobody want to stand up, so when we stood up and did it, a lot of people leashed on," he continued.
News about their agreement spread and other gangs reached out. "They felt like, if they can do it, we can definitely do it," said Mr. Cartwright. Then the bigger meeting came. "At least a dozen 'hoods was up in that building," said Mr. Cartwright. "I'm proud of it, because I feel like I'm making a better way for the next up-and-coming generation. My lil' homies, I love 'em dearly. I love 'em to death, so if I can do something to where I ain't gotta worry about them going to go kill nobody, or nobody going to go kill them, or they ain't gotta go to jail for life over some stupid stuff, then that helps me sleep at night," stated Mr. Cartwright.
A turning point for Mr. Cartwright was educating himself about who the real enemy was. "It started to feel dumb to me, like, White supremacy, they really got plans on taking us out and I've seen the plans… and then we're supposed to worry about our brothers, too at the same time? I didn't get that!" He said he was happy to put his signature on the Million Man March Pledge, which was first presented during the historic 1995 gathering in Washington, D.C., and commits Black men to work toward community and family building and walking in peace, during the peace fest. He also has a lot of love for the FOI.
Bringing the Peace Ride to Gonzalez Park in Compton signaled work toward unity and the FOI's role was to help facilitate it, said Student Minister Mustaqim Muhammad, formerly Robert Muhammad, of Mosque No. 54 in Compton, who attended the meetings. Gonzalez Park is controlled heavily by Piru gangs, which has heavy in-fighting. The peace fest showed what peace efforts look like across a broad area, not just in Compton, said Student Minister Mustaqim Muhammad.
According to Student Minister Sayyid Muhammad, people came from as far away as Jacksonville, Fla., including a representative from the city council, to observe and take best practices back to their cities.
Student Minister Abdul Haleem Muhammad, NOI Southwest Region Representative of Mosque No. 45 in Houston, attended the Peace Ride after delivering an exciting address at Mosque No. 27 that morning. He has spearheaded two successful Peace Rides in Houston, and likened this 75th ride to a scripture in the Holy Qur'an–book of Muslim scripture–in Chapter 75, entitled "The Resurrection."
"I saw the beginning of healing for these mothers and fathers by the acknowledgment of the community of their pain and them not having to mourn by themselves. I saw us rallying for each other after the killing of one another the way that we rally if a policeman killed one of us," said Student Minister Haleem Muhammad.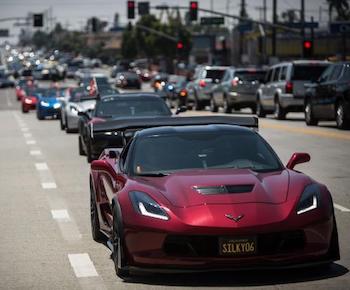 All roads for the rest of this year's Peace Rides, which occur on the fourth Sunday of every month, are leading up to a major gang summit scheduled for October 19 and in commemoration of the 24th anniversary of the historic 1995 Million Man March. Organizers hope to have representatives of over 1,500 gang sets broker peace.
It's monumental to have had 75 rides since 2011, said Reverend Alfreddie Johnson of the World Literacy Crusade and United in Peace Foundation. "United in Peace is what we stand for. Islam is about peace, and I was very happy to be there, very proud of Minister Tony Muhammad (Abdul Malik Sayyid Muhammad). The entertainment and the ride was good, and I look forward to the coming October 19 Peace Ride," he added.
Efforts at reaching various street organizations who desire to participate and join in on working for peace and resolving conflicts continues, according to Student Minister Sayyid Muhammad. "I mean, I've never gotten calls like I'm getting from different gangs," he said. This includes Latino and Samoan gangs, he added.