By Charlene Muhammad CHARLENEM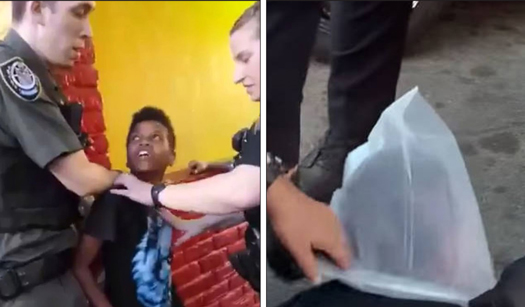 A shocked, frustrated family is demanding an apology from the Sacramento, Calif., Police Department over its officers placing a bag over the head of their 12 year old son already subdued.
"I think that they're entitled to that. There was no substance to the original suspicion that the private security guard had of the 12 year old. He gave chase to the young man without any provocation or any basis. He then tried to protect himself by lying to the cops when they showed up, telling them that the young man was under suspicion for panhandling. He said 'begging for money' and trespassing–neither of which was true. So, we want an apology from the Sacramento Police Department," said family attorney Mark T. Harris of Sacramento.
Further, he told The Final Call, Isaiah Downs' mother Latoya wants the officers reprimanded, and that no charges be filed against her son. The incident happened April 28 and went viral with cell phone videos released by angry bystanders.
"How do you put a bag on a child's head? When the mother was called by her daughter, this young man's sister, the police never even contacted her. She said, 'The first thing I thought about was my son was going to be the victim of police violence. All the way there, I was praying he was still alive and not …' I mean, why should our parents, our mothers and fathers and grandmothers and grandfathers, have to carry that level of anxiety around with them as part of the 'Black tax' that's unconscionable," Atty. Harris told The Final Call.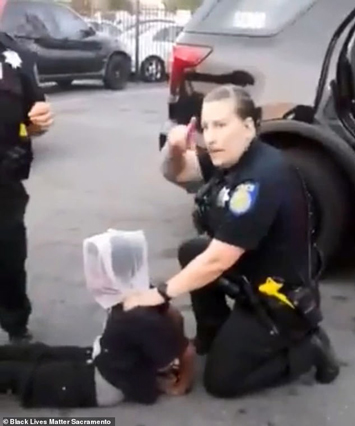 Police say that at approximately 7:45 p.m. on April 28, two officers in a marked police vehicle stopped to help a security guard detain the boy. According to police, he spit in an officer's face multiple times. On video Isaiah is heard admitting he spit. Additional officers responded to assist. Later, Isaiah was released to his mom and cited for battery against a police officer and resisting officers, indicated a Sacramento Police Department May 22 news release.
"We want the officers who were involved. … There was a restaurant employee at the Wienerschnitzel. There was a private security guard from Paladin Security, and there were eight Sacramento P.D. officers. They treated this 12 year old kid like he was John Gotti or John Dillinger! This is ridiculous," argued Atty. Harris.
"We don't need another of our young men, our young soldiers, who are having to navigate their way through the criminal justice system with charges that they don't deserve. So we want the charges to go away," he continued.
The attorney, family, and activists accuse law enforcement of further criminalizing the child by pointing to the police press release subtitled. "Video Release – Battery Against a Police Officer." Atty. Harris said he wants that removed, and, refuted police claims that Isaiah committed theft or was begging, and said there is evidence to prove it.
In the first place, he argued, young Isaiah was minding his own business at a carnival and the security guard had no cause to chase him.
"No it's just not true. That's a false narrative that the rent-a-cop put out there to justify why he stopped the kid in the first place. There is no evidence! We have video cam. We have security cam. There is nothing. If the cops had it, you know they would show it. There is nothing that indicates this young man was doing anything, other than on Easter Sunday, attending a neighborhood carnival with adult supervision," said Atty. Harris.
Isaiah, his sister and some other neighborhood children went to a carnival, Atty. Harris said. "As he was going back and forth, he was accosted by this rent-a-cop and the rest is history. So, I don't want to absolve the Sac PD. They handcuffed the young man; they put a knee in his back; they held him around his neck; they never answered his questions about, 'Did you call my mother? What am I being charged with? Why am I under arrest?' So they're not to be let off the hook either, but this started with the Weinerschnitzel employee and the rent-a-cop … slave catcher style," continued Atty. Harris.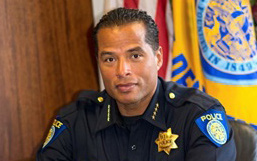 "Our officers involved in this incident appropriately used a spit mask to protect themselves and defuse the situation. I am grateful that our officers were willing to proactively intervene when they observed suspicious activity, and that nobody was injured during this encounter," said Chief Daniel Hahn.
He released video, with blurred faces and redacted audio, to show Sacramento Police Department's "transparency," according to the news release.
The body-worn camera of the primary officer who initially made contact with Isaiah shows the interaction until he is placed in the back seat of the patrol. Chief Hahn also released body cameras of those officers who initially stopped to help the security guard.
In it, Isaiah asks multiple times why is he under arrest. After cops ask a couple times, a security guard states the boy has been panhandling, among other things. Seconds later a Wienerschnitzel employee walks over and holds the boy as cops continue to handcuff him, and alleges he's "notorious for being around here, been trespassing on properties."
"I ain't been doing nothing," refutes Isaiah. "He was chasing me all over the carnival," he continued.
A bystander arrives and checks the police and begins videotaping the incident. "You can't do this. … You guys are doing this to a minor. … His parents should be here," the bystander states, as an officer begins to call for back up. A female cop tells the child they're going to put him in the back of a car and he replies, "No. You're not. I didn't do nothing to you."
Things escalate as cops attempt to pull and push him into the back of a police cruiser, and the child spits. Officers take him down, as the bystander yells, "Hey! Don't be choking him like that!"
While pinned on the ground by officers, face down, the boy shouts expletives, and charges police brutality. "You ain't got no right to be doing this s–t. You ain't got no right. No rights," he states. "Come on now. Come on now. Come on now. What is you doing?" he asks repeatedly as approaching sirens blare.
An officer then places a spit mask over his head, which incensed some in a crowd that began to form. "I can't breathe," the child yells. "Let this bag off my head," he screams as he's placed into the cruiser.
In the body cam footage, when officers asked apparently confused Paladin Security officers why they were chasing Isaiah, one replies, he has no idea.
Minutes later his mother arrives. She's outraged. "That's my baby! What's going on? …. He's only 12 years old! Keep the cameras on," she screams. She proceeds to speak with an officer.
Fast-forward to a frame where Sac PD officers question the security guard that gave initial chase to young Isaiah, and more confusion appears to surface when an officer asks the guard what he would have done if they weren't there, and he had caught the child. The guard said he would have tried best he could to issue a "602," which is a citation for trespassing.
"This is ridiculous. You know, this happens in our community. It's not coincidental that the young man is Black and everybody is White or non-Black. … It ain't no accident," said Atty. Harris. "That's what our kids go through. We had an equivalent of that. I grew up in the Crenshaw area in L.A. and we had the same kind of stupid stuff, basically, folks who use us as though it were a game to them. This security guard ain't no college graduate; he ain't no war veteran hero! This is a dude who's probably a bottom feeder and he wants to take advantage of what he views as vulnerable, and he thought this little 4'7, 77-76 pound kid was a target that he could manipulate and take advantage of and treat inhumanely. We ain't having it. Nah. Like Rosa Parks, said, Nah! Nah!"
Atty. Harris feels Chief Hahn bears some responsibility. "I said, this cop, this chief isn't Black. He's blue, and I stand by that. He's Black in skin, but he ain't Black in terms of his perspective and his commitment to our community," said Atty. Harris.
Sonia Lewis of Black Lives Matter Sacramento says she has empathy for Chief Hahn.
"We know that Black folks get thrown under the bus when bad things happen, but I don't have empathy for the system, who right after Stephon Clark was murdered, came up with three new policy changes since his murder, and all three of those policies have been broken," said Ms. Lewis.
Effective July 26, 2018, Sacramento Police instituted a new foot pursuit policy, mandating officers assess and evaluate risks to safety for themselves, the public, and fleeing suspects when determining whether a foot pursuit should be initiated, continued, or stopped. If pursuing officers or supervisors determine the risks outweigh the need for arrests, then the foot pursuits should be terminated.
"It was definitely excessive force. … Handcuffs were excessive. They slammed this baby on the ground. They completely violated the spirit of who he is as an individual, because at 12, he realized the terror," Ms. Lewis told The Final Call.
Black Lives Matter is planning various community actions, following the Downs' family and their attorney's lead, including writing a demand letter to the city and expressing outrage over the 12 year old's treatment before the City Council, according to Ms. Lewis.
Atty. Harris is working on completing the investigation, including interviewing witnesses and reviewing private videos. He also is planning to make a presentation before the mayor and City Council on behalf of his young client, who he said is very smart and loves math.
When asked if he was afraid he was going to die in the police encounter, the young boy replied, "No, because I was praying the whole time," according to Atty. Harris.