, Contributing Writer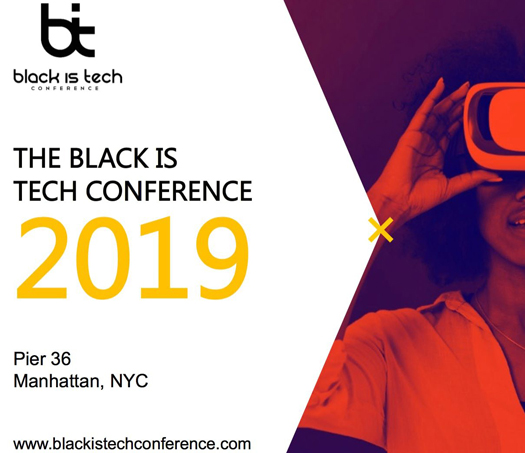 NEW YORK– The ambiance is very hip. The hall is set up club style with cocktail tables and bar stools. Laptop computers, cell phones, and tablets are in abundance. Those in attendance, millennials mostly, are intense–connected to the program presented.
This is the inaugural Black is Tech Conference held in the heart of Manhattan where Black technologists, students, and entrepreneurs come to network and learn.
The event held at the Metropolitan West located at 639 West 49th Street is a stone's throw from the Hudson River. It is the brainchild of Tosan Arueyingho, a self-described 'super techie' and hosted by West Coast tech entrepreneur Sequoia Blodgett.
Workshops brought the swag with titles such as Tech Diversity and Inclusion: What does it REALLY mean?; Virtual Reality Workshop: Making VR For All, Not a Few; The Rise of Black Creatives: Art, Design & Innovation and The Future of Tech: Empowering the Next Generation of Diverse Technology Leaders .
The conference featured a virtual who's who of Black tech and headliners included bright stars Bonin Bough, marketing executive, TV host and investor and Angel Rich CEO of The Wealth Factory.
According to a 2014 analysis by the U.S. Equal Employment Opportunity Commission, the high-tech sector has become a significant source of economic growth fueling the U.S. economy. As an innovation leader, the high-tech sector has impacted how people communicate and access information, distribute products and services and address critical societal problems.
The importance of Black inroads into the tech field has not been lost among those with the means to invest. Hip hop artist Nasir "Nas" Jones has found success as a venture capitalist at his QueensBridge Venture Partners firm by investing in various startups including those in the tech industry.
"Nas, and his manager Aymen Anthony Saleh, have invested their own bread into 40 startups, including the likes of Fancy, Coinbase, Dropbox, SeatGeek, Lyft, Prism Skylabs, Zest Finance, Stance, mParticle, Proven, Earbits, Trendabl, Crowdtilt, 21E6, Balanced, MeCommerce, DeviantArt, 500 Startups, Push IO, Swarm Mobile, Glio, Boosted Boards, MadeFire, Fashion GPS, Washio, SellSimple, Hotelzilla, Signal Ventures, Clean Plates, BOXC, MediaSpike, CapLinked, and Send-Hub," reported kulturehub.com. In 2014, Nas joined Google and Microsoft in an effort to increase diversity in tech by funding scholarships at New York City-based tech educator General Assembly with the scholarships targeting groups that have been historically under-represented in tech such as women, Blacks, Latinos, and veterans, the website reported.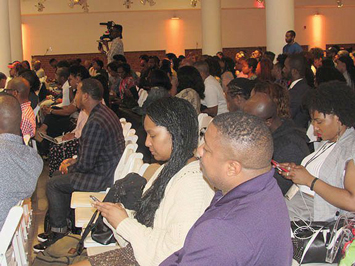 Earlier this year rapper and actor Clifford "T.I." Harris launched Tech Cypha, along with business partner Jason Geter, which will focus on investing in tech startups. Snoop Dogg and Jay Z have also branched out into tech investments. The late Nipsey Hussle was more than a rap artist. Before his untimely and tragic death, the innovative young man opened a "smart store" in the Crenshaw area of Los Angeles where customers through a free app could access unique and exclusive content that could only be accessed at his Marathon Clothing store. He also launched a tech hub in the area called Vector 90 to teach technology to educate and create opportunities for Black youth.
Unfortunately, compared to overall private industry, Blacks hold fewer than eight percent of high-tech jobs compared to 68.5 percent for White Americans. To help fill this disparity, the Black is Tech Conference held April 12-13 created a platform for Black and minority tech professionals, entrepreneurs and enthusiasts to become inspired.
Out of the workshops came a cavalcade of ideas and notions on diversity. One presenter Dennis Schultz, CEO of Dark Hive with over 20 years of experience in technology, remarked the field was diverse. He went on to say diversity was "like being invited to the dance hoping to be asked to dance. I want to run the dance." He encouraged those in attendance to become decision makers.
Many of the presenters agreed that Blacks working in technology companies should hold the door open for others. Frances Olajde, diversity manager at Google told the audience that diversity is imperative and there is no real model in America for how diverse teams perform. "I strive to be the best," she said. "I need them to know to get in with my journey, not in my way."
Sevetri Wilson, an entrepreneur and founder of two companies, Solid Ground Innovations, and most recently, ExemptMeNow, a New Orleansbased tech startup during a fireside chat encouraged the audience to develop mentors for success. "Ask people if you can take just 30 minutes of their time. One of the problems she explained in a deadpan manner, was other folks make Black people think it's not about the money and they run off with the money.
"Money seems to be taboo in the Black community. Network with people that can write checks," she pointed out. Other concepts discussed at the conference included the need to create generational wealth. Look for opportunity: it is everywhere, there are always new things to learn and stay humble were several of the tips shared by presenters.
In a particularly informative workshop entitled Black Woman X Tech: Career, Entrepreneurship, Goals & More, presenters Latoya Davis Sr., technical program manager at Amazon; Angelina Darrisaw Cheeks, national digital coach at Google; Simi Olabisi, senior account executive at Andela; Sequoia Blodgett, a journalist at Black Enterprise and founder of Commas and Denise Hamilton, founder and CEO of WatchHerWork, encouraged attendees to stand firm in their confidence. Stand true to your beliefs, feel like you belong and bet on yourself, they stated. Invest in yourself, and most of all have follow through, the presenters advised.
Another highlight of the conference was the Pitch Competition which allowed 10 tech startups to pitch their company to a panel of seasoned judges, Clayton Bryan of Venture Partners and 500 Startups and Will Lucas, founder and CEO of A William Lucas Company/Creadio. The winning startup was Drofika Industries, a data solutions company which took home a prize of $10,000.
The two-day conference which brought the best minds in tech in the Black communities to discuss, inspire, teach and learn with keynote speeches, fireside chats, and panels delivered for the hundreds in attendance. The conference also included a start-up exhibit hall with many Black and minority-owned tech startups.
Terron Graham from Philadelphia stated he came to the conference to meet peers and network and find opportunities. "I have found the conference to be quite worthwhile," he told The Final Call. Likewise, for Ernest Young from East Orange, New Jersey, who has a stock market trading company. "The conference has been amazing with the connections I have made."
Leah Suter from Brooklyn told The Final Call she came to the conference to see and hear from people who are in tech who are Black and working in the field or are entrepreneurs. Lisa Farrow from New Jersey stated she is at a crossroads in her career. She is a marketing executive who hopes to transition to consulting. "I am here to connect with founders in technology so that I can support them in their marketing needs. I'm making connects to hear what folks are doing and explore opportunities where I can help them," she said.
Sequoia Blodgett, the conference host, told The Final Call that the conference was notable for Black people to understand the magnitude of where technology is going and be educated around the what that entails. "As it advances, we are falling further and further behind. We need to make sure we are on point and caught up because that is where the money is going," she said.

For more information visit:blackistechconference.com.

Final Call staff contributed to this report.