, Contributing Writer

NEW YORK– Talk about Black Tech royalty. The recently held Black is Tech Conference highlighted two technological giants as keynote speakers during the gathering.
Appearing were Bonin Bough, a successful marketing executive, host of CNBC's Cleveland Hustles, and author of Txt Me (646) 759-1837, and Angel Rich, affectionately known as "the Chairman." Forbes Magazine referred to her as "The Next Steve Jobs" for the tremendous work she's done and is continuously doing with revolutionizing financial literacy education.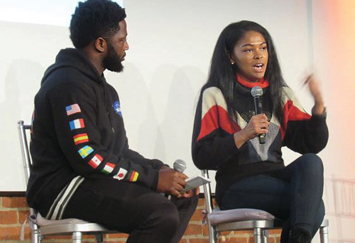 Both gave compelling life stories as they inspired the listening audience. Presenting in the morning session, Mr. Bough, in the style of a fire and brimstone preacher, told the audience as a community Blacks are more powerful together than apart. "We must inspire to do more," he said. He stressed the need to keep the dollar in the Black community and learn to grow what businesses we have.
In telling his story, he stated quite frankly, he got lucky. He grew up in a creative household where he was influenced by his stepfather and 6th grade teacher both of whom were involved in technology. He landed a tech job after college, and his career flourished. In giving a word of advice for longevity, he instructed, "Make sure you are more valuable than anyone else." He described Black people as a "diaspora of creative thinking."
The main message he brought to the conference was the new and farreaching frontier of "Mobile Messaging." He shared with the audience that new age marketing meant building a relationship with consumers. "Dollars follow consumers," he said. Mr. Bough went on to illustrate his point: "In 2016, 1.58 billion mobile phone users accessed over-the-top messaging apps to communicate. This figure is projected to grow to 2.48 billion users in 2021," he said.
"Messaging represents the largest amount of human attention on any mobile platform. Given its rapid growth in recent years, this platform is now set to represent the next frontier in personalized and permission-based marketing," said Mr. Bough.
He went further into the subject during his exclusive interview with The Final Call. Regarding the Black is Tech Conference, held April 12-13 in New York, he said it was of vital importance. "More than anything it allows you to build networks and meet people and hear from people who are doing it or have done it. Collaboration with the community is probably the most important thing ever."
About his concept of mobile messaging, he stated, "The most amount of human connection occurs in text messages. Almost two trillion business and consumer messages are sent which go unmonetized. As a whole, it is more explosive than anything we have ever seen yet most people are not participating or figured out how to connect with consumers in that channel in a way that is meaningful or quite frankly at all." It represents a huge opportunity, he explained.
"I'm going to go home and text with over 105 people here at the conference, and I'm sure there is going to be a lot of value created from those conversations for everybody involved. At the end of the day, it's about how you get there early and create an opportunity for yourself."
Angel Rich was equally dynamic as she anchored the program and brought it home. In her compelling story she told of being an overweight college student who went to China, learned Chinese and helped write the security protocol for the summer Olympic games held there in 2008. She used this story as a backdrop to encourage conference attendees to figure out how special they are.
She encouraged all to have an open mind and realize everything is an assumption that should be tested. She talked in detail about her most notable accomplishments: her app, Credit Stacker, is a gaming app that teaches the everyday person how to manage their personal finances.
Ms. Rich discussed her current company "The Wealth Factory" which designs financial literacy and workforce development education technology games. "The program walks users from birth to retirement in 12 interactive modules to exceed the Personal Finance Common Core Standards."
In her interview with The Final Call, she further discussed her passion. "Quite frankly," she stated, "The future of technology needs Black people." "Imagine what the music industry would look like if there were no Black people in it. You can't be more diverse in solutions if you don't have diverse creators. It's impossible to have diverse outputs."
In providing solutions-based commentary, Ms. Rich discussed the critical need for financial literacy in the Black community. "I almost think we need to recreate recreation centers and community centers like the church model of old. To create a village of support that is teaching our children various angles of finance, education and seeing success stories as well as failures in this familylike atmosphere. Much learning is happening in silos right now," she lamented.
"While people are learning, they are not dropping that ladder back down. People are struggling in silence." There are many resources out there, but the problem in the Black community is guidance, said Ms. Rich. "We are relaunching our website getwealthylife.com. We have over 2,500 financial literacy videos, a curriculum for all ages, learning management systems, resources and guides. Everything that you can think of dealing with financial literacy.