FINALCALL.COM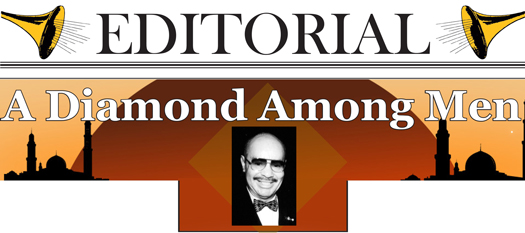 A voice cries: "In the wilderness prepare the way of the LORD; make straight in the desert a highway for our God." Isaiah 40:3

68:1 (By) the inkstand and the pen and that which they write!
68:2 By the grace of thy Lord thou art not mad.
68:3 And surely thine is a reward never to be cut off.
68:4 And surely thou hast sublime morals.
68:5 So thou wilt see, and they (too) will see,
68:6 Which of you is mad.
68:7 Surely thy Lord knows best who is erring from His way, and He knows best those who go aright.
68:8 So obey not the rejectors.
Holy Qur'an, Chapter 68, Verses 1-8, "Al-Qalam–The Pen," Maulana Muhammad Ali translation
From humble beginnings in Atlanta rose a man powered by the Supreme Wisdom of his Teacher and Supreme Faith in his God, Abdul Rahman Aquil Muhammad made a mark in Atlanta and on the Black World with legendary work in the Nation of Islam, not once but twice.
Imagine a man who follows a little Black man from Georgia, who preached what some Negroes called a strange and frightening doctrine and a word that Whites condemned fully, standing boldly, asserting that the program and position of the Hon. Elijah Muhammad was indeed the way, the truth and the light.
Imagine that man doing a great work but then seeing his work and perhaps, more painfully, the work of his teacher destroyed, the Nation of Islam fallen, and the man and body of knowledge that raised him laughed at and mocked.
Imagine that man coming again, upon hearing the work of his teacher was being rebuilt, coming again to rebuild a movement in the face of insult, mockery, derision and threats.
What manner of man is this who stands in the breach not once but twice?
Such a man was "Minister Rahman," this pioneering minister of the Honorable Elijah Muhammad and comrade who joined the Honorable Minister Louis Farrakhan in rebuilding the Nation from literally nothing. No money. No followers. No property. Nothing but love and faith.
When Ava Muhammad, National Student Spokesperson for the Nation of Islam, served as the Atlanta-based Southern Regional Minister and the first female minister to lead Muhammad Mosque No. 15 or any mosque, Minister Rahman helped her. He was especially helpful as Minister Rahman had built a fine legacy and done major work under the Messenger. Now he was helping Min. Farrakhan rebuild, recalled Ava Muhammad.
"I loved him. He was one of my mentors as a very young Muslim. When I came in the Nation in the early 80's there was vehement opposition in the imam's community to the Nation. There were others who were considered true followers of the Honorable Elijah Muhammad, but they were opposed to Minister Farrakhan's leadership," she said.
"So when Rahman stood up as a major minister in the Nation to support the Minister, it made a big difference for him to accept the Minister as the choice to rebuild the Nation. It made a huge difference. I loved his spirit, and his strength. He was with the Minister from the beginning to the end of his life," she said.
What a life he lived and what a contribution he made. The "Rock of the South" departed this life at 88 years of age and obeyed the dictate of Allah (God): Die not unless you die the death of a Muslim.
Why? Because a Muslim serves that which is eternal and can never truly die. The Holy Qur'an, the Islamic book of scripture, teaches clearly those who depart this world's life are alive, but we lack the ability to receive their reality.
So the legacy of a life well-lived, a love of children and youth, an example and words in a memoir and on video and audio, his words, are ours to cherish and to consider. They are ours to treasure and ours to bear witness:
68:1 (By) the inkstand and the pen and that which they write!
68:2 By the grace of thy Lord thou art not mad.
68:3 And surely thine is a reward never to be cut off.
There was no madness here, only clear evidence of the truth and we are its beneficiaries.
Long Live the Spirit of Abdul Rahman Muhammad!