FINALCALL.COM
Cook County State's Attorney Kim Foxx rode into office as one chosen to right a law enforcement agency with too cozy a relationship with an often abusive police department. Since her office didn't charge and destroy actor Jussie Smollett, accused of falsely reporting a racial attack in Chicago, the young lawyer has entered the political fight of her life.
She must not forget that.
Attacks from mainstream media, a solid wall of White suburban police chiefs, a cops-can-do-no-wrong Fraternal Order of Police in Chicago, a lame duck mayor and police chief whose department abuses people too often and solves too few murders aren't quests for truth.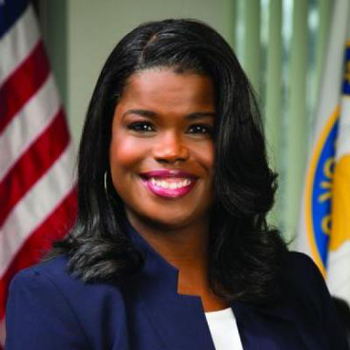 These are political moves to take power out of her hands with an election less than a year away.
Ms. Foxx should remember street protests and anger over the mayor and police cover up of the 2014 police shooting of Laquan McDonald put her in office. The cry was out with then-police superintendent Garry McCarthy, then-state's attorney Anita Alvarez and then-seemingly-unstoppable Mayor Rahm Emanuel. Protestors have won on all three counts: Mr. McCarthy was fired in 2015. Ms. Alvarez was defeated by Ms. Foxx in 2016 Democratic primary elections. Mr. Emanuel decided not to run for reelection and Chicago has a new mayor.
That's potential power to bring real change so long as those elected to office remember their mandate. And, while the idea of change may bring applause, actually trying to change things brings out opposition and those who want to manage and redirect change.
The Smollett case started with the "Empire" TV show star reluctantly getting cops involved and blew up as the city tried to avoid another black eye on its reputation. Mr. Smollett said he was assaulted and subjected to racial and homophobic slurs.
His celebrity and intense media coverage had everyone from local officials to presidential candidates condemning the alleged racial attack. When cops decided the incident was a hoax and a partially self-inflicted hate crime, media coverage and public sentiment soured. An "outraged" mayor and police chief demanded that Mr. Smollet be charged. He was.
When a veteran prosecutor later dropped the 16 charges of disorderly conduct and lying to police and diverted the case from prosecution, it baffled and angered many. The mayor complained of a "whitewash" and those who receive special treatment. He was oblivious to the irony of speaking while standing next to those with Teflon protection from prosecution–city police officers. Police superintendent Eddie Johnson went on national media outlets condemning Mr. Smollett, who is also an activist against racial injustice and social injustice. If you are innocent you go to trial and prove it, he argued in nonsensical advice never given to cops. You don't go to court to prove innocence. Prosecutors must prove you guilty.
That may have been the problem. The anti-Smollett media cry was huge. Many had questions about what happened from the beginning. But suspicions, media attention, media condemnation, political crocodile tears and fake Fraternal Order of Police outrage don't equal conviction.
While the prosecutor's office insisted it could have convicted Mr. Smollet, it didn't. It dropped the charges; Mr. Smollett forfeited a $10,000 bond and did community service. He still says he's innocent. But Ms. Foxx admitted in a media interview, after the case was diverted from prosecution, going to trial doesn't guarantee conviction.
Consider these words from a couple of Smollett legal advisors: Celebrity lawyer Mark Garagos, early in the case, warned the best evidence police had was against two young men who admitted to committing the attack, saying they were in co-hoots with the star, not proof of Smollett wrongdoing. Mr. Smollett's Black female lawyer, after the case was done, told reporters one lesson could be legal cases should be tried in real courts and not in the court of public opinion.
Ms. Foxx has already called for and an outside inquiry into the case is underway. She has publicly released communication related to the case. She has spoken with the media about the case. Those are principled actions for a public servant.
She should not forget she is a publicly elected official and barely into her mission assigned by voters, especially Blacks, who want an independent prosecutor who works with but is not a slave to Chicago police or the mayor.
She must be willing to fight for her vision of the prosecutor's office she presented to voters and she should make that case to voters. She also must be willing to fight and know the Fraternal Order of Police, called "an avowed enemy" of Black people by Rep. Bobby Rush at a recent pro-Foxx rally, never wanted her.
Many White voters only want change to the degree that change lines up with their view of what change is. They remain deeply uncomfortable with race, a problem White institutions like the city's daily newspapers and columnists share. Mark Brown, Chicago Sun-Times columnist wrote, "Kim Foxx won a three-way Democratic primary for Cook County state's attorney in 2016 with 58 percent of the vote, getting more than twice as many votes as the second place finisher, incumbent Anita Alvarez. Along the way, Foxx racked up winning totals of more than 80 percent in city wards and suburban townships with predominately African American populations. … But Foxx is not going to get four more years if she and her backers continue to try to portray the broader uproar over Smollett's exceedingly lenient treatment as primarily a matter of race.
"White people, especially those who saw her candidacy as a breath of fresh air and voted for her in 2016, are not going to be made to feel like racists just because they believe she terribly mishandled this matter. I say that with some confidence because I am one of them."
This isn't time to retreat. There is too much at stake and not just Ms. Foxx's political career. Young Black people shut down shopping on Chicago's Magnificent Mile demanding change. Many are tired of police abuse in their neighborhoods. Ms. Foxx must resolve to stand and fight. If she made the right calls for the right reason, she should stand rooted in what she did. That's the beginning of true change and true leadership.
While questions have been asked about Mr. Smollett, CounterPunch.org writer Chelli Stanley asked questions about cops. "The Chicago Police department calls a survivor of violence a 'liar' and the world agrees? Nah. Whether we look at it logically, legally, or historically, there's much more to the story than that," the CounterPunch.Org writer noted in March.
"The three detectives on the police report–Kim Murray and Vincent Cecchin, and their supervisor, Joseph Considine–have 35 criminal allegations on their records from Chicago civilians. This data can be found in the Citizens Police Data Project created by the Invisible Institute who sued the city of Chicago to 'reveal in-depth information on the complaint histories of selected Chicago police officers.' "
"The allegations against the three detectives include false arrests, criminal sexual assault, searching without a warrant, verbal abuse, a domestic incident, drug/alcohol abuse, use of force, neglect of duty, and allegations regarding personal property in prison, among others.
"The civilians who reported the allegations are diverse: Black women, Hispanic women, White women, Black men, etc. Only two of the allegations resulted in discipline. Murray was given a 10-day suspension for driving under the influence while off duty. Notably, she was also accused of verbally abusing a Black man regarding his sexual orientation in 2008.
"The other disciplined allegation was for Considine, the supervising investigator listed on Jussie's police report. The first complaint of Considine's career was for criminal sexual assault, but this was not the one that resulted in discipline. Instead, he was suspended for three days for neglect of duty. Considine's complaints paint a harsh picture: he allegedly commits crimes in groups with officers who also have many civilian complaints. … Many Chicago officers have no civilian allegations, but those who have them tend to have a lot. Murray and Considine more civilian allegations than 79 percent of their peers."
People took to the streets and the ballot box to demand change and they deserve to get it. Ms. Foxx, they are counting on you to fight for them.